Disney Infinity: Behind the P(l)aywall [Part Three]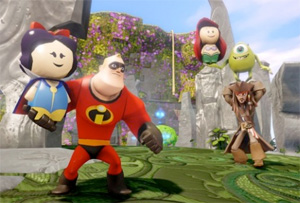 As Disney shifts its attention toward social and mobile gaming, Disney Infinity seems intended to be a solution for staying relevant in the space of console and handheld gaming. As discussed in Part One and Part Two, Infinity lives on the rhetoric of innovation and the logic of efficiency simultaneously, limiting the scale and scope of licensed titles being made available through the platform.
However, this analysis privileges a sense of gaming value predicated on structured gameplay experiences, and Disney Infinity is also built around an open-ended world of creativity. Its Toy Box mode may be derivative of other titles, but it gives gamers the keys to the Magic Kingdom and allows them to explore their own Disney-branded worlds using the range of characters available for the game. While the play sets offer rigid franchise experiences where only figures from that particular franchise are able to participate, the Toy Box mode offers the absolute freedom to create your own Disney mash-ups.
It represents an expansion of the Disney license, away from purely promoting a single franchise toward reframing sandbox game creation within the context of the Disney universe (the title of a smaller "mash-up" title released in 2011). Many of the "toys" available to gamers are characters or locations from films like Aladdin or Disney-owned properties like The Muppets, and playing each play set unlocks items from those games that can then be repurposed and mashed up in the creation of new user-generated levels. The Toy Box system is robust: while some levels can be basic sandboxes for exploration, a series of "Creativi-Toys" give gamers the chance to build intelligent levels with internal logic and goals. It is here where Disney shifts their attention away from promotional value and toward building a platform that can continue to offer gamers value as long as new levels are being created and then shared with the community (either by users or by Disney themselves).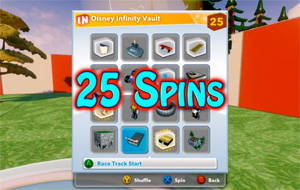 Although this potential value is a substantial part of Disney Infinity's promise to gamers, it is built on value propositions uncommon within console gaming. The Toy Box mode comes with only a limited range of items, with users having to unlock other items through either collecting capsules scattered throughout each of the game's five play sets or using "Infinity Spins"—earned by leveling up characters and completing Toy Box activities—to unlock items in the "Infinity Vault." These items, which are picked at random when Infinity Spins are used, include the fundamental building blocks of more substantial levels, like race track pieces and side-scrolling cameras. If you want to build more complicated levels, you need to play the game long enough to earn the spins necessary to ensure you can collect these items at random.
It is here where Disney Infinity, despite being a console-based product and despite costing at least $74.99, evokes the free-to-play logics of social and mobile gaming. Its Toy Box mode is trapped behind a "playwall," in which the full potential of the mode—if not its basic functionality—requires gamers to invest considerable time and energy in the rest of the game. While this does not necessarily require additional financial investment beyond the Starter Pack, it does encourage it: the fastest way to earn Infinity Spins is to buy additional characters to level up, as well as additional play sets to expand the Toy Box offerings available. The play sets themselves encourage this with an in-game Infinity Vault, which is only unlocked once you've collected every character tied to that play set and contains key Toy Box building blocks.
Although the game is playable out of the box, additional financial investment is ultimately required to access the full Disney Infinity experience. The choice to limit the play sets to characters from that franchise means that gamers who want to play co-operatively within each of the play sets must invest in at least three additional figures, which Disney has facilitated through discounted—but still $30—three-packs featuring characters from the three Starter Pack play sets. The ability to access multiplayer is the most substantial value tied to the purchase of additional figures. All characters are more or less evenly balanced, with no substantial gameplay differences when switching from character to character; beyond the value of collecting and playing as a favorite character, their value is instead tied to unlocking content the game has purposefully blocked off in order to incentivize further investment in the platform. The game's Hall of Heroes tracks your progress in the game, but it also reminds you of all of the figures and power discs you haven't collected yet.
The YouTube ID of Q_l3gzI8O5k#t=16 is invalid.
Like free-to-play titles, Disney Infinity is always quick to remind you of what you're missing without making further investment. Character-specific vaults are scattered throughout each play set, locked until you purchase the character in question, and the game's introduction makes sure to introduce you to various upcoming figures—and play sets—that won't even be available to purchase until later this fall. However, unlike free-to-play titles, Disney Infinity isn't actually free-to-play: although their PC and iPad apps allows you to build and share Toy Box creations for free, actually playing the game requires a $75 investment. It's a high price, which raises the question of why the designers chose to place key Toy Box content behind its "playwall": while the game has built-in incentives to encourage further purchases, getting gamers to commit to the platform based on potential value locked at launch is more challenging.
Disney Infinity represents a clear shift in Disney's approach to licensing their valuable intellectual property, but it comes with as many limitations as possibilities. While Disney is promising an epic scale, and has still yet to fully tap into the incredibly valuable "golden age" animated properties of the 1990s, their efforts with Disney Infinity prioritize the business of licensed gaming without necessarily being able to offer gamers the scale they've promised without substantial investment.