From Mercury to Mars: Orson Welles's Dracula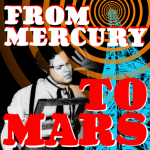 Over on Sounding Out! this week, the ongoing Antenna–Sounding Out! joint series on The Mercury Theater On the Air and Orson Welles and his career in radio continues. This week, Debra Rae Cohen sinks her teeth into Orson Welles's "Dracula," the first broadcast in the Mercury series, and perhaps the play that solicits more "close listening" than any other. Back in 1938, Variety yawned at Welles's attempt at "Art with a capital A" and dismissed his "Dracula" as "a confused and confusing jumble of frequently inaudible and unintelligible voices and a welter of sound effects."
In this post, Cohen argues that Welles's production reclaimed and exploited the media-consciousness of Bram Stoker's original novel, a feature occluded in the play and film versions. She also asserts that Welles's production of Dracula introduced several of the radio innovations we've come to associate with the Mercury Theater (and The War of the Worlds in particular): first-person retrospective narration, temporal coding, the strategic use of media reflexivity. Click here to read Debra Rae Cohen's full post.
This post is the third in our ongoing series in partnership with Sounding Out!, From Mercury to Mars: Orson Welles on Radio after 75 Years. Stay tuned for Antenna's next installment on September 17th.
Miss the first two posts in the series? Click here to read Tom McEnaney's thoughts on the place of Latin America in Welles's radio work. And click here to read Eleanor Patterson's reflections on recorded re-releases of the "War of the Worlds" broadcast.