The #WOTW75 Experiment
This Wednesday, October 30, be prepared for the #WOTW75 invasion. From 7:00-10:00 PM EST, participants from across the world, including numerous large groups gathering together for listening parties, will be tuning in to a special 3-hour online radio broadcast commemorating the 75th anniversary of Orson Welles and the Mercury Theater's "War of the Worlds" radio broadcast (1938). Designed as an experiment in collective radio listening, participants are encouraged to respond on Twitter, Facebook, and Instagram with the hashtag #WOTW75, creating an archive of real time responses to the event. The heart of this project is the idea of reacting to the play as it "happens," and to "do" listening in a way that's both old and new at the same time.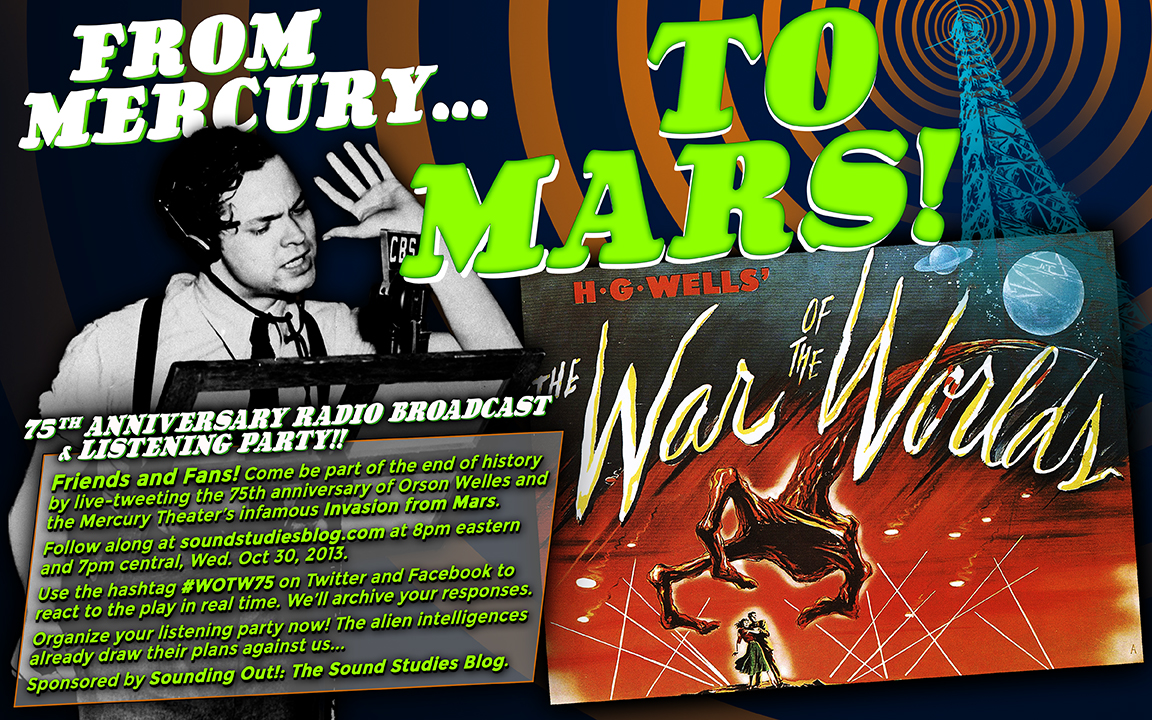 #WOTW75 will revolve around a 3-hour live broadcast streaming online from WHRW, SUNY Binghamton's student radio station. The first hour of the broadcast (7:00-8:00 PM EST) will feature critical reflections from radio scholars and media historians discussing the legacy of the infamous "panic broadcast." The second hour (8:00-9:00 PM EST) will consist of a rebroadcast of the original 1938 "War of the Worlds" program. And the third hour (9:00-10:00 PM EST) will include a panel discussion with additional media scholars mixed together with "War of the Worlds"-inspired experimental music and drama performances from Binghamton University's Radio Drama Division.
This #WOTW75 collective listening experiment is the centerpiece of the six-month long project From Mercury to Mars: Orson Welles on Radio After 75 Years, which is being produced by Antenna: Responses to Media & Culture and Sounding Out!: The Sound Studies Blog.
More details about how to listen and participate will be posted here on Antenna and also on Sounding Out! on the day of the event. In the meantime, please follow the #WOTW75 Twitter account and check out the Facebook group page, where blank posters and e-cards can be downloaded if you wish to host a listening party in your area.