The Aesthetic Turn: How Media Translate, or, Why Do I Like Chase Scenes?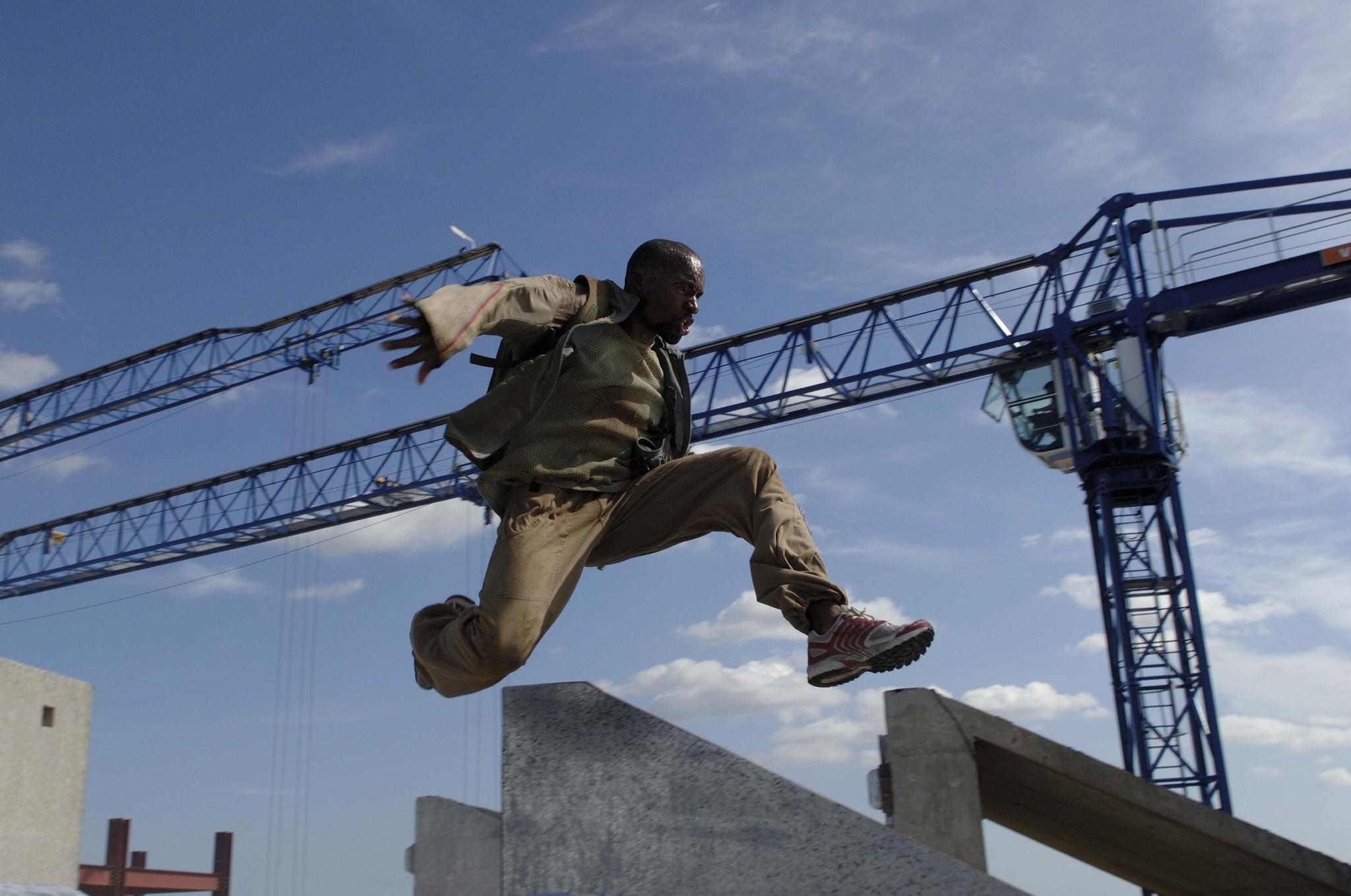 In my first post in the "The Aesthetic Turn" series, I spoke of the part of "our experience of a media object [that] exists prior to and outside of language." I asked whether we could use language to describe it without denaturing the experience itself, and I concluded we can't, at least not directly. But that doesn't mean we can't describe it at all, and in this post, I'd like to suggest how to approach it obliquely, through metaphor and translation. (This post began as a "Digital Lightning" talk I gave as part of a series put on by the University of North Dakota's Working Group on Digital Humanities. As I spoke, I played Casino Royale in the background.)
I'm a sucker for a good chase scene. I love the elegant excess of the parkour chase at the beginning of Casino Royale, where James Bond (Daniel Craig) pursues a criminal who careens off walls and catapults through improbably small windows.
I love the silly excess of the freeway chase in The Matrix Reloaded, where one pursuit is layered on top of another (in cars, on top of cars, and in motorcycles on top of cars). My favorite right now is the four-deep chase-within-a-chase (and dream-within-a-dream) that marks the climax of Inception.
I want to ask a question about chase scenes that is really a question about something else. In a sense, I want to force two things together in an unlikely metaphor. What do chase scenes reveal about media and translation? I mean "translation" in a broader sense than linguistic recoding, although I mean that, too. The English word translate derives from the Latin transferre, meaning "to carry across." It implies movement. Other languages (such as Finnish and Japanese) use words that emphasize mediation and transformation, rather than movement. Both, I think, are key: movement implies transformation as signs leave one sphere to become meaningful in another.
How do media shape the phenomenon of movement-transformation? What happens when, say, a TV show travels from one geographic or technological space to another? Few questions are more fundamental in media studies, and few have been asked as often, although we tend not to phrase questions in terms of translation. In the era of "new media" (whatever we mean by that), we frequently speak in terms of remediation: what happens when we view newer media through the habits of thought instilled by older media? This question has grown ever more urgent as media converge. What happens when a fan remixes a show, which then goes through YouTube, and then through a link on Facebook, before it gets to us? I want to shift the focus, however, from the media platforms and technologies to the "through," the movement-transformation.
What happens at the point of "through"? Is there a logic to "through-ness"? Can we see everything that is happening, or are things hidden from sight? Here is my initial answer: In the process of transformation, a gap opens up between a sign before its movement and after. The original sign and its "translation"—the sign we substitute for it—do not evoke the same things. They might evoke similar things; in fact, translation as we have traditionally understood it—a form of rewriting in a different language—is premised on that appearance of equivalence. But we need to pay attention to the gap, which is a place of doubt and ambiguity. It is also a place where we can observe an experience of a media object that is prior to language. Still, our observation is oblique: how does it feel to enter this place of doubt? Does this ambiguity provoke unease? Something else?
So what does this have to do with chase scenes? I'm forcing a metaphor here, which is to say, I'm transposing a sign—chase scenes—from one context (movies) to another (translation and media). (Not for nothing does metaphor derive from the Greek μεταφέρω, meaning "to carry across.") Through that metaphor, I'm opening a gap we experience (in part) by asking, why this weird juxtaposition? My purpose is to provoke a reaction—an "aha!" would be great, but a "what the hell" will do perfectly fine, too. The point is to use translation and metaphor to turn our attention away from the object (the chase scenes, the media platforms, the texts) toward our experience of the object. The move is admittedly quite "meta" (μετα?), but it is also potentially quite valuable, too.
This is the second post in Antenna's new series The Aesthetic Turn, which examines questions of cultural studies and media aesthetics. If you missed guest editor Kyle Conway's inaugural post last month, you can read it here. Look out for regular posts in the series (most) every other Wednesday into the new year.