Oscars 2014: It's Time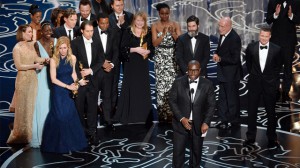 At the end of her opening monologue for the 86th Academy Awards, host Ellen DeGeneres pointedly anticipated how the ceremony would shake out: "Possibility number one: 12 Years a Slave wins Best Picture. Possibility number two: You're all racists." Ultimately, the first option proved true. Director Steve McQueen and screenwriter John Ridley won for their unsparing adaptation of Solomon Northrup's 1853 memoir. In addition, fellow Best Picture nominee Gravity won awards in several technical categories. Filmmaker Alfonso Cuarón also won for his work, becoming the first Latino to win the Best Director prize.
This year's theme may have been "Heroes in Hollywood," whatever that means. But the narrative that formed around many of the night's winners and their award campaigns was the film industry's progress and diversity. Of course, this is not a new story either. It's a narrative to which many would ask: progress for whom and diversity for what purpose? In 2006, George Clooney caught flak for toasting Hollywood's liberalism during his Supporting Actor acceptance speech for Syriana. At the same ceremony, Brokeback Mountain lost Best Picture to Crash. In addition, Paul Haggis' film's divisive win served as a misguided corrective to the unfortunate legacy of the 62nd Academy Awards, which honored Driving Miss Daisy with Best Picture while denying a nomination for Spike Lee's Do the Right Thing. It's a history which made me worry that 12 Years producer Brad Pitt was going to speak for the production as its predominantly black cast and crew took to the stage.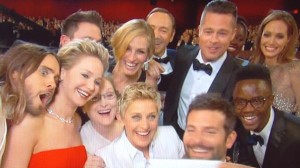 There is some credence to the Academy's efforts to diversify who and what it chose to recognize. In addition to Cuarón, Sunday's ceremony honored Robert Lopez and his wife and collaborator Kristen Anderson-Lopez with Best Song, for "Let It Go" from Frozen. The award also secured Lopez's status as the youngest EGOT recipient, at 39. It also beat out Pharrell's "Happy" from Despicable Me 2, though I'm confident that the producer will launch a successful EGOT campaign in time (I'd sign off on a Neptunes' jukebox musical). The ceremony's queer presence is still notable. Though I disagree with Dallas Buyers Club's heteromasculine representation of the early phase of the AIDS epidemic, DeGeneres' rocking multiple glittering tuxedos and serving penis jokes at Jonah Hill's expense is still an exception on primetime network television.
Even though the screenplay was written by a white man, Spike Jonze's Her advances fascinating ideas (and conversation) about gender, technology, and labor in a contemporary moment. Similar issues about the voice as a technology of gender and a site for labor come up in Morgan Neville's 20 Feet From Stardom, a film about the professional contributions and legacies of predominantly African American female back-up singers. It won for Best Documentary Feature. It also resulted in my favorite musical performance, Darlene Love's impromptu a cappella performance of "His Eye Is on the Sparrow." Finally, we cannot ignore that all of this activity is occurring under the leadership of Cheryl Boone Isaacs, the first black woman to serve as president of the Academy of Motion Picture Arts and Sciences (AMPAS).
A pervasive attitude of many Oscar ceremonies was that certain films and talent should be given their due. This year, it was time to honor a film directed by a black British filmmaker and written by an African American screenwriter that boldly rewrites Hollywood slave narratives by eschewing an easy moralism that flatters white viewers. It was time to reward veteran actors and newcomers who represent marginalized identity groups and gave unforgettable performances. In this regard, many believed it was time for 12 Years to win, which it did for Best Picture, Best Adapted Screenplay, and Best Supporting Actress, for newcomer Lupita N'yongo's cinematic debut.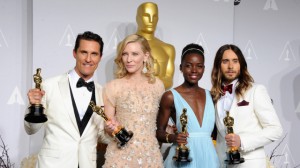 N'yongo is a star. She is a sensitive, intelligent performer who has brought the same thoughtfulness and humanity to her Oscar and Essence Award acceptance speeches that she gave to her character, Patsey. She has the self-possession necessary to pull off intricate couture and a variety of hairstyles for her politically short hair. She has a sense for how the film industry operates, skills she acquired from her studies at the Yale Drama School, as well as her experience as a production assistant. She brings a sense of wonder and purposefulness to collaboration, which allows her work with Chiwetel Ejiofor, Michael Fassbender, Alfre Woodard, and Sarah Paulson to resonate and her perceptive comments and questions during The Hollywood Reporter's actress roundtable to leave such an impression. I can't wait to see what she does next.
I hope Hollywood recognizes that N'yongo is a star too. Giving her this award is a start. But women still struggle in an industry that doesn't consistently create and finance films centered on complex female characters. This is a condition that Cate Blanchett challenged in her acceptance speech for Best Actress. Historically, the film industry gives even fewer opportunities to women of color. N'yongo followed 12 Years with Non-Stop, a thriller about a plane hijacking starring Liam Neeson. N'yongo plays a flight attendant with Downton Abbey's Michelle Dockery. But I don't want to just see N'yongo play flight attendants. I also don't want to see her or her peers limited to exploring themes of subjugation and oppression from nations' racist histories. I want Hollywood to explore the full range of her talents. If I were pitching projects, I'd rouse Steven Soderbergh from retirement to build an international spy caper around her with romantic intrigue, double agents, and sleek designer wear. I also want to know if she can switch between popcorn fare and Indiewood with the ease of someone Amy Adams, an actor unbound by genre or director who is overdue for her own statuette. Can N'yongo star in Her or a Muppet movie? I want to find out. I hope the film industry and the Academy do too.