Following the Instructions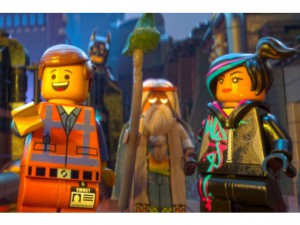 Much of the commentary surrounding The LEGO Movie recognized the contradiction between narrative critique of conformity to social "instructions" and promotion of mass-produced, build-by-instruction toys.  The most astute recognized how the film's many narrative pleasures nevertheless celebrated a particularly white, masculinized creative individualism.  Sure, most of the LEGO minifigure characters have the same yellow skin-color; still, the noticeably darker Vetruvius (voiced by Morgan Freeman) plays the "magical negro" whose spiritual wisdom empowers normative protagonist Emmet as "the special."  Female characters like Wyldstyle too see their strength operate in support of the mundane, but ultimately more special, creative power of the male hero.  While I only rehearse these particular arguments a month later, I do think they provide an excellent platform for continuing to think about LEGO, the idea of "creativity," and the unequal extension of that idea to different consumer groups.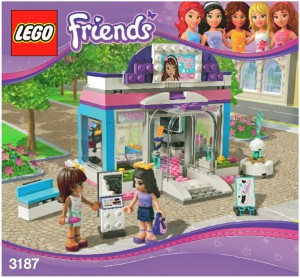 Claims about "creativity" anchor LEGO marketing strategies and the meanings ascribed to LEGO products.  The company pledges parent- and educator-friendly engagement "in the development of children's creativity through play and learning."  Countless press releases tout this support of creativity; even the embrace of media licenses like Star Wars was framed as a boon to (rather than limit upon) creative imagination.  The ideological frame of creativity also underpinned LEGO's most recent gender-differentiated appeals to girl builders.  While the 2012 LEGO Friends theme commendably corrected the exclusive focus on boys, would-be inclusiveness manifested predictably as market segregation.  Girls and boys were not imagined as playing together, but instead as two classes of builders with different creative desires and needs.  Girls, according to LEGO, needed more role-playing and even different kinds of human representations ("minidolls" instead of minifigures).  Notions of inherent creative difference legitimated narrowly gendered marketing appeals.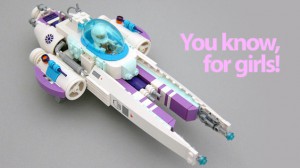 Defenders of Friends nevertheless pitched the modular creativity of LEGO as a get-out-of-gender-free card.  Kids "don't have to follow" the included instructions, this thinking went.  Gender normative bakeries and beauty salons could become pink and purple starfighters.  Though packaging and instructions offer what Ellen van Oost and Mary Kearney term "gender scripts," the reconfigurable nature of LEGO product promised such scripts could also be "backdoors," enticing already gendered subjects to creative experimentation.  The ideological utility of creativity for LEGO came in both demanding gender conformity and offering ways out of it.
The LEGO Movie ruminates endlessly on this idea of following instructions.  "Masterbuilders" like Vetruvius and Wyldstyle initially devalue Emmet's interest in building and living by the instructions of mass culture.  And yet, the film does not completely disarticulate creativity from such instructions.  As Emmet takes on leadership, he explains the virtues of instructions as a platform for creative teamwork.  And while the film culminates (spoiler alert) in a live-action meta-conflict over proper use of LEGO toys between an instruction-minded father and free-building son, the compromise reached suggests the father will continue building by instructions, just with newfound support for his son's reconfiguration of them.  The climactic action sequence in the animated world too turns on the idea of LEGO people rebuilding a prefabricated world, turning ice cream trucks into winged attack vehicles.  In line with LEGO's marketing of instruction-based building sets as "creative," the film locates creativity somewhere beyond the instructions, but still figures those scripts as a key first step toward creativity.  Meanwhile, the Ice Cream Machine can be sold in stores with instructions for building both on-screen configurations.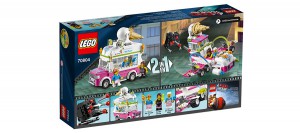 And despite the mélange of LEGO product in the film, including a visit to Cloud Cuckoo Palace that offers far more queer combinations of bricks than ever offered in prior instruction-based sets, the gender-specified creativity of LEGO Friends remains absent.  The minidoll does not exist in this world.  In the film's concluding joke, meanwhile, the live-action father insists that a toddler sister join in the family play—a moment some take to task for suggesting that girls would disrupt the masculine creativity being celebrated.  But that critique may give LEGO too much credit.  As imagined by LEGO marketing, this toddler would be a user of larger DUPLO bricks, a product LEGO is still willing to market (in part) via gender-neutral appeals, in significant contrast to gendered segregation for older markets. The LEGO Movie does not acknowledge the possibility of girls aged four-and-up (or mothers) sharing in this creative LEGO play, more easily recognizing the creative commonality of privileged male consumers with DUPLO toddlers than with feminized Friends builders.  Rather than entertaining disruption of LEGO's creative ideologies, this narrative extension of LEGO play to a less fully gendered toddler market affirms their boundaries.
Ultimately, this film helps positions creativity as something that unfolds in relation, but not strict opposition, to clearly defined scripts (gendered or otherwise).  Obviously, that serves the instruction-based product LEGO markets, but it also has implications for how we understand the "creativity" of those who make use of it.