Popular Culture and Politics: The Hunger Games 3-Finger Salute in Thai Protests
On June 2, 2014, news about protesters in Thailand holding up the Hunger Games 3-finger salute began proliferating across news networks and websites like The Guardian, The Wall Street Journal, The Global Post, Quartz and others. Across the coverage, reporters and commenters seem unsure of what to make of political action that draws inspiration from a fictional story. Drawing from my research on popular culture, rhetoric, and fan-based civic engagement, I offer a contextualization for the Thai protesters' use of the Hunger Games 3-finger salute. In a blog post over at Rhetorically Speaking, I examine how the protesters appropriate the 3-finger salute to signal resistance and critique. Here, I want to offer a framing of the Thai protester's use of the 3-finger salute by articulating the relationship between popular culture and politics and by placing the Thai protests within a history of fan-based civic engagement.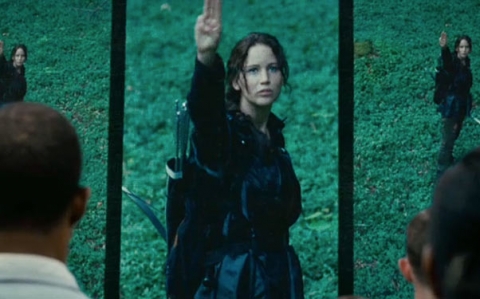 Journalists covering this story have struggled to frame the protests within a broader relationship between popular culture and politics in the real world. Elizabeth Nolan Brown at Reason.com says, "If I say the phrases Hunger Games and 'life imitates art' in the same sentence, you might start to worry. But this is actually an inspiring appropriation of the practices of Panem." Ryan Gilbey at The Guardian points toward critics' concerns that films inspire violent copy-cat behavior. Both Brown and Gilbey frame popular culture as a causal mechanism, but in doing so they undermine the agency of actors. This is particularly problematic when popular culture is connected to political action. In these cases, we ought to understand popular culture as resources. We must recognize that popular culture does not cause political action, while also recognizing the incredibly important role popular culture plays in offering up the choices we have for political resources.
The YouTube ID of hceO-SUoitk#t=35 is invalid.
Reporters also seemed to position the Thai protesters' use of popular culture as relatively uncommon. Gilbey from
The Guardian
says, "You'd have to go back to
the film adaptation of the graphic novel V For Vendetta
, written by Alan Moore and illustrated by David Lloyd, to find a comparable crossover between on-screen behaviour and widespread political iconography." But the use of popular culture in politics is actually quite common. In fact, Thai protesters aren't even the first to utilize the Hunger Games 3-finger salute. In 2013, Senator Miriam Santiago from the Philippines used the 3-finger salute in a speech lambasting Senator Enrile in the Senate.
The Harry Potter Alliance
used the 3-finger salute in its
Odds In Our Favor campaign
, which critiqued economic inequality, particularly in the US.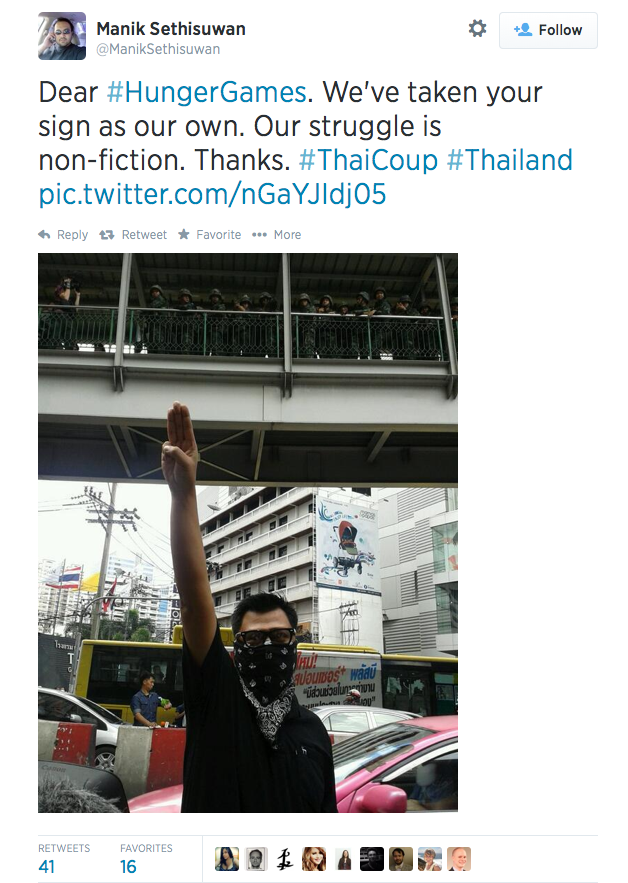 Popular culture has always functioned as resources for politics. For example, Nan Enstad describes how American women factory workers at the turn of the century used dime novels, films, and fashion to come to see themselves as both ladies and workers, and thus as deserving of fair working conditions. These women staged labor protests in unexpected numbers. Today, we see examples ranging from Harry Potter to football. In January 2014, Chinese diplomats used Harry Potter metaphors to make arguments about regional power in Asia. In the fall of 2013, the TeamMates' Coaches Challenge campaign invited Nebraskan citizens to volunteer to mentor by connecting mentoring with being a Nebraska football fan, beating Kansas, and joining the Nebraskan team. During 2012 and 2013, DC Entertainment led a campaign named "We Can Be Heroes," calling Justice League fans to donate money to charities working to end hunger in Africa. These are just three examples from this academic year alone. Indeed, there are many more.
What I hope this contextualization provides is a framing that enables us as audience members, reporters, and citizens to take seriously the Thai protesters' Hunger Games salutes. While not all political appropriations of popular culture are necessarily ethical, desirable, or effective, we cannot dismiss such uses of popular culture out-of-hand. Jonathan Jones at The Guardian takes this problematic approach when he asserts that the Thai protesters' use of the Hunger Games salute "reveals something about the bankruptcy of political beliefs in the 21st century." But Jones is missing the point because he's got the context all wrong. The protesters aren't claiming allegiance to the Hunger Games. They are using the symbol of resistance in the Hunger Games as their own, imbuing it with democratic meaning and critiques of the Thai government. Popular culture is a resource, combined and recombined with other resources, appropriated and changed through various performances. This framing is absolutely necessary to understanding the Thai protesters' use of the Hunger Games salute in a complex and full way.