Casey Kasem Signs Off (1932-2014)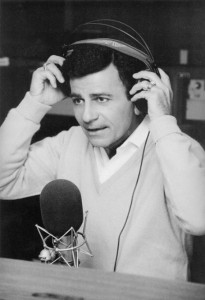 It is easy to get swept up in the lurid details of Casey Kasem's contentious final months. News items circulated last fall and into the following spring about the ongoing feud between his children and wife, Jean, about visitation rights and conservatorship following his diagnosis with Lewy body dementia. Speculation accelerated a month ago when daughter Kerri Kasem filed a missing persons report for him before it was revealed that his wife checked him into a Washington state hospital. Following these developments, Kerri received the right to visit her father, intervene in medical decisions for him, and ultimately confirmed his passing in a Facebook post on Father's Day.
It is also easy to read tragic irony into Kasem's diagnosis, which took away his capacity to speak. Kasem's smooth, imitable tenor brought him fame in 1970, when he began hosting the syndicated radio program, "American Top 40." It ran until 1988 and tracked the shifting chart rankings of the upper echelon of Billboard's Hot 100 each week. As New York Times music critic Jon Pareles summarized in his obituary, the disc jockey:
didn't invent Top 40 radio, the countdown show, the on-air dedication or the brief performer bio. But the weekly show he introduced on July 4, 1970—when the No. 1 song was 'Mama Told Me (Not to Come),' the Three Dog Night hit written by Randy Newman—brought those elements together in a design that was as much psychological as musical. Echoing the broad mass appeal of Top 40 hits, the show took pains to exclude no one.
Kasem's program did not address the politics undergirding trade publications like Billboard and their influence to determine, codify, and redefine commercial musical genres. One might argue that Kasem's show didn't address anything; it simply plotted the American recording industry's market fluctuations. His on-air persona eschewed controversy altogether. This gave electricity to recorded outtakes of the host contradicting his image with tirades against the show's production process or specific recording artists. Sound collage outfit Negativland immortalized one such rant in their 1991 U2 EP, which poked fun at the Irish quartet's earnest commercialism. They used a sample of Kasem saying "these guys are from England and who gives a shit?" This prompted litigation from U2's label, Island Records.
As an indoor kid who came of age during the mid- to late 1990s in a rural suburb outside of Houston, I began taping Top 40 and Modern Rock radio programs, setting aside allowance money for my Rolling Stone subscription, and visiting the town and high school libraries to pore over back issues of RS, Spin, and Billboard. I also tuned in to 104.1 KRBE on Sundays to listen to Casey's Top 40, a syndicated program that ran from 1989 to 1998 and relied upon charts from Radio & Records for its playlists. It was an important time for hip-hop—a genre that SoundScan and younger generations of musicians and producers helped make legible to the recording industry after years of omission, hesitation, and animosity.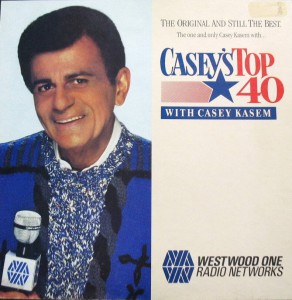 On the air, Kasem treated the gradual inclusion of hip-hop artists on CT40 as a non-issue. Even though these songs were frequently edited for their lyrical content (though not targeted in isolation), they were never banned from the countdown. In addition, Kasem offered no justification for Warren G, Snoop Dogg, and Salt-N-Pepa, as well as hip-hop generation R&B acts like Tevin Campbell, Toni Braxton, and Zhané sharing a playlist with Madonna, the Gin Blossoms, and Richard Marx. Perhaps he was reporting the market back to itself. Perhaps as a first-generation American son of Lebanese and Druze immigrants who assimilated into radio with a stage name and non-regional dialect, he understood what it meant for the recording industry to include minority forms of cultural production. Either way, I wouldn't realize the impact until much later.
Applying Jennifer Smith Maguire and Julian Matthews' definition of cultural intermediaries, Kasem constructed value for media production and consumption by framing goods in particular contexts, demonstrating expertise of the recording industry and its output, and influencing music's impact on consumers (2012). Before blogs, search engines, and social media, I needed resources to collect recording artists' biographical anecdotes, understand the industry's methods of quantitative analysis for itself, and situate my fan practices alongside the listeners whose dedications and letters Kasem read on the air. As a college radio deejay, I would renounce Kasem and his ilk, only to realize that he was part of why I made lists.
Pareles concludes his tribute by noting that the populist, omnivorous impulses of Kasem's original program eventually gave way to niche marketing, narrowing demographics, and musical uniformity, claiming that it "started with a strong sense of 'E pluribus unum.' Since then, that messy, capricious but still culturally essential pluribus is what radio has been trying to tame." Kasem's career witnessed and was often complicit in this homogenization. Syndication was responsible for Kasem's ascendance. It was a tool for regulation and deregulation. It also facilitates his reanimation.
Occasionally, I tune in to reruns of Top 40 on Magic 98 WMGN when I'm tending to weekend errands. I'm especially taken by those moments when Kasem frames selections from artists who charted on some random week in 1977 or 1982 or 1988 but eventually moved to the margins, footnotes, and clearance bins of pop music history. Kasem's voice breaks introduce me to songs like Stephanie Mills' 1979 post-disco hit "What Cha' Gonna Do With My Lovin,'" which peaked at 22. They remind me of tracks that shade memory's corners, like Swing Out Sister's 1987 single, "Breakout." They allow me to recognize the conversation (or competition) Tavares had with Hall & Oates in 1975, when "It Only Takes a Minute" cracked the top ten. Kasem helped put such commercial offerings in a context. In so doing, he provided a resource for listeners to recontextualize that music for themselves.