DashCon Discourses: Through a Feminist Lens
This past weekend (July 11-13), I attended DashCon, the first con exclusively devoted to Tumblr users (although not affiliated with Tumblr). Because of poor management by a staff that was well-intentioned but inexperienced, young, and lacking in resources, the con suffered a couple of major public calamities, including a desperate mid-con plea for emergency cash on their Tumblr site (which they received) that immediately became the target of contempt and ridicule by primarily non-con attendees on Tumblr and other social media sites.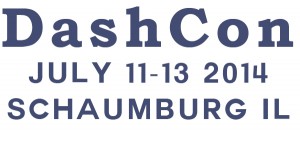 The hostility of this rhetoric often conflated the organizers with the attendees, who were primarily female and queer teens, many of whom were local and attending their first con. The largest concentration of this rhetoric is the Dashcon tag and user reblogs spread it quickly; one early Tumblr post – reblogged over 67,000 times – characterized con-goers as "white kids in flower crowns rioting for the anti-sexualization of women in media while holding panels about homoerotic subtext." Comments on other social media sites like Jezebel swiftly adopted this derisive tone, describing attendees as "dorks who live in their parents' basement" or "hormonal teenagers who enjoy drama way too much" in contrast to the "mature" fans on Tumblr "who discuss theories."  Such misinformed and misogynist discourse was accompanied by paternalistic horror about the possible exposure of teenagers to an informational 18+ BDSM panel.
As a counter to this discourse, I want to highlight some of the more productive social and cultural aspects and implications of the con. For attendees, it is a vital safe space for self-expression and community bonding, intellectual engagement, counseling, and social empowerment for attendees. In turn, the implicit discomfort and hostility directed at them reveals how this space threatens social hierarchies regarding, in particular, female sexual pleasure and knowledge, "feminine" cultural production, "mass" tastes, and non-normative sexual/gender identities and practices.
I attended DashCon because I am interested in the way social media sites, particularly Tumblr, and their related cons provide young female and queer fans the opportunity to fulfill social, emotional, and educational needs that more traditional institutions do not. Last year, I participated in a series of articles for Antenna about LeakyCon, an established convention with a similar demographic. The advanced publicity of DashCon indicated a related agenda, with a "social issues" track of panels devoted to overlapping concerns of Tumblr users, including feminist politics and mass media representation, LGBTQA support, social justice concerns, mental health care and, ironically, ways to combat online hate and bullying. I enlisted a couple of con-goers who were also media studies students, and we shared the coverage of various panels and activities (although these observations are mine alone).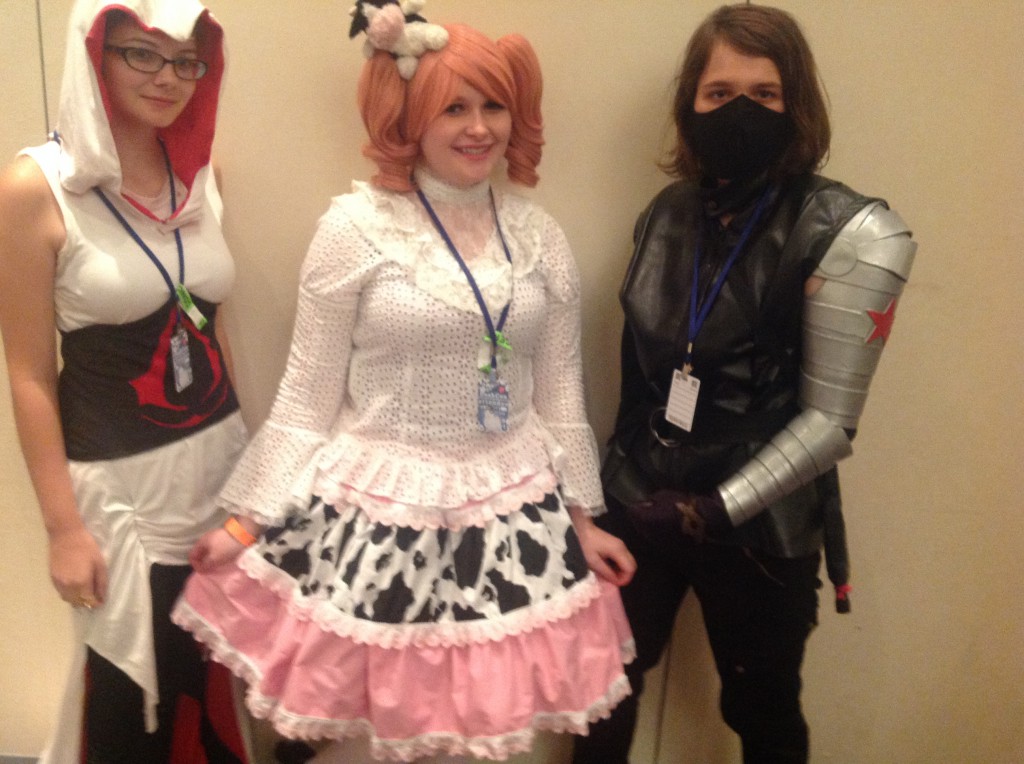 The most visible way DashCon created a safe space for female self-expression was the community's respectful treatment of its many cosplayers. In cosplay, attendees dress as their favorite media characters, often spending days creating costumes. Because attendees respected the maxim that "cosplay is not consent," they did not touch or take photos of cosplayers without their explicit permission. Veteran cosplayers often noted with relief how unmolested they felt at DashCon compared to mixed-sex cons where they are often groped.
In addition to cosplaying, the activities of this con followed others of its type, and included games, singalongs, autograph signings, fan art sales, as well as panels. The "social issues" and media analysis panels frequently overlapped in content and politics. Media fans, especially in this demographic, are often already engaged in trying to locate alternatives to dominant ideologies through media texts, and DashCon attendees were eager to analyze the social aspects of media culture. My colleague Paul Booth has called fandom, "the classroom of your life" and it certainly had that role at DashCon, where attendees were able to learn about topics that are still largely not covered in high school or even college classrooms, where gender and queer studies are rarely integrated into the curriculum as a whole.
The panelists, a combination of academics, activists, and/or social media specialists, embraced more radical rather than liberal political positions, drawing on many aspects of queer theory and critical race theory as well as media studies. Media analysis panels emphasized the importance and lack of strong female characters, queer characters, and characters of color, and the discussion leaders were able to personally speak to these issues as well as offer strategies to advocate for more diverse representation. Straight and queer women's investment in male/male "slash" pairings was addressed in nuanced ways tied to, for example, the lack of equivalent development of female characters.
The panelists crucially tied media production to larger social structures, noting that "people blame the media, but these are institutional problems, social hierarchies that get represented by the media. There is no villain in the tower." Instead, they emphasized the importance of education, an understanding of historical context and change, and an appreciation of the intersectionality of identity. Panels about contemporary feminism offered both scholarly analysis and an opportunity for young women to share their stories and concerns.
The rape culture panel, for example, began by asserting that instead of telling women how to avoid rape, we as a society should instead be focusing on teaching men and boys not to rape, a message that is prevalent on Tumblr but rarely appears in the mainstream.
All the panelists, while critical of DashCon's management, have noted how impressed they were – as was I – with the engagement and thoughtful questions of the attendees. They have also tried to debunk misinformation, noting, for examples, the racial as well as gender/queer diversity of panels and attendees, and protesting their misrepresentation and the attacks on them.
This con provided young people with an opportunity to further expand the alternative communities that Tumblr offers them. While its larger problems are disappointing, DashCon's grassroots project should be appreciated for what it did accomplish despite its organizers and attendees' lack of social power and resources. Other attendees felt the same. Panelist Brin posted a video of her participation in the LGBTQ&A panel (below) and another con-goer posted that he found its cost was "a small price against my first time truly feeling in a community of people who would love and understand me with almost no effort at all."