Downloading Serial (part 1)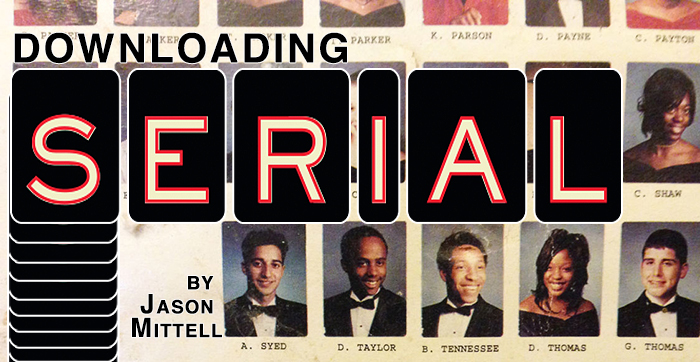 I should preface this column by saying that I felt particularly hailed by Serial, the new hit podcast from the producers of This American Life. I have been an avid listener of TAL for more than a decade, shifting from weekly appointment radio to can't-miss podcasts. I even remember the very first time I heard the program, as I was visiting a friend in Chicago in November 1998 and she suggested we tune in this fairly-new local public radio show on my car radio as we drove across the city—fortunately, the first story we heard was the unforgettable "Squirrel Cop," so I was instantly hooked. Podcasts are my favorite thing to listen to while driving, mowing the lawn, or walking the dog, so it's easy to fit a new one into my daily rhythms. And given that I have spent the last ten years focusing my academic research on understanding contemporary serial storytelling, this new podcast felt like it was made particularly for me.
And now that three episodes have "aired" (or whatever verb we use for a downloadable audio file), I think it's great—each episode adds a new installment in the true crime tale of a high school murder in 1999 and the convicted killer who might very well be innocent. The structure maximizes intrigue as to what happened 15 years ago, and what might happen to potentially clear Adnan Syed from the murder charge. The production is as tight and smooth as TAL, making it sound like an established project that hits the ground running, rather than the typical startup choppiness of most new podcasts trying to establish a voice. So it's definitely worth all the attention it's been getting and you should certainly become a regular listener.
And yet…
I have some reservations that stem from its formal innovations. Serial's titular use of seriality raises some interesting narrative wrinkles, as it applies the serial form to journalistic nonfiction in seemingly unique ways. There have certainly been journalistic series before, where a reporter stretches a story over multiple days or even weeks, but in such cases that I know of, it feels like the reporting is ongoing rather than segmenting a single story to maximize suspense and engagement. Likewise, documentaries like the 7 Up series or Paradise Lost's sequels return to the story after new information or revelations develop during the serial gaps. And of course reality TV serializes nonfiction stories, but typically such narratives are contrived by design, rather than the high-stakes matters of murder and a life sentence. Serial producers report most of the story ahead of time, and serial their presentation of the material. (According to interviews, they are still producing episodes and doing more reporting as the podcast rolls out, but the bulk of the reporting was completed before launch.) And this creates some genre trouble.
Serial's storytelling owes to other genres besides journalism, with an embedded murder mystery at its core. In exploring this murder, the program functions as a crime procedural, detailing investigations by both the police and the lead reporter, Sarah Koenig. In television, we tend to equate "procedural" with "episodic," as the bulk of crime programs that highlight investigations focus on stand-alone cases each week in a tradition dating back to Dragnet. But the serialized procedural has emerged recently as a hybrid, tracing the investigative process over time on police dramas The Killing and Broadchurch (innovated importantly by Twin Peaks, which I recently conversed about on this very site). I've studied the use of the serial procedural model on The Wire, which dramatizes and serializes procedures not only for police, but also for drug dealers, unions, politicians, teachers, and reporters. This last one is the vital link to Serial, as The Wire creates an interesting intertext: Koenig, like Wire creator David Simon, was a crime reporter at The Baltimore Sun before moving into electronic media, and this crime story takes place in Baltimore County. When I am visualizing the scenes described on Serial, I reference the visuals of The Wire to help set the milieu.
Koenig's role is crucial here, as I would argue that she is the main character of Serial, and this is where my reservations emerge. Obviously there is the highly dramatic material around the murder case, but the podcast's narrative arc is Koenig's own process of discovery in investigating the case. The first episode highlights how she learned about the murder, why she began investigating, and her growing reservations about the conviction. I figured that we would trace her investigative process as it unfolds, providing the vector which the series would follow. However, the episodes are structured more topically, with each exploring a particular aspect of the case in depth—thus far we have delved into Adnan's alibi, Hae and Adnan's relationship, and the discovery of her body. This last episode raised my concerns about the podcast's structure: the whole episode centers on "Mr. S" and his unusual stumbling across Hae's body in Leakin Park (which is visited and referenced on The Wire as "where West Baltimore brings out its dead"). It's an engaging episode with great twists—he's a streaker?!—but I'm left wondering how it fits into the larger narrative arc. Is this just a red herring? Does it help us learn more about the core case of Adnan's conviction, or is it just a colorful digression to flesh out the whole story? And most importantly, what does Koenig know when she's presenting this facet of the story?
Since Koenig is both Serial's lead character and the lead authorial figure (or more accurately, functions as the inferred author), her knowledge is crucial to our narrative comprehension. If we were following her process of discovery chronologically, we would share her amount of knowledge about the case—even though there would obviously be a delay in the production process so that the real person Koenig would know more than her radio character would in a given week, we would at least share a linear process of discovery with her. Instead, each episode compresses the discovery over the past year of reporting into a presentation of that aspect of the case. This is much easier to follow than the messy procedures of reporting, where she was certainly investigating multiple facets all at once and only could make sense of certain bits of evidence in retrospect. But by structuring it for both clarity and engagement, I feel like there is a bit of betrayal to the journalistic enterprise, as Koenig and her production team are seemingly presenting information that they know is not crucial to the case, or that later revelations will problematize.
What is their responsibility in telling us what they know upfront? As storytellers, withholding information about a story to maximize dramatic engagement is essential. As journalists, withholding crucial information about a story seems problematic at best, unethical at worst. This conundrum of narrative journalism is compounded by the serial form, as the structural need to withhold and defer story seems to run counter to the journalistic responsibility to inform listeners. While I do not think Serial aims to deceive or mislead us, it does strategically refuse to give us the full story—thus far, we have not been presented with any other viable suspects in the case, any exploration of the crucial witness Jay and his potential role in the crime, or considerations of alternative motives, all of which have been teased as still to come. And yet I assume that Koenig knew of such information and possibilities long before she investigated the burial scene and dived into Mr. S's odd history. Such deferments make for truly compelling storytelling that I am enjoying, but they make me uncomfortable with the ethics of this format. I get frustrated that Koenig is keeping something from me, feeling like she's not playing fair—even though I often feel similar frustration about a compelling serial fiction, that's part of the game for fiction while it violates the rules of journalism. How will this strategy play out over the course of Serial's many weeks? Will my feeling that information is being withheld get in the way of connecting with the shared experiences and conversations that makes TAL and other long-form audio journalism so powerful? Can I resist researching the case to discover yet-to-be-revealed details certainly lurking online as spoilers (a.k.a. real life)?
These issues are still to be resolved—and that is my motivating question for this series of commentaries on Serial. I'll post to Antenna on a semi-regular basis (e.g. when I have something more to say), and analyze this new form of serialized audio journalism in terms of narrative, medium, and other issues as they arrive. I also hope to land an interview with Serial's producers to get a sense of their own procedures and goals in crafting this experiment. Just as Serial represents a new form of serialized journalism, I'm going to try to serialize an essay about the series here, publicly drafting and revising arguments as the source material rolls out. Both are experiments with unpredictable ends. Stay tuned and join the conversation to discover where they might lead.