Report from NYTVF Digital Day 2014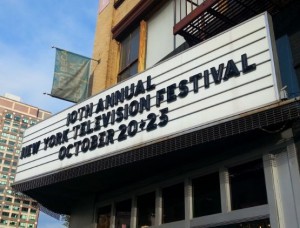 The New York Television Festival describes itself as a "pioneer of the independent television movement." It takes place every October and celebrated its tenth anniversary this year. I attended the panels on Digital Day, including "How A Show Gets Made," "Incubate This: The Next Generation of Digital Content" and "Supply and Demand: Why Indie TV Will be the New Indie Film."
Even though NYTVF bills itself as independent TV festival, more and more legacy media companies are present at the festival. In the case of this year's Digital Day, digital studios or digital programming units that are part of established TV networks, channels, and studios were well represented on all panels. The majority of panelists were from legacy media companies, including the digital branches of Comedy Central, the CW, Starz, and Universal. Others represented established players in digital distribution, including My Damn Channel and Vimeo. While the panel make-up depends on who is willing and available to appear, there seemed to be a clear trend toward including legacy media representatives at NYTVF.
The audience—or at least the imagined audience evoked by panelists—consisted of content creators trying to break into the industry. Panel discussions and questions centered on how to catch the attention of the companies represented by panelists and get a pitch meeting. The discussion thus did not center on how to create a web series that one would self-finance and distribute on a platform like YouTube, at least not in the long run. This focus struck me as different from much of the usual discourse around web series and the conversation at least year's Digital Day, which included panels about Kickstarter or other ways of self-financing and featured creators like Adam Goldman (creator of web series like The Outs and Whatever This Is), not executives.
Another marked shift from previous years resided in the panelists' description of preconditions an independent creator needs to meet in order to get a development deal. Executives emphasized that they are looking for two things: one, a fully fleshed out show that has a few episodes under its belt and an "established social following"- or, in other words, a guaranteed loyal audience. Ideally, you should also have a marketing strategy. Simply pitching a great idea is no longer enough. As David Katz (VP of Digital Media at Starz) put it, "bring that entire eco-system to me." Listening to these preconditions made me wonder just how independent the digital TV landscape is; all of the talk of pitches and development deals echoed pilot season rather strongly- except merely having a pilot is not enough to get picked up by Starz or My Damn Channel. Moreover, the financial prospects don't seem to be that promising, either. As Jed Weintrop (VP, Head of Production, Condé Nast Entertainment) pointed out: "Nobody gets rich here," which was echoed by other panelists throughout the day.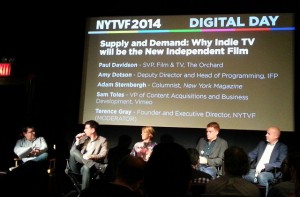 Finally, the many callbacks to legacy media history surprised me. Perhaps it shouldn't have. After all, one panel was called "Supply and Demand: Why Indie TV Will Be the New Indie Film." Throughout all panels, executives evoked the history of film and cable TV to frame the current digital TV landscape. For example, Rob Barnett of My Damn Channel stated that digital TV was like "baby cable" and added that it feels like it's "'80, '81," before the big players in cable had emerged. New Yorker columnist Adam Sternbergh described the discovery of exciting new digital content as "going to Sundance in 1988, '89."
Stray observations:
Panelists identified Amazon, Netflix, and Hulu original programming as "television," not "digital content." To panelists, the dividing line was budget and programming length. Aimee Carlson (VP, Digital Development and Production, Universal Cable Productions) defined "digital content" as short form, low-budget, episodic video that premieres exclusively on digital platforms. The half-hour and hour-long programs on Amazon et al do not fall under this umbrella even though they are also made exclusively for digital distribution.
Jennifer Titus (SVP, On Air Creative, CW Seed) pointed out that the average age of CW viewers for "linear" (i.e. primetime programming) is 38. For their digital content on CW Seed, the average age is 22.
Another common piece of advice across panels: connect to specific audiences; don't throw your product at a broad audience. Sam Toles (VP of Content Acquisitions and Business Development at Vimeo) was particularly adamant about this strategy. He stated that millennials aren't engaging with traditional media/advertising, which is why "indie TV" creators need to connect with them in a targeted way. As a strategy for cutting through the noise of digital content, he advised attaching content to a specific audience already invested in the genre/topic and "seeding a clip across social media so they notice it and start sharing it."