Reflections on the "Tinker-verse"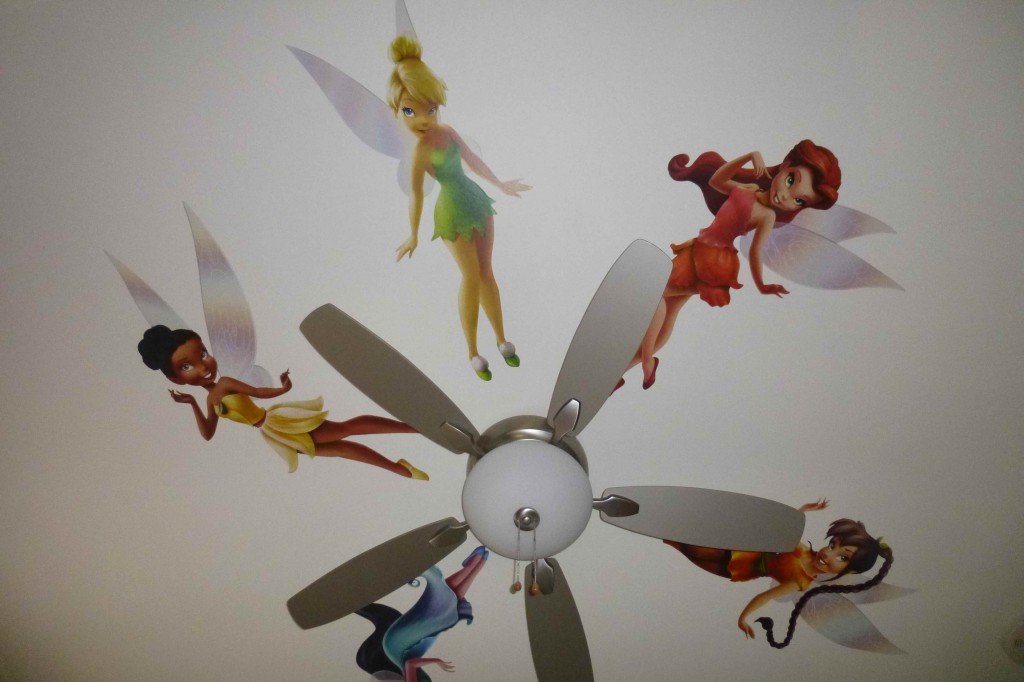 Exhibit 1: The ceiling of my daughter's bedroom, which has been adorned with child-size Disney Fairy decals for nearly two years now thanks to a Christmas present from her uncle. I've become quite familiar with what I'll term the "Tinker-verse" over the last few years, and as with all forms of kids' media, there are both compelling and troublesome aspects for a feminist media scholar-mom (or "mommy-professor" as I'm considered by my charges). Until writing this, I hadn't realized the full, somewhat disturbing extent of my knowledge of all matters Tinker.
Peter Pan was the first Disney movie my kids screened due to their Nana's somewhat unexplained fondness for the narrative. It was with some concern that I identified that a particular gesture of my barely two-year-old daughter—arms crossed, lips pursed, head dropped, eyes narrowed to angry slits—bore considerable resemblance to the 1953 version of Tinker Bell. A few more years have indeed revealed this to be consistent with her temperament, but it certainly led me to be wary about accepting these Fairies and their stories into my house.
The Tinker-verse has grown considerably in the near decade since Tinker Bell's reboot in 2005 when Disney began building its Fairy line to maintain their girl customers as they aged beyond Princesses.[1] There have been five Tinker Bell movies (2008, 2009, 2010, 2012, 2014), though I don't believe any were released in theaters, and they commonly appear edited into episodes more as a series on the Disney Channel. There are also many books, and, of course, toys.
The mythology of the Tinker-verse picks up with Tinker Bell after her adventures with Peter Pan. Tinker Bell now speaks; she still lives on Neverland Island, but now lives in a world of other Fairies in Pixie Hollow. Fairies are born from a baby's first laugh, which floats off to Pixie Hollow and turns into a Fairy. Upon being born, Fairies must find their Fairy talent—which effectively becomes their family unit. Tinker Bell is a "tinker" fairy (meaning she fixes things; aka a "pots and pans" fairy), and her main cohort of friends includes Rosetta (garden-talent), Silvermist (water-talent), Iridessa (light-talent), Fawn (animal-talent), and Vidia (fast-flying fairy). Fairies are actually responsible for most things that we explain through science.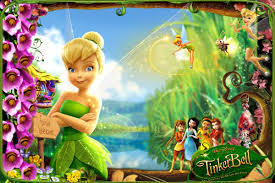 Admittedly, I begrudgingly accepted Fairies as an alternative to Princesses. On the plus side, tinker fairies are basically engineers—fairies who fix things and make things work—so a pleasant deviation from female stereotype in Tink's case. The Tinker-verse also responds to the common feminist critique of Disney narratives that pit female characters against each other by constructing Pixie Hollow as matriarchy of female friendship. (In the 1953 film, Tink and Wendy clearly compete for Peter's affection). There are male characters, Sparrow Men, but they are largely secondary. Some of the graphic novels hint more at romantic interest between Sparrow Men and Fairies, but the films, picture books, and chapter books don't suggest attraction beyond friendship. Though Tinker Bell is central in the films, many of the other Fairies are developed independently in the books. The range of distinctive female characters follows the strategy of gang-of-female-friends narratives targeted to women that present a range of female archetypes without strongly asserting one type of female identity is preferable (Golden Girls, Designing Women, Sex and the City, Girls) while also creating multiple points of identification.
Of course, the central Fairies are dainty and very much in accord with dominant standards of beauty, though a tertiary character, Fairy Mary, is more full figured. The core Fairies depict a range of skin colors and are voiced by a multi-ethnic cast of actresses, but the narrative is colorblind and this range in skin color never commented upon. All the Fairies appear Caucasian to my Caucasian eyes except light brown-skinned Iridessa. Iridessa is voiced by Raven-Symone, Silvermist, by Lucy Liu, and America Ferrera voices Fawn, though the Fairies do not seem to be of varied ethnicities. Rosetta (Kristin Chenowith) plays the girly-girl to the more practical, independent Tinker Bell (Mae Whitman). Vidia (Pamela Adlon), who is not included in the Fairy decal collection, often introduces conflict as more full of herself than the communally-oriented core Fairy group. Also, a lot of Fairy talents are pretty domestically-based; though one could argue the range of talents matches the communal society, so this focus on basic life-preservation-tasks matches the narrative universe. The Fairies are led by Queen Clarion, which makes Pixie Hollow a communal monarchy of sorts.
The Tinker-verse fits well with the more feminist-inflected Disney heroines of Brave and Frozen. The stories emphasize the value of a female collective and affirm a range of femininities that viewers might find for identification, and no one is waiting for their prince to come or sitting around just looking pretty. The Tinker-verse is also reinventing and expanding the Peter Pan mythology in some interesting ways that have not drawn the level of fan attention and vitriol common to other franchises and narrative worlds. Though the brief description offered here sounds ridiculous at points, there is an impressive comprehensiveness, consistency, and seeming deliberateness in the narrative world that Disney has created.
[1] See Peggy Ornstein, Cinderella Ate My Daughter: Dispatches from the Front Lines of the New Girlie-Girl Culture (New York: Harper, 2011).