Why is My Kid Watching That Lady Fondle Eggs?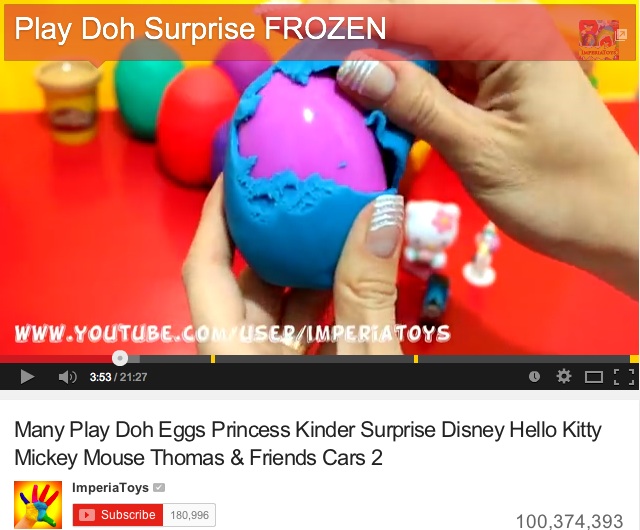 If this isn't as articulate as I'd like, I blame it on both the exhaustion of raising two and a half year old twins and the ethical and emotional struggle I personally experience on this topic daily. Let's just put my cards on the table. Two and a half years ago I would have spouted forth about how the quantity of age-appropriate(ish) media consumption shouldn't really be a concern. Like many media scholars, I was a child of television. I did a solid version of binge watching in the context of a 1970s/1980s household without cable, and my feelings about kids and media consumption emerged from a childhood love of The Joker's Wild, Match Game, and The Brady Bunch and in complete avoidance of actual research. Then I had kids. I now function, like many scholar/parents I'm sure, in an ambiguous space between a belief in the medium I love and a fear of melting the tiny brains of the actual humans for whom I'm responsible. Every morning I try to fight the good fight, when my son wakes up, immediately looks for an iPad, and proclaims "want watch 'big TV'." And the struggle continues.
The environment in which I'm raising my tiny 21st century viewers brings the best and the worst that technological advancements have to offer. Along with providing a wealth of totally watchable age-appropriate content, new delivery systems and interfaces instill awful behavioral patterns that transcend mere viewing habits. Although this new media landscape allows haggard parents a tremendous sense of ease with content location and selection—constantly leading my partner and I to wonder how our ancestors or Laura Ingalls Wilder's parents survived child-rearing sans television—we should also be concerned with what it's teaching our kids about expectations and task completion.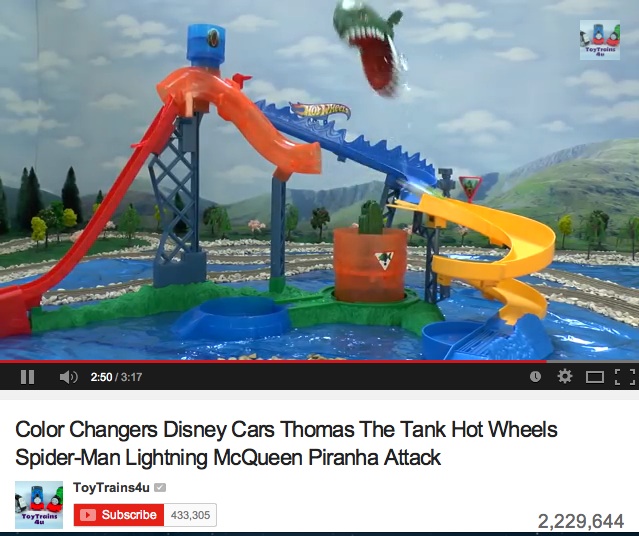 Like many kids of the 21st century, mine live in a house with cord-cutters. Their electronic media comes primarily in the form of DVDs, cartoons on Hulu and Netflix, or videos on YouTube viewed on an iPad. Unlike their foremothers (well, just the two), they never had to wait for their shows to air. Every time-slot belongs to them. There's no waiting around for Sesame Street or The Electric Company. They're never forced to begrudgingly watch Mr. Roger's Neighborhood because it's that or Donahue. Daniel Tiger, Rabbids Invasion, and Wild Kratts are never more than a click away. Their "now" and "just what I wanted" style of viewership encourages them to be tiny, impatient content bullies. My twins are exceedingly annoyed with advertisements when watching linear television. FBI warnings on DVDs have enraged them since infancy.  If they can't watch the episode they want when they want it, they're incredibly frustrated, and we're now watching this demand for personalization translate into other activities. Why won't Target replay "Happy" over their loudspeaker now? Why doesn't everyone have our applesauce? How dare the radio not know what we want to hear at this second? Our reliance on the ease of contemporary media delivery has only aided them—even more than the previous generation's DVD players and VCRs—in becoming part of a pushy generation of playlist demanders.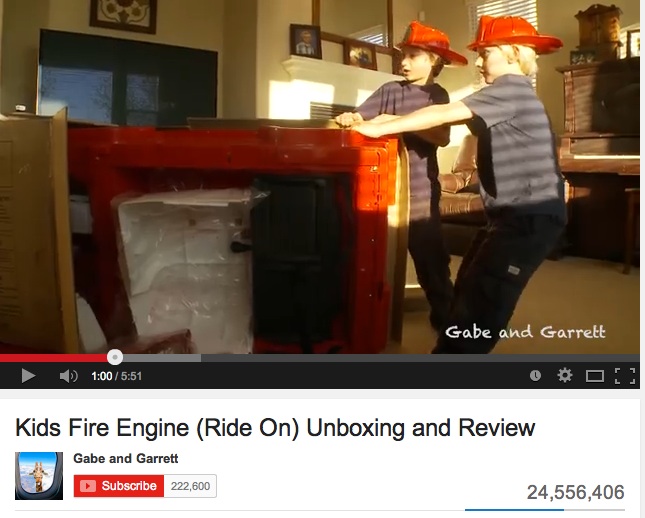 Aside from instilling kids with a high degree of impatience and need for immediate satisfaction and customization—and a belief that these expectations are reasonable—contemporary media has further enabled what was once one of the main evils of children's entertainment. Far from the days of Congress and the FCC debating the scourge of the program-length commercial (damn you Strawberry Shortcake), YouTube has wrought a range of toy videos that function as nothing short of toddler crack. An entire genre of toy unboxing videos shares with kids the wonders of consumer products (and notably, my kids have an uncanny ability to find them). New York Times Magazine recently addressed this genre in "A Mother's Journey Through the Unnerving Universe of 'Unboxing' Videos," a piece that details user DisneyCollector's 90million-plus hits—and potential millions in ad revenue—for a video of her opening plastic eggs to reveal small hidden toys inside. DisneyCollector's contributions, as well as videos with porn-y underscoring showing manicured hands seductively peeling Play-Doh from plastic eggs and endless videos that show kids playing with toys or toy mash-ups, simultaneously (even if as collateral damage) advertise to the very young and reinforce—through their brevity, inanity, and rewindabilty—both compulsive viewing and a tenuous attention span. My household recently deleted YouTube from some and password protected all of our tablets, as the kids were disappearing and our son shouting, "you stay in there ma!" with the hopes that we would not discover them obsessively watching other "kids" play with toys.
I love the ease of 21st century media and it's a wonderland for kids. They can hold it in their hands and demand it play at their tiny command. For my two cents, we need to be thinking about how today's media interactions—not just content—are helping to shape our kids' interactions outside of the box. I'm not going to take away our TV or iPads—the iPad is, after all, the only way to keep them from puking in the car—but as a parent/scholar, I need to keep my eye on the potential residual behavioral impact of these new forms and increased levels of control. After all, it's all happening on my watch.