Downloading Serial (part 4)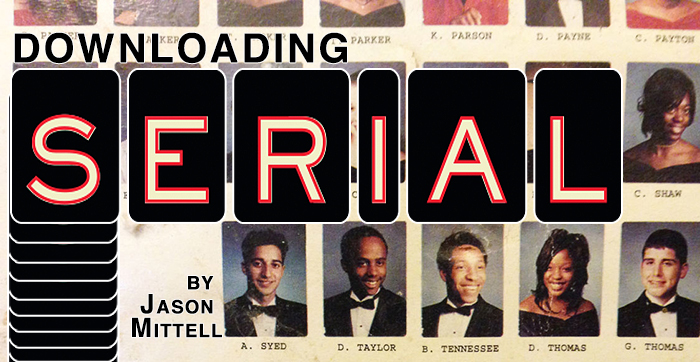 Previously on "Downloading Serial"…
… was more than a month ago. Why the delay? Partly it was personal circumstances: a dead hard drive, family commitments, end of the semester craziness. But more it was because I didn't quite have enough to say to warrant an installment, as many of my thoughts were only partly formed, or contingent on how future Serial developments would play out before I wanted to commit to an analysis. My abiding sense that Serial itself was in flux as a cultural object made it difficult to write an analysis that could avoid its own wavering and uncertainty.
But now we are done, or at least the standard weekly release of the story of Adnan Syed on Serial has ended. His story is far from over, but the storytelling has stopped. And I'm left to reflect on what Serial was, and might have been, had it not been so wedded to its weekly release schedule and need to conclude before the holiday season kicks in. One of the most exciting elements of Serial is how it has seemed to be inventing its own structural conventions throughout its run, distinguishing itself from typical radio with variable episode lengths, and jumping onto the high wire act of simultaneously reporting and presenting astory. From the beginning, Sarah Koenig has said that we'll be following along with her as she discovers the story, and that they did not know how exactly many episodes the first season would be. But the final month has felt like they were spinning their wheels, looking for material to structure each weekly episode (especially last week's "Rumors" installment), even given the extra break for Thanksgiving, and finding ways to incorporate the miscellaneous new information that kept pouring in.
Despite its conclusive allusion to Dragnet, which made me smile, today's final episode felt rather arbitrary, dictated by the desire to have a defined season of regular installments, and seemingly to avoid the counter-programming of Christmas and New Year's. There is no resolution, with two court motions still in play but otherwise no change in Adnan's status or compelling alternate suspects—the last minute identification of a serial killer felt underwhelming, making me yearn for an episode exploring that story and teasing out the many problems with that theory. Koenig ends by playing juror and acquitting Adnan, but even as bits of evidence may have swayed her opinions slightly throughout the series, I have no doubt that she has always held sufficient reasonable doubt. The ending of Serial, entitled "What We Know," establishes that although we know a lot more about the case than when we began, the big picture is the same as established in the pilot: the prosecution's case was not enough to warrant conviction, but no other explanation for Hae's murder rises above the level of unsubstantiated speculation inappropriate for factual journalism.
I've been interested in how Serial draws upon conventions of serialized TV fiction, and there is no doubt that the podcast's unprecedented popularity was fueled by those resonances. But in the end, I think those comparisons also highlight Serial's greatest weaknesses. The producers fail to achieve the structural elegance that marks the best of serial storytelling, where each episode both stands on its own and as piece of a compelling larger whole. They tackled a genre of crime fiction where our expectations are always aimed at a revelation that will be satisfying and conclusive, answering the curiosity question of "what happened in the past?", which is an unreasonable goal for an ongoing investigation to arrive at. They embraced a serialized form that has encouraged and even demanded forensic fandom to fill in the gaps between episodes, but did not account for how to deal with the ethics of fan investigation into an actual murder, and whether to integrate or ignore such fan practices. And by adopting the model of weekly episodes of a thematically unified season, they were forced to produce episodes without much new to say, and stop producing episodes before the story had finished unfolding.
None of these structural facets are essential aspects of a serialized podcast. Specifically, I wonder how Serial may have played out with a more flexible production and distribution schedule. There is no doubt that the weekly release creates a ritual of engagement that is hard to replicate, but after a few episodes establishing the hook, moving to a more sporadic release as motivated by the story and reporting could sustain that engagement. And why must the series end now, just because further weekly releases are untenable? Imagine that in two months you noticed there was a new episode of Serial waiting in your iTunes playlist, with an update on Adnan's appeal, or an in-depth investigation into the possible guilt of Ronald Lee Moore. That would set Twitter ablaze, and renew interest in the series (and sustain engagement in anticipation of the next season). Unlike television or radio, there is no need for a podcast to follow regular schedules, as it can be updated and distributed more like software or blogposts. Fiction has long shaped crime stories to fit into the constraints of a book, a film, or serialized television—Serial has adopted those constraints for a new medium, rather than exploring how non-fiction audio might more radically reshape the serial form. Much has been said about how Serial's success has made podcasting into a more legitimate and popular medium; I hope it can inspire more creative uses of the medium's structure and serial possibilities.
I conclude here where I began as well—I think Serial is a remarkable achievement, and I found it truly compelling listening. And yet… I am left dismayed by the structural limitations it imposed upon itself, by the ethical considerations that it seemed unable to grapple with effectively, and the genre trouble stemming from marrying non-fiction content to fictional storytelling norms. I don't find these flaws to be debilitating, or that my critiques are merely "concern trolling" (as I've been accused of doing). Instead, such dissatisfaction is the fuel that keeps me engaged—given the ongoing promise of seriality, we always hope for more, for different, and for better. While I doubt we'll get more of Adnan's story within Serial proper (although I assume there will be a This American Life episode in a few months following-up on the developing story), we will get another season. Hopefully Koenig and her team won't try to recreate what worked this season, but rather explore a new story on its own terms, with new storytelling structures and less constrained possibilities for what podcasting may be. Regardless, I'll be listening.