'Real People, Real Radio': KXCI community radio in the aftermath of January 8, 2011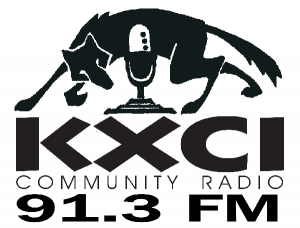 Mary Beth Haralovich
University of Arizona
This is a story of a particular time at KXCI, Tucson's community radio station and a reflection on the role of community radio in a community. On January 8, 2011, there was a horrific shooting at a "Congress on Your Corner" event outside a grocery store in Tucson, Arizona. Six dead, more wounded physically and emotionally, Congresswoman Gabrielle Giffords shot in the head. KXCI's slogan – "real people, real radio" – had particular resonance that January as KXCI responded to the crisis from its position as a local station with 70 djs, diversity in music, and locally produced public affairs programs.
The shooting occurred on a Saturday, a day of DJ specialty shows – Ruby's Roadhouse, Kidd Squidd's Mystery Jukebox, and Marty Kool's Blues Review. Carol Anderson (aka Ruby) was live on the air while fragmentary news of the shooting circulated. Prepared in advance, she had the day's music at hand. Ruby recalls, "We do our shows in real time and without any pre-recorded segments, so I was in the most difficult position of trying to keep my emotions in check so that I could still operate the broadcast equipment and keep the flow of programming going until I could get more information." She experienced a huge dissonance between the horrifying events playing out and rockin' roadhouse tunes. Musically, the show was "upbeat and positive" yet the dj experienced "intense emotions: confusion-fear-sorry-anger." Ruby reflected, "My belief was that having continuity of programming took precedence over the (still unfolding) events of that day, and perhaps even offered a source of comfort for some."
Music Director Duncan Hudson was at first conflicted about KXCI's response, thinking they should air PSAs about mental health and interview guests on air. Hudson "came to realize that KXCI's role in the community at this difficult time was to keep things consistent and dependable. KXCI's core philosophy is to be an alternative to news and to talk." While there are featured albums each week, KXCI does not dictate playlists. In the aftermath of January 8, each dj reacted in her/his own way, connecting with community and healing through music. Hudson commented, "KXCI creates a culture of self-expression and djs express themselves through their shows, through music that is meaningful to them. What we do every day made what we did in the crisis the right way to respond." KXCI's structure meant that 70 individuals created their own playlists, going live to express the inexpressible through music. General Manager Randy Peterson estimated that calls to the station were 50-to-1 thanking KXCI for the music.
While KXCI did not have the wherewithal to cover breaking news, KXCI's locally produced public affairs programming was able to explore the local situation in depth. KXCI Community Engagement Director Amanda Shauger produces 30 Minutes, a weekly public affairs show. The day after the shooting, 30 Minutes covered the first press conference. One week later, 30 Minutes explored a local memorial for healing. In the months that followed, Shauger produced podcasts about mental health first aid in Tucson and the first "Beyond" community-wide event that commemorates loss, celebrates togetherness, and recommits to building a future. In podcasts where voices speak at leisure rather than in sound bites, 30 Minutes helped to close "the gap between national and local knowledge," an issue that Joy Fuqua examines in her study of "national media as official narrators" in the wake of Hurricane Katrina.
Leonard Bernstein, writing in November 1963, in the aftermath of President Kennedy's assassination: "This will be our reply to violence: to make music more intensely, more beautifully, more devotedly than ever before." [i] One may think that the music of comfort would be sad songs in a minor key. That wasn't the case at KXCI. Musician and neuroscientist Daniel J. Levitin notes, "Whenever humans come together for any reason, music is there" (6). He explains how music channels the inexpressible, arousing complex interconnections with memory. Levitin writes, "We take pleasure in the sensory experience, and find comfort in its familiarity and the safety that familiarity brings" (242). "We surrender to music when we listen to it" — we let ourselves become vulnerable. Levitin cites "groove" as the quality that connects us to music: "When a song has a good groove, it invites us into a sonic world that we don't want to leave.  Although we are aware of the pulse of the song, external time seems to stand still, and we don't want the song to ever end" (170). Pleasure, safety, familiarity, vulnerability — these words describe the music listener's state of mind.
Peter Brooks' concept of the "mute gesture" of melodrama intersects with music in many ways. The mute gesture articulates the inarticulate nature of grief and response to trauma. It is the gesture that speaks when words cannot. The mute gesture calls to mind Roland Barthes' "third meaning … I cannot name it, but I can clearly see the features … of which this sign … is composed."[ii] The emotional and collective affect of music brought comfort and hope to the grieving subject. Music spoke for the dumbfounded and helped the community cope through those days of trauma and disbelief.
Inspired by impromptu shrines, local musician Mitzi Cowell wrote Shine From the Valley "to honor the positive response of the community, the potential of humanity to rise to a higher state." Her hybrid pop-country tune crossed the demographics of Tucson. Local musician and documentary filmmaker Beverly Seckinger produced the music video. The setting — a desert chapel at sunset — calls upon regional iconography of peace and hope. Cowell commented, "music is the closest thing to magic that the human race has." On her Media Praxis website, Alexandra Juhasz explores "the [feminist] distinction between one's own voice and the voice of history." Music around Tucson's tragedy offered both voices: a voice for this ineffable and emotional moment in history; and the invitation to "self-name," to find one's way in and through the music. Notes [i] Bernstein's statement graces the mission statement of Luz de Vida/Light of Life, a Music Against Violence album that benefits the fund for the victims of January 8. [ii] Roland Barthes, "The Third Meaning" (trans. Richard Howard) Artforum 11:5 (January 1973), 46-50.