Keep it 100: The Nightly Show Flips the Script on "Fake" News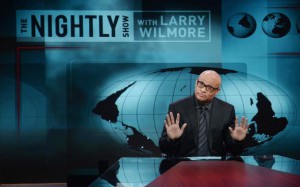 As an obsessive fan of the genre that has become known—somewhat inaccurately—as "fake news," I was incredibly curious to see where Larry Wilmore, the host of Comedy Central's The Nightly Show, would take the genre. Wilmore faced the challenging task of replacing The Colbert Report, a show that had brilliantly satirized right-wing punditry. Colbert launched his character—and the show—at a moment of profound frustration for progressives, just a few months after George W. Bush had been reelected president despite the fact that his administration had used false evidence to justify an invasion of Iraq. Thus, Colbert's sharply crafted persona could personify the excesses of political punditry as way of undermining it. As Colbert himself said in an interview for Slate, "I embody the bullshit." Colbert, along with Jon Stewart, who announced that he is leaving The Daily Show while I was working on this blog post, provided a vital critique of  the failures of televised news in covering U.S. politics. Wilmore, of course, is entering a much different political climate, one in which a relatively popular Democratic president leads a country that is still highly polarized.  He has responded to this challenge by rejecting satire in favor of a commitment to "keeping it 100," in which the host and his guests promise to keep it one hundred percent real through ostensibly honest conversation about relevant social and political issues. It's an intriguing approach, but one that may not generate he heat that his fake news predecessors have.
Unlike Colbert and Stewart, Wilmore has explicitly defined his show in terms of conversation, rather than establishing himself as a singular voice about the day's events. The show typically—although not always—opens with a seven-minute monologue on a specific issue (the state of public protests, money in politics, the tensions surrounding black fatherhood) that may not explicitly reference that day's headlines. After this opening monologue, Wilmore will then orchestrate a conversation with four guests, including activists, authors, politicians, and comedians, some of whom are regular contributors to his show. The final major segment of The Nightly Show is—so far—its signature: the rapid-fire question-and-answer bit called "Keep it 100," in which Wilmore asks his guests a provocative question, challenging them to answer completely honestly. Guests who are judged to have answered authentically, by both Wilmore and his studio audience, are awarded with a "Keep it 100" sticker. Guests who don't are barraged with tea bags for offering a "weak tea" response, as when Senator Cory Booker demurred about his aspirations to run for president. While this segment initially felt gimmicky, it has in some cases provoked some remarkably candid responses, such as Zephyr Teachout's admission that she would not reject support from the Koch Brothers if she thought it would ensure that she would win a race for governor.
Because of The Nightly Show's hybrid format—a combination of political or topical monologues and the panel—it has been described as a cross between The Daily Show and Bill Maher's Politically Incorrect. While such a description may capture the format of the show, it doesn't quite convey the tone that Wilmore has cultivated. Unlike Maher, Wilmore has avoided strident commentary along the lines of Maher's fierce critique of Islam. And, for the most part, Wilmore has dodged The Daily Show's tone of righteous indignation at the failures of the U.S. political system and the cable news channels that cover it. Instead, Wilmore has sought to provide a forum around important issues. In fact, in one of his most successful episodes, Wilmore skipped the monologue entirely, devoting an entire episode to a forum on the state of black fatherhood, with guests including hip-hop artist Common and New York Times columnist Charles Blow. During this panel, Wilmore and his guests turned over the remarkable statistic that 72% of African-American children are born out of wedlock. What resulted was a complex dialogue, one that reflected Wilmore's stated goal of creating a show that is about "the discovery of things."  This approach may be more inclusive, but it also may not provide the sound bites that compel audiences to share clips on social media, an important avenue for circulating crucial forms of media criticism.
The Nightly Show has occasionally felt as if it has struggled to find its voice. Especially during the opening episode, the panel seemed tentative, but Wilmore has worked quickly to adapt to his role as a moderator. In some cases, the attempts to be provocative during the "Keep it 100" segment have misfired badly, as when Wilmore followed up a thoughtful panel on black fatherhood with a crass question for all four panelists about whether black women were "too bossy" to marry. The panels sometimes feel too superficial, especially when experts on key issues get crowded out by other guests. And while Wilmore has offered some sly political commentary (his link between anti-obesity biases and Peter King's heartless comments about the death of Eric Garner is one example), his low-key style might not provide the sparks that have made The Daily Show, The Colbert Report, and John Oliver's Last Week Tonight into potent sources of media and cultural criticism and, in some cases, political activism. The Nightly Show, appearing at moment of profound change, is taking news comedy in a new direction, but in a culture where "real" news remains woefully inadequate, we need the fake news to call out journalistic shortcomings. Hopefully, by keeping it 100, Wilmore can sustain the vital political force of fake news for a long time to come.