Mapping Popular Music Studies: Report from IASPM-US 2015 Conference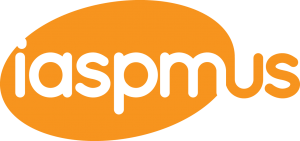 Louisville is full of surprises. Ask the attendees of the 2015 International Association for the Study of Popular Music's annual U.S. meeting in the Derby City, which took place in Louisville on February 19th-21st. A century-record-breaking cold snap brought snow and surprise to both city residents and conference attendees, but that didn't stop the IASPM community from sharing a staggering array of perspectives on pop music. Between visitors' questions about whether Louisville is one thing or another ("Looeyville or "Looavul?" Southern or Midwestern?), a variety of perspectives about pop music emerged. Those perspectives reflect a conference that is as esoteric and hard to define as the city in which it was held this year.
Full disclosure before we go any further: I had a vested interest in this year's IASPM-US conference, given that I played a bit part in the event as area co-chair for local arrangements (assisting Diane Pecknold, IASPM-US' vice president). It was the formidable Diane Pecknold and the Program Committee that made this a success. What follows are my own post-conference thoughts.
The conference itself continues to be hosted at universities, rather than at the hotel conferences common to larger conferences' annual meetings. Campus locations give the conference a kind of cozy informality. While the relatively small size of the conference might be seen as a reflection of popular music studies' relatively marginal status in the U.S. as opposed to other Anglophone countries (most notably, the U.K.), it has also allowed the event to remain theoretically and methodologically open to a wide diversity of approaches and opinions.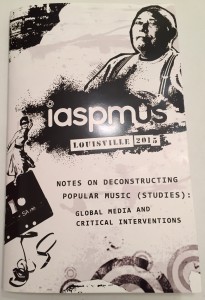 While this approach can at times risk incoherence at its limits, it also can offer space for the kind of meaningful interdisciplinary that Stuart Hall practiced and championed for decades. This year's IASPM-US conference, "Notes on Deconstructing Popular Music (Studies): Global Media and Critical Interventions," was in tribute to Hall's life and work. Following in Hall's own methodological footsteps, the study of popular music remains an interdisciplinary pursuit. That doesn't mean there haven't been changes in the conference's makeup over time. In recent years, music studies' increasing interest in the popular has led to a greater influence from musicology, ethnomusicology, music theory, and music history. At the same time, conference presenters from a wide array of disciplines offered their own takes on the multi-faceted subject of popular music. This year's conference included researchers in cultural studies, media and communication studies, global and transnational studies, gender and queer studies, race and ethnic studies, sociology, history, literature, American studies, sound studies, performance studies, and folklore.
Perhaps because of the conference's dual focus on music as media and music in a global context, various panels took on these subjects in detail. Presentations by featured speakers Deborah Vargas assessed feminist queer interventions in pop music studies ("Musical Sociality and Queer Latinidad") while Barry Shank outlined the political power and efficacy of musical beauty ("Popular Music Studies at the Limits of Hegemony"). The "Material Economies" panel looked at the intersection of music, media, materiality, and labor, while "The Business of Pop" examined recording industry texts, cultures, and practices over the last century. The "Roots and Routes of the Far East" panel mapped the globalization of Japanese pop music, while the "Transnational Music, Transnational Identity" panel investigated complex musical configurations and multivalent identities across national boundaries.
Roundtables that featured Louisville musicians, archivists, and cultural producers offered a glimpse into the peculiar culture of Louisville across time. The Louisville Underground Music Archive opened its doors to show conference attendees its nascent collection. A roundtable on Louisville music festivals provided insight to how organizers understood their audience and the city they serve. In the "Local Histories: Louisville's Independent Music Scene" roundtable, the audience heard Rachel Grimes (Hula Hoop, Rachel's), David Grubbs (Squirrel Bait, Bastro), Ethan Buckler (King Kong, Slint), and Britt Walford (Slint, Watter), and others talk about their own experiences in the city's music scene, while mapping that scene's ethos and idiosyncrasies.
Evening events gave the conference a sense of place. The welcome event at the Kentucky Museum of Art and Craft allowed a peek at flyers to be included in the book White Glove Test: Louisville Punk Flyers, 1978-1994 (forthcoming, Drag City). Musical performances by David Grubbs, Wussy, and 1200 at the New Vintage provided a bill that reflected the musical, theoretical, and methodological breadth of the conference.
My take on IASPM-US 2015 – my first reaction in just the past few days – is that the study of popular music remains as hard to map as the city in which the conference was held. And while that risks playing out as a weakness, in Louisville it felt like strength.