David Letterman: So Long to Our TV Pal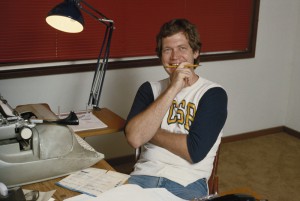 Post by Bradley Schauer, University of Arizona
Much of the press coverage of David Letterman's retirement has framed it as the end of an era. According to this account, the traditional late night talk show – pioneered by Steve Allen in the '50s, brought to its classical peak by Johnny Carson, and reaching its creative apex with Letterman's baroque, ironic approach beginning in 1982 – has been rendered obsolete by a new emphasis on social media and viral videos. Even Letterman himself recently admitted that his show's failure to embrace YouTube and Twitter was a problem: "What I'm doing is not what you want at 11:30 anymore… I hear about things going viral, and I think, 'How do you do that?'"
On one hand, the differences between Letterman's show and those of his youthful competitors are overstated. Jimmy Fallon, Jimmy Kimmel, and the rest still adhere closely to the traditional late night formula: monologue, desk piece, two guests and a musical act. And Letterman, particularly in the first 2/3 of his career, specialized in short remote videos (Dave works the Burger King drive-thru) and spectacle (Dave wears a Velcro suit) that would have lent themselves to online distribution. Much of Letterman's declining ratings with young viewers can be simply attributed to his age: a 68-year-old who makes jokes about the Andrews Sisters and Lorne Greene is never going to win the 18-49 demo.
On the other hand, Fallon's YouTube clips do receive exponentially greater hits than Letterman's, and it is due to more than Fallon's aw-shucks charm. Letterman's inability to go viral is a byproduct of his unique approach to the talk show format, one rooted in traditional modes of viewership. Whereas the newer shows' short, self-contained segments are constructed for easy accessibility and viral distribution, Letterman rewarded the dedicated viewer. It was not only funnier if you watched the entire program, it was funnier if you watched every night. Strange jokes that were barely funny on their own became hilarious as they were repeated, out of context, across an episode and for weeks afterwards. In this way, Letterman's show was truly cult television, creating an insular community of viewers that prided themselves on their separation from the mainstream. It was no surprise (except apparently to Letterman) when the more accessible Jay Leno began beating him in the ratings after the honeymoon period of the mid-'90s.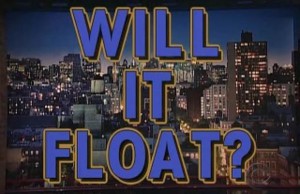 Along the same lines, Letterman's funniest moments were rarely as funny when decontextualized from the show's offbeat comic sensibility. More than anti-comedy, Letterman's humor is typically a blend of two contradictory impulses: irony and sincere pleasure in the mundane. The purest example is "Will It Float?", the recurring segment in which Letterman and Paul Shaffer would earnestly debate whether or not an item would float before two models threw it into a tank of water. The audience enjoys the overblown, ironic trappings associated with the skit (including a theme song and a hula-hoop dancer), but is also encouraged to take genuine pleasure in the question of whether or not the item will, in fact, float. Letterman satirizes the entertainment industry by valorizing the trivial. But the mundane does not make for effective YouTube clips – Stupid Pet Tricks can't possibly compete when put up against the entire internet.
The newer shows' heightened emphasis on celebrity guests is another important distinction. The usual observations about Fallon's obsequiousness vs. Letterman's disdain for modern Hollywood celebrity culture seem roughly accurate. The key difference, though, was that Letterman was the undisputed star of his show, his personality and sense of humor dominating and permeating every aspect. Fallon and the rest follow Leno's example, acting as genial emcees who each night willingly take a backseat to their guests. And while Letterman was rarely as severe to guests as his reputation would indicate, it was usually clear whether or not he was interested in what they had to say. If he was, the interview had the potential to become a genuine conversation that revealed more of the guest than the faux-spontaneity of Fallon's parlor games or James Corden's skits.
Letterman's show at its best had a loose, improvisational quality that hearkened back to Steve Allen more than to Carson. Especially during the low production values of the NBC years, it was as though Letterman were hosting the funniest public access show of all time. He was unafraid to use a sense of duration as comic fodder: for instance, cold-calling a CBS executive and then waiting over a minute in awkward silence for the secretary to see if he was available. As the years went by, and Letterman stopped attending rehearsal, the spontaneity only increased, with the host showcasing his gift for language in rambling shaggy dog stories told at his desk. (In his excellent show, Craig Ferguson would take these qualities to their extreme, ensuring that he would never be considered for the 11:30 slot.) Again, this type of humor does not work when reduced to internet clips where viewers demand instant gratification.
The outlook for late night talk shows is grim, with ratings only about half of what they were 15 years ago. I remember my students in 2010 vehemently supporting "Team Coco" during Conan O'Brien's ouster from The Tonight Show, only to admit that none of them actually watched the show, but knew O'Brien entirely from YouTube clips and Twitter. Networks seem to value YouTube hits, but it has never been clear exactly how they are monetized in any substantial way. Taking into account the fragmentation of the post-network era, and the relative interchangeability of this new generation of late night hosts, it seems as though David Letterman's legacy will be as the last real star of late night television, and, in all likelihood, as one of the last great American broadcasters. If there is a new David Letterman out there, his or her type of comedy will not find a welcome home on network television.