Digital Tools for Television Historiography, Part II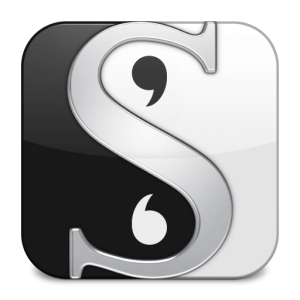 Post by Elana Levine, University of Wisconsin-Milwaukee
This is the second in a series of posts detailing my use of digital tools in a television history project. Read Part I here.
When I set out to manage all of the research materials for my history of US daytime television soap opera digitally, I was mainly concerned with having a system for storing PDFs, notes, and website clippings in a way that made them easily searchable. But after I had decided to use DevonThink as my data management system, migrated existing materials into the program, and began taking new notes with the software, I had to face the second part of my process—converting research materials into chapter outlines.
As I described in my previous post, my earlier method for this stage involved a floor and piles of papers. It also involved blank notecards, on which I would write labels or topics for the different piles as I sorted them into categories, and then a legal pad and pen, upon which I would sketch an outline of my chapter, figuring out the connections across the piles/categories, and testing ideas for the big picture arguments to which the piles built. Having gone digital, however, there were no physical piles of paper to organize. I needed a digital means of conducting that analog process. I needed digital piles.
For a while, I was resistant to considering writing software as the answer to this dilemma. Writing was not the problem. I had been writing digitally for a long time. (No, you need not remind me of the typewriter I took to my freshman year of college). Because I did so much planning and thinking before writing, I had no problem using conventional word-processing software to write. In fact, I like to write in linear fashion; it helps me construct a tight argument and narrate a coherent story. It was the outlining—the pile making, the planning and thinking—that I had to find a way to digitize. Then I saw the corkboard view on Scrivener with those lined 3X5 index card-like graphics. A virtualization of my piles, beaming at me from the screen instead of surrounding me on the floor!
So began my experimentation with Scrivener, which has now become an integral part of my process. Scrivener is writing software and, like DevonThink or any other digital tool, has many uses. As with my use of DevonThink, I have been learning it as I go, so I am far from expert in all of its features. Because I needed the software to help me to categorize my research materials and outline my chapters, I mainly use its "binder" feature to sort my materials into digital piles. The hierarchical structuring of folders and documents within the Scrivener binder provides me with a way of replicating my mental and, formerly, haptic labor of sorting and articulating ideas and information together in a digital space.
I began by reading through all of the materials in DevonThink associated with the 1950s. As I read I categorized, figuring out what larger point the source spoke to, or what circumstance it served as evidence of. I created what Scrivener calls "documents" for any piece of research, or connected pieces of research, that I thought might be useful in my chapters. Early on, I realized I had multiple chapters to write about the '50s and ended up outlining three chapters at once as I moved through my materials. I gradually began to group documents into folders labeled with particular themes or points. This is the equivalent to me putting an index card with a label or category on top of a pile of papers, a way of understanding a set of specific pieces of information as contributing to a larger point or idea. These folders became sub-folders of the larger chapter folders. But it is the way I integrate this process with DevonThink that allows me to connect specific pieces of my archive to my argument. In DevonThink I am able to generate links to particular items in the database. I paste those links in the Scrivener documents I create.
How does this look in Scrivener? Sometimes this means that a Scrivener document is just my link, the text of which is the name of my DevonThink item, such as, "SfT timeline late '50s/early '60s," which is my notes on story events from Search for Tomorrow during that period. But Scrivener's "Inspector" window, which can appear alongside the document on the screen, is a useful space for me to jot down notes about that document, reminding myself of the information it offers or indicating what I see as most relevant about it. The synopsis I create here is what I see if I look at my documents in the corkboard view.
Other times my Scrivener documents include a number of DevonThink links that feed into the same point. For example, a document called "Portia and Walter relationship" includes links to five different items in DevonThink, four of which are notes on Portia Faces Life scripts; the fifth is notes on memos from the show's ad agency producer to writer Mona Kent. In my synopsis notes on this document, I reminded myself that these were examples of the ways that married couple Portia and Walter talked to each other as equals, and how this served as a contrast to another couple on the show, Kathy and Bill. This ability to link to my DevonThink archive has allowed Scrivener to serve as my categorizing and outlining system.
While I have written sentences here and there in Scrivener to help me remember the ideas I had about particular materials, I have not yet found need to actually write chapters within it—I use a conventional word processing program for that. I know this is unlike the typical use of the software, but working this way has helped me to manage an otherwise unwieldy task. Scrivener provides a way to include research materials within its structure, but does not have the functionality for managing those materials that I get with DevonThink.
This system is working well for me, but at times I do find the Scrivener binder structure to be too linear. The ability to move my paper piles around, to stack them or spread them apart, was a helpful feature of my analog methods. As a result, I have begun experimenting with Scapple, a "free form text editor," similar to mind-mapping software and created by Scrivener's publishers, as a way to digitally reimagine the fluidity of the paper piles. Like Scrivener, Scapple allows me to link to DevonThink items and has met my desire for a non-linear planning system. I can connect examples and items from my archive to larger points and, through arrows and other forms of connection, note the relationship of particular pieces of data to multiple concepts.  I'm not yet convinced it is essential to my workflow, but I am intrigued by its possibilities and eager to keep experimenting within the generous trial window (which Scrivener and DevonThink both have, as well).
My use of these digital tools is surely quite idiosyncratic, but in ways more specific to me than to my object of study or the field of television historiography. More particular to the history of soaps and to media history in general are the challenges of managing video sources. Tune in next time for that part of my story.