Documenting Hitch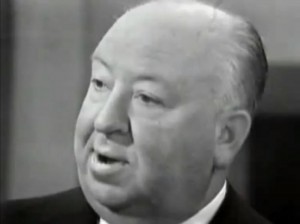 Post by Richard Hewett, University of Salford
This post continues the ongoing "From Nottingham and Beyond" series, with contributions from faculty and alumni of the University of Nottingham's Department of Culture, Film and Media. This week's contributor is Richard Hewett, who completed his PhD in the department in 2012.
Alfred Hitchcock must rank as one of the most discussed and documented filmmakers of the 20th century, the number of books that focus on his life and work having turned into a cottage industry since his death in 1980. This year alone has seen the publication of a second volume of Sidney Gottlieb's collected interviews and short stories, Hitchcock on Hitchcock, Alain Kerzoncuf and Charles Barr's Lost and Found: The Forgotten Films, and a new biography by Peter Ackroyd. Over the years a number of screen documentaries have also been produced, the latest of which, Kent Jones' Hitchcock/Truffaut, premiered at Cannes last month.
The director clearly continues to exert the same fascination that he inspired during his lifetime, but on television, at least, the love affair between documentarists and Hitchcock now risks falling into the same trap as Ackroyd's biography: having nothing new to say, and no new way of saying it. As Hitchcock TV profiles are legion, I will focus here on those made specifically for British television. What emerges is a clear picture — in creative terms, at least — of diminishing returns, though it seems with no similarly diminishing interest in the man himself.
Prior to Hitchcock's death, the number of UK documentaries were few in number, the filmmaker featuring more regularly in extended interviews for arts-centered magazine programs, many of which have since been culled (repeatedly) for biographical features. Unsurprisingly, Hitchcock's visits to British TV studios were inevitably timed to coincide with the release of his latest cinematic work. Thus we have a 1960 interview for Picture Parade (BBC) (the year of Psycho's release), a 1964 interview with Huw Wheldon on Monitor (BBC) (coinciding with Marnie), appearances on Profile (BBC) and Late Night Line-Up (BBC) from 1966 (surrounding Torn Curtain's release), a 1969 NFT appearance (BBC), being interviewed by Bryan Forbes (circa Topaz), and so on. These appearances are notable primarily for the control Hitchcock himself exerts, both subtly and otherwise. Whether or not the questions were pre-screened is impossible to say, but the director is seldom led along any conversational routes he does not wish to pursue, with the result that the same anecdotes are repeated, sometimes verbatim.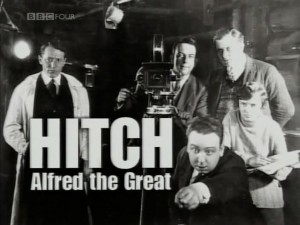 The one British TV documentary made during his lifetime, the 1972 Aquarius (ITV) entry "Alfred the Great," is little different, featuring a combination of studio interview material and footage of Hitchcock directing the opening sequence from Frenzy (1972). Here, as elsewhere, Hitchcock both literally and metaphorically calls the shots. The sole occasion on which the director is visibly challenged in any of these appearances is, interestingly, the only one to take place in front of a live audience. In his NFT interview, Hitchcock effortlessly works an appreciative crowd until interlocutor Bryan Forbes, having pointed out that Hitchcock seldom concerns himself with social consciousness, takes issue with Hitch's repetition of Samuel Goldwyn's maxim that "messages are for Western Union." Forbes cuts short the resultant rumble of appreciative laughter, curtly stating, "Yes; I don't think the applause is actually well placed, because not all films that fall into that category are necessarily bad films, and Goldwyn was getting a cheap laugh, really, which is echoed here…"
At this point, Hitchcock visibly cools.
This moment does not appear in the majority of the television documentaries made following Hitchcock's passing, though the stories he consistently regurgitated during his lifetime are, perhaps inevitably, employed as a framework upon which to build. Three examples stand out in this respect: the two-part Omnibus (BBC) documentary from 1986; another two-part entry in the Reputations series (BBC) in 1999 (Hitchcock's centenary year); and Living Famously (BBC) from 2002.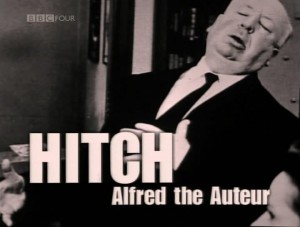 Each relates, often via reliance on identical archive-interview footage, the same tales: the infant Hitchcock being scared by his mother saying "Boo!"; Hitchcock's fear of "everything," but in particular policemen — the latter a result of being locked in a prison cell (at his father's behest) while still a child; explaining the difference between suspense and surprise; bemoaning his lack of technique for having let the bomb go off in Sabotage (1936); and explaining that he never said actors were cattle, only that they should be treated as such.
It is entirely natural, of course, that documentary-makers should rely on such primary material, even if much of Hitchcock's self-celebration goes unchallenged. His statement that after an initially unsuccessful screening for studio bosses, breakthrough film The Lodger (1926) was conveniently left on the shelf for three months before being dusted off and hailed a classic conveniently ignores the fact that Ivor Montagu was brought in to re-edit the film in the interim, removing several of the title cards. However, when the Omnibus and Reputations entries were made, there had been no significant UK television documentary focus on Hitchcock's career for several years. (The BBC had in 1997 mounted a Close Up on Hitchcock retrospective, which featured actors and directors briefly discussing his work.) The inclusion of such notable (and now departed) talking heads as James Stewart, Joan Fontaine, Ann Todd, Teresa Wright, Farley Granger, Janet Leigh, Charles Bennett, Samuel Taylor, Hume Cronyn, Arthur Laurents, John Michael Hayes and Ernest Lehman provides valuable archive material, which would in turn be plundered for later such efforts.
There is also a sense, with these documentaries at least, of new discoveries and revelations waiting to be made — even if some of these later transpire to be false. Saul Bass' claim, in Omnibus, that he in fact directed the Psycho shower sequence stirred up a storm of angry protest from many who had worked on the film (though Bass had been responsible for the storyboards), while Tippi Hedren's reflection, in Reputations, on the post-Marnie rift provided a much-recycled sound bite: "I am totally responsible for it… No; I'm not, he is!"
By the time of Living Famously, this talent pool of primary sources, alas, starts to dwindle, and the same stories and reflections begin to derive from biographers such as David Freeman and Donald Spoto, or critics including Barry Norman, though the indefatigable Patricia Hitchcock O'Connell is still present to defend her father's (and mother's) reputation.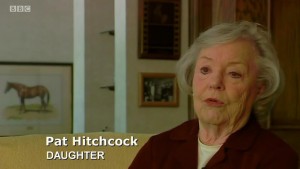 There is perhaps a sense of the well running dry. As with the 1960s interviews conducted with Hitchcock himself, few new questions are asked. It is almost as though Hitchcock continues to exert editorial control over his legacy from beyond the grave, much as he did with the montage piecing together of shots in his movies. Given the paucity of new biographical detail, the sensible approach — and the one taken by the two most recent original TV documentaries, Paul Merton Looks at Alfred Hitchcock (BBC, 2009) and Jonathan Ross's Perspectives: Made in Britain (ITV, 2013) — is to focus on lesser-addressed areas of the director's life. Perhaps in a tacit admission that the old style of expository voiceover documentary has run its course, each of these takes a familiar media face and places it onscreen to deliver a personal take on the great man, both focusing on the British period, which allows an in-depth look at the more obscure (in terms of television airings) early work. Merton humorously acknowledges his reliance on archive footage by splicing himself into the interviews, introducing an irreverent note of which Hitchcock himself might have approved. The documentary closes with Merton loosening the necktie that he has (atypically) worn throughout the program, intimating that he is about to perpetrate the strangling (though presumably not rape) of Hitchcock in the style of Frenzy's psychotic killer. Ross takes a somewhat different tack, using his and Hitchcock's shared geographical origins (each hail from Leytonstone in East London) to unpack both the director's early life and Ross' personal relationship to his work. Though this verges on a vanity project at times, it at least introduces some new material, including Ross demonstrating how the effects shot from Blackmail (1929) was achieved.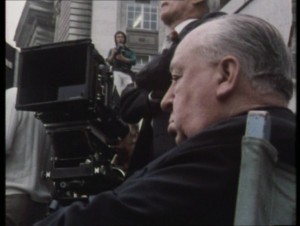 And that, for the moment, draws a curtain (though not a torn one) over original Hitchcock documentaries on mainstream British television. The recent Talking Pictures entries, on Hitchcock and his leading actors (BBC, 2014, 2015), apply an entirely cut-and-paste approach, linking much archive footage that did not feature in previous programs (including a large segment of the NFT interview), with Sylvia Syms' knowing voiceover. This is perhaps as far as can now be travelled in terms of a biographical or career overview, but British television documentarists of the future would do well to take a leaf out of Kent Jones' book, or from Michael Epstein's documentary Hitchcock, Selznick and the End of Hollywood (1999), to focus on particular periods, themes or relationships in Hitchcock's career. Even the documentary extras which have proliferated on DVDs and BluRays over the last 15 years tend to address mainly the American films, and it would be gratifying to see a Hitchcock season — perhaps on BBC Four, which occasionally re-airs the Reputations and Living Famously material — that spotlights lesser-examined works, such as the wartime propaganda films (Bon Voyage [1944] and Aventure Malgache [1944]), the comedies (The Farmer's Wife [1928], Mr. and Mrs. Smith [1941]) or (comparative) failures such as The Paradine Case (1947) and Under Capricorn (1949).
Until then, the Hitchcock TV documentary furrow would seem to have been definitively plowed.