A Very Uneasy Death: Social Media and Cecil the Lion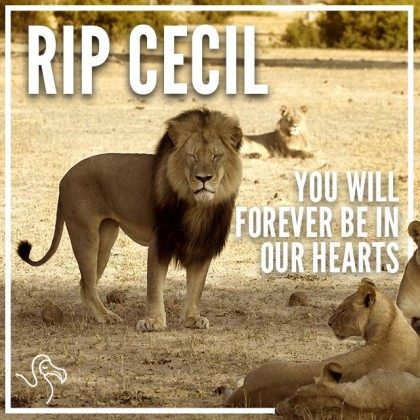 Post by Cynthia Chris, City University of New York
Late in July, a lion named Cecil became an Internet sensation. Unfortunately, his global glory was posthumous: on July 1, an American dentist named Walter Palmer shot Cecil. News accounts report that a professional hunter and guide, who the dentist paid $50,000 or so, lured the lion out of a conservation park and onto private farmland. Both the hunter and the farmer have been arraigned on poaching charges, and Zimbabwe has launched extradition proceedings against Palmer. At this writing, Palmer, who returned to Minnesota after the hunt, appears to be in hiding.
By some accounts, Cecil was already a star at Hwange National Park. He was a handsome example of just the kind of charismatic megafauna that draws tourists on safari, and supporters to environmental causes (small, slimy, or scaly creatures, not so much). He was well documented by picture-taking tourists as well as by researchers from Oxford University's Wildlife Conservation Unit. Since 2008, Cecil had worn a satellite-tracking collar for the group, which is studying the declining population of the Southwest African lion; Palmer's guide seems to have tried to destroy the device after the animal's death to hide evidence of the illegal hunt. So it should come as little surprise that when details of the animal's death emerged—Zimbabwe officials made an announcement on July 25—social media lit up. What did this sudden burst of interest in lion poaching mean? Initial observations seemed to suggest that social media users' engagement with political issues is fickle, and that privileged white Americans care more about one lion than they do about crisis-level racist violence that has been in the news steadily for over a year, since the death of Eric Garner in Staten Island, July 17, 2014. I'm not so sure that a surge in Facebook shares is indicative of anything so dire; at worst, however, it might mean that most of what passes for politics on social media is direly superficial.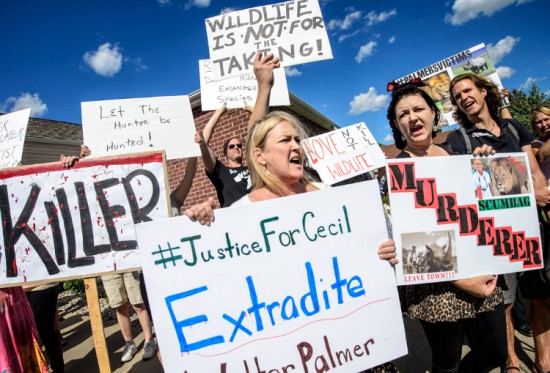 A first wave of responses to the news of Cecil's killing was mournful, disgusted, and angry. When I posted an early Guardian story (which misidentified Cecil's killer as a Spaniard) on the subject to Facebook, a friend posted the following: "What the hell, humanity?"; another, "People—especially wealthy people—are such shits." Still another posted a link to Yelp, where people were commenting about the lion's death on Palmer's dental practice's webpages. Some wished Palmer a death as gruesome as the one he had inflicted on Cecil. Animal rights activists and animal lovers alike gathered to protest at the Palmer's shuttered dental practice in the suburban Minneapolis area, and dropped stuffed toy lions, leopards and bears at the doorstep, creating a makeshift shrine.
Within days, online petitions set agendas and garnered hundreds of thousands of signatures. One at whitehouse.gov called for Palmer's extradition and quickly reached 100,000 signatures, a threshold that often leads to public comment by President Obama. By August 3, over 1.2 million people signed a call for the U.S. and E.U. to ban importation of animal parts taken as hunting trophies. Almost as many petitioned Robert Mugabe, President of Zimbabwe, to demand an end to the practice of issuing licenses to kill endangered species, and to implore the U.S. Fish and Wildlife Service to finalize listing African lions under the Endangered Species Act and to enforce existing laws that would prevent hunters like Palmer from importing illegally obtained animal parts.
This is not to say that social media responded to Cecil's death uniformly.
Some observers lamented all the attention paid to the loss of one big cat, while human injustices proliferate. On July 29, feminist writer Roxane Gay tweeted, "I'm personally going to start wearing a lion costume when I leave my house so if I get shot, people will care." Later in the week, she wrote a more thoughtful, even wrenching op-ed for the New York Times, which pointed out that too many people have more empathy for Cecil—not only on social media, but on late-night TV, where Jimmy Kimmel shed tears for the lion—than for the victims of police violence, whose deaths are too often burdened with blame: "There are always those," wrote Gay, "who wonder what the fallen did to deserve what befell them. He shouldn't have been walking down that street. She should have been more polite to that police officer. He shouldn't have been playing with a toy gun in park. We don't consider asking such questions of a lion."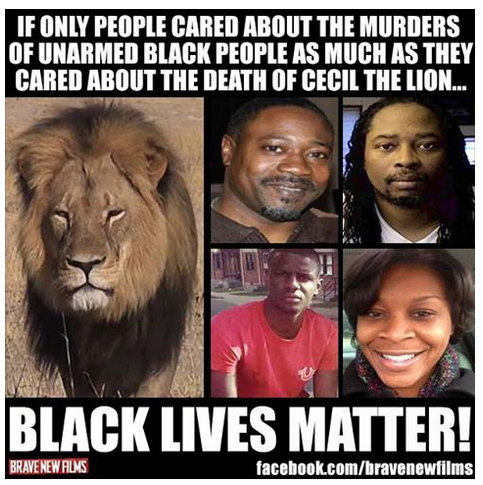 She's right, of course, as are other bloggers who wrote passionately last week on the necessity to keep police brutality and terroristic white supremacist violence at the top of the media agenda. While there is a sustained critique of police brutality, bolstered in part by the remarkable use of social media to build the #BlackLivesMatter and #SayHerName movements, there is also far, far too much indifference, and antipathy, toward the victims.
But a great deal of social media activity—all those easy retweets, shares, "likes," and electronic signatures—is reactive, impulsive, and not necessarily indicative of a great deal of investment in any particular idea. Sure, clicktivism has its proponents, but tears jerked by news of Cecil's death were quick to dry. By July 31, the lion was noticeably less visible, at least on Facebook. Follow-up stories (one erroneously reporting the death of the male expected to take over Cecil's pride) barely registered. Nevertheless, the world's best known conservationist, Jane Goodall, found a silver lining in the groundswell of opposition to poaching; indeed, legislation that would expand restrictions on trade in animal trophies was promptly introduced in Congress, and major airlines banned some trophies as cargo.
So, claims that "Cecil news" had pushed other issues off of electronic news feeds seemed premature. In the short run, social media trends are poor indicators of the greater zeitgeist (though tracking longer term trends may be informative), and that to make too much of a temporary blip on the screen may be to appear to suggest that good politics are single-issue politics. This can't—and can't be allowed—to be true. In fact, the outrage over Cecil's death seems to be driven as much by rage against the "1 percent" as it is about animal cruelty or the sixth extinction. After all, the $50,000 or so that Palmer paid to kill the lion is more than three times what a person earning the federal minimum wage of $7.25 earns in a year of 40-hour work weeks.
In other words, when social media buzzes with the latest lost dog story or dead lion, is not the case that one issue thoroughly displaces another. It is that there are too many tragedies, too many crises, and too much violence of many kinds to take in at a glance, on any screen or page.
We must recognize that environmental issues, from global warming to wildlife protection, are moral imperatives and human rights issues. It is not only possible but essential to fight for justice and against exploitation on multiple fronts. We must remember Eric Garner, Michael Brown, Akai Gurley, and Samuel DeBose. Sandra Bland and Raynette Turner. And others far too many others to mention in this short space. To name another victim of corrupt bloodlust—this time, a non-human one, Cecil—is not to claim equivalence between the animal and individual human subjects, and doing so doesn't trade one issue for another. The Internet is big enough for more than one kind of rage. It has to be.