AnTENNA, UnREAL: Romance and Pedagogy
[The following is the second in a series of conversations between Antenna contributors regarding the Lifetime drama series UnREAL, which recently completed its first season. See part 1 here, and stay tuned for part 3 on Friday!]
A Savvy Romance
Jason Mittell, Middlebury College: One thing that fascinates me about the show is how it simultaneously dismantles the romantic fantasy peddled by The Bachelor, and offers its own savvy version. Framed by its presentation on Lifetime, the series is targeting female viewers who "know better" than to be duped by conventional reality TV (a savvy attitude that Allison Hearn has argued is core to reality TV fandom). The narrative constructs Rachel as the stand-in for such savvy viewers—and yet makes her the object of desire for both the hunky cameraman Jeremy, and the hunky "suitor" Adam. Despite the fact that her life (and hair) is a total mess, Jeremy finds her hotter than his perky blond fiance, and Adam seems ready to choose Rachel over the line-up of primped and perfected contestants.
If one of the appeals of The Bachelor is the vicarious desire for women to imagine that if only they were in the competition, they could beat out those other shallow boobs for his heart, then UnREAL dramatizes that by putting a viewer surrogate for women who might scoff at such desires behind-the-scenes, and then making her inadvertently beat out all of the shallow boobs. She is the savvy viewer incarnate, and she wins the hearts of the show's only two attractive straight men by being smarter than the other women, without even showering!
So I'm curious if others found themselves motivated by these romances? Any shippers? Or were you with me, on the sidelines rooting for the show's purest "romance," Quinchel?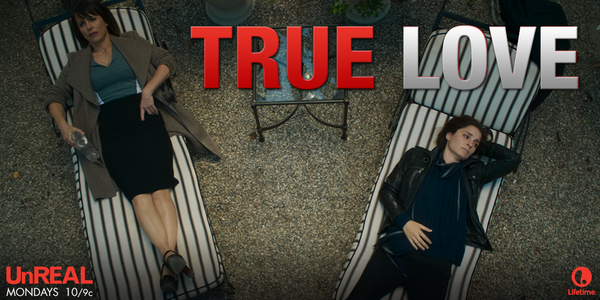 Melissa Lenos, Donnelly College: I know I'm in the minority with this opinion, but I find the romance elements to be the least interesting part of the show. While I get the structural intrigue of framing a sort of anti-romance within the staged romance of Everlasting, I like the show best when it's focusing on Rachel's (and Quinn's!) character development and motivations and general messiness as a human.
Kathleen Battles, Oakland University: You are not in the minority, Melissa. I also found the romances to be the least interesting parts of the shows, especially Rachel's. Quinn's "romance" with Chet was far more interesting, particularly as it was mediated by Quinn's especially non romantic idea of love.
I also find myself deeply uncomfortable with the idea of "shipping" Quinn and Rachel. I found their relationship to be, as I said on Twitter, the central "romance" of the show—but that is different than shipping. Theirs is a complex relationship of teacher/student, boss/worker, idol/worshipper, etc. I also find the poster above deeply, and hilariously, ironic.
I can't say how much I enjoyed the last minutes of this show (minus Jeremy's visit to Rachel's mother—which I only saw later as my recording clipped the end). The scene of Anna taking her moment (I love how self-aware the contestants were) and claiming something better for herself in her white dress followed by Quinn and Rachel discussing the coming season of the show was wonderful on so many levels. Their spat out "I love yous" were a perfect end. The show is unrelentingly grim, as many have noted, but I find the constant tension between the allure of romance and the realization that it is unattainable utterly compelling.
Phillip Maciak, Louisiana State University: I totally agree with your take on the final minutes of the finale. UnREAL is a show built around this narcotic, corrosive relationship between Quinn and Rachel, their shared competence, its costs, etc. But it was fascinating to me that the season didn't actually end there and, instead, cut to that seedy bit of business that your DVR mercifully edited out for you. (The cut to Jeremy was even aesthetically disappointing, given that we'd just had that crane shot as a nice visual punctuation mark.) This was a great finale, but I thought that final twist was both a move to the show's weak side—Margaret Lyons referred to Jeremy as a "humanoid henley"—and an uncharacteristic hedge. That "I love you" exchange, preceded as it was by Quinn's essential admission of her betrayal and some pointed references to murder, left plenty of questions open for us. We don't have to be shipping Quinn and Rachel to know that their relationship is both more interesting and more important than any of the erotic relationships on the show. Dredging up an essentially abandoned subplot from earlier in the season—one that was excessive even by this melodrama's standards—to amp up the stakes seemed both confusing and confused. And so did the shift of focus back (away) to Jeremy, especially in context of Kathleen's earlier point that the heterosexual couplings mostly serve to shift our gaze to relationships between women. I had kind of hoped we were heading into a glorious season two without either Jeremy or Adam, but Fake Chris Pratt isn't going away that easy, I guess.
Melissa: That moment in the finale when Rachel says, "I don't think our audience is interested in girls with jobs" felt like a shout out to those of us watching for the Quinn/Rachel relationship—and watching these women work is so satisfying!—rather than the romance. To me, this was first and foremost a show about a woman who is very good at her job, and sometimes loves her job, but also knows that her job isn't very good for her. Sound familiar, academics? (I'm 30% joking.)
Myles McNutt, Old Dominion University: I definitely felt the chemistry between Rachel and Adam, but the show has an uneasy relationship with romance—its takedown of Everlasting's forward-facing romantic framing is thorough and matter-of-fact, but at the same time it leaned on the love triangle, and although the finale shifts to more complex "romances" like Rachel and Quinn there's still the reliance on a more conventional romantic thrust when it comes to promoting the show. The original key art for the show somewhat inexplicably featured Jeremy, for example—the key art eventually shifted to Adam (the romantic partner with a clearer link to the themes of the show), but in both cases you see the show leaning on a more traditional Lifetime framing even as the writers showed more interest in other areas.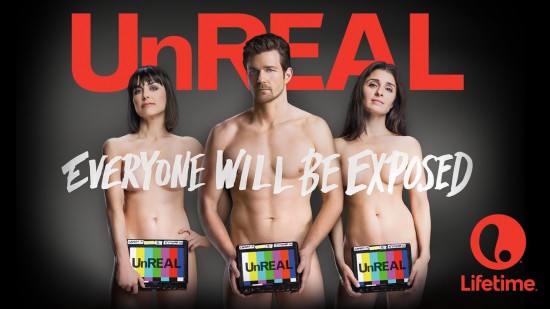 I feel this is a space the show could evolve in future seasons—the depiction of Everlasting itself ended up very scattershot, and unfocused, and while this is not a show about the contestants, I do feel it's a space to clarify and focus—and evolve—its position vis-a-vis "romance" as it continues to live and breathe in this world.
Melissa: That's what I was wondering by the end, Myles—if future seasons will embrace the less obvious—but ultimately more interesting—tensions explored in season one.
Kristen Warner, University of Alabama: I know how y'all feel about the romance function of the series. But I'm here for it! I love the romance genre and all of the many ways that it finds itself deployed in series where it may or may not be warranted (looking at you Homeland and The Good Wife) or may or may not be considered ironic like UnReal. So, yeah—give me all the lingering stares and the angsty dialogue and the flirty banter and the hay rolls and the scorched earth manpain and the romantic jitters. Haters gonna hate.
While I vigilantly tried to remain "shipper agnostic" in my choice of suitor for Rachel for many reasons (my distrust of Marti Noxon one of the biggest with regard to triangles—best not to unpack that 15-year-old-suitcase), it was fun to watch Rachel enact different versions of herself with both men. To Jason's earlier point, I'm most certain our identification is linked to Rachel (although I have seen a number of women stress how much they wish to be Quinn especially because of the messiness of her relationship with Chet) and that she is indeed the best at making us "normal" girls feel powerful in how she pulls these men folks' strings. That IS the quintessential essence of good fantasy. I mean, at one point she and one of her men roll around in a bale of hay for Crissakes. They are clearly playing at well-known romance conventions: the "Rustic bodice ripper" versus the "Billionaire English Gent" types to be specific.
My point here is that I don't think UnReal is necessarily subversive in the way it sells the romance to the consumerable "savvy" viewer; I can think of a host of "new era" romantic comedies that do similar work. However, I do think the show excels in identificatory suture in that it makes it super clear that the things that excite and arouse women aren't just hard bodies—although say what you want about Jeremy, but between the henley, the clawfoot tub, the glass shower and the log cabin house, I'd find myself at peace, I'm just saying—but that the personas she performs with each of those men are all wonderfully fantastical and immaterial. For me the scene that sums up the moment of meta romantic fantasy is when Rachel discovers that watching the fantasy version of herself and Jeremy on that beach talking about love and their future and (cis, white, hetero) normalcy is what ultimately gets her off after all of her previously failed attempts. Meta because as a viewer watching her watch a fantastical version of herself be happy how different is that from reading the romance novel or watching a soap opera and suturing yourself into it? Not really much difference at all.
Dana Och, University of Pittsburgh: Yes, all of this. That moment of Rachel achieving orgasm finally with that video of her and Jeremy is the indelible moment of the show to me. It is easy to mock the various romance myths being overtly marketed in dating reality shows—though another great moment was the horse riding scene—but this moment cuts to the myths of romance that we spin in our real lives (and then post on Facebook). Smart.
Jason: I totally agree with Kristen that Rachel as savvy romantic heroine has a long lineage in various genres and media, but I'm particularly curious about its articulation to the reality dating show. The Bachelor and its ilk seems to be television's most unreconstructed site of conventional romantic fantasy, or at least it seems to be to me as an outsider who rarely watches them. As y'all have said, things have gotten (or have been for a long time) darker and more complicated on soaps, Lifetime movies, romcoms, romance novels, and prestige prime time dramas—but not (ironically, I guess) "reality." Does UnREAL throw down the gauntlet to dating reality shows to acknowledge and complicate the fantasy?
Kathleen: I think the show actually reveals how complex the fantasy already is. If anything, the show doesn't so much throw down a gauntlet to reality TV as to show how complex the work of building even the most basic fantasy of romance really is. Let's not forget one of the series writers came from the world of The Bachelor. Here is a show that yes, asks a lot of hard questions, is filled with cynicism, but also keeps reminding us just how damn good Quinn and Rachel are at creating this fantasy world. Sure the fantasy is trite, but this show reminds us over and over again just how much work it takes to make it actually happen.
I really appreciate Kristen and Dana's points about the ways that the show also includes so many nods to romance beyond reality. The love triangle itself is a pretty well worn trope central to so much fiction aimed at women—as in the various "teams" women can join. This show also plays with the good boy/bad boy set up well (Jeremy/Adam, Dean/Jess, Angel/Spike). I think we see moments where both Rachel—in the wonderful scene discussed above—and Quinn—between getting her ring and catching Chet—submit to the fantasy, even though they are ostensibly savvy.
I also feel like this comment might refer to the above two threads, but in this whole discussion, I just keep wondering why a show needs to be "dark" or "complex" to pass some legitimation test. I think one thing the show perversely does is demonstrate the extreme complexity of managing and running a reality show where unlike a scripted show helmed by the auteur showrunner, producers are forced to make something out of a hodgepodge of events. And though it doesn't focus on the contestants enough, I think it also demonstrates a range of complex reasoning among the them. Why must we consistently equate "darkness" or "anti-ness" with "complexity" as well?
Reality and Pedagogy
Jason: One of UnREAL's hooks, especially with savvy viewers, critics, and scholars, seems to be the speculation over what we're seeing is "real" concerning how the reality TV industry works. Knowing that Sarah Gertrude Shapiro worked as a producer for The Bachelor before applying that experience to the fictional world of UnREAL fuels such matters, despite her (assuredly lawyer-mandated) insistence that all actual events and characters are fictional. Whether specific events are fictional or fictionalized versions of real "reality," there is no doubt that the series captures the underlying realities of reality TV production, where drama is created both on-set and in the edit bays, where casting is as crucial as it is in a Hollywood film, and where savvy contestants are self-aware of their own performances, potential leverage over producers, and possibilities of post-reality notoriety. In other words, nobody involved in making reality TV has any illusions that there is anything "real" happening—and I would argue this extends to a great deal of the audience as well.
Thus the series serves a pedagogical function, teaching viewers how to watch reality TV with an expanded understanding of what might be happening behind the scenes. Although I've read enough about reality TV that I felt sufficiently savvy, I was surprised by the role of "reality fluffers" like Rachel, working off-screen to heighten drama and point characters in the "right" direction. This pedagogical impulse interests me in large part because I've decided to teach the first season as the semester-long case study for my Television and American Culture course next spring. It will replace Homeland's first season, which I've used three times before—while Homeland worked well to teach serial narrative, explore premium television's industrial strategies, and raise issues around representations of nation, gender, race, and religion, it has grown a bit tired for me. UnREAL allows more conversations about the meta representation of television itself, foregrounds questions of genre, and most importantly, highlights how television can be "worth" teaching beyond the elite realm of HBO/Showtime (and I know some of my bro-ier students will squirm productively at watching Television For Women!).
So how do the rest of you view the series pedagogically? How might you teach it productively? And how would you deal with inevitable questions that students will ask about "how real is it?"
Dana: I would pair it with Big Brother (a show that actually does have a very short window between events happening and then being constructed into storylines and aired, as well as one live show a week), Big Brother After Dark ("You will not talk about production" bellows over the loudspeaker endlessly while we watch unedited live feeds of "houseguests" eating pudding and talking about stubbed toes), and the final episode of The Hills. These texts offer a range of reality show examples for how the construction of the "real" is already visible and open to interrogation, not to mention the ways that these discussions of manipulation are part and parcel of audience investment, discussion, and resistance (in particular with the racism scandal unveiled and mainstreamed by Twitter users during #bb15 but visible in banal ways daily on Big Brother live feed, Twitter, YouTube, Tumblrs, blogs, and message boards). A quick peek at the #bb17 hashtag on Twitter will reveal lots of fans talking not only about how CBS shapes narratives for the three hours per week of televised shows, but also the "houseguests" misconceptions about playing to the audience. If so much of the denigration of soap operas and reality television is wrapped up in the projection of a naive and unsavvy feminine audience, a consideration of online discussions and artifacts could complicate and—gasp—maybe even dispel some of the horror at being aligned to Television For Women.
Phil: I'm with Dana. For me, I think the pedagogical value lies, not necessarily in its journalistic expose of how the sausage gets made, but rather in its up-front visualization of the constructedness of the "reality" space. I teach a course called "Multimedia Realisms," for instance, and I think the pilot at least will be able to serve as a zippy introduction to the labor of manufacturing a documentary aesthetic during the weeks when we discuss Reality TV and its single-camera comedy offspring. The thing I like about it, though, is less in the way it explicitly teaches us about the genre (here's how we do the talking heads, here's how the narrative comes together, etc.) than in the way that it frames that mediation visually. For example, I love how many screens this show has constantly zipping in and out of frame—the dailies, the surveillance cameras, even the iPhones—and I look forward to having students literally name and peel away the layers as we move into discussions of texts for which those layers are not so readily visible.
Melissa: There was a moment early on—it's after Adam cuts Britney—when Quinn walks down a wall tearing down a timeline with pieces like, "Britney hogs Adam at the Ballroom Dance, Britney ruins Pepper's first kiss with Adam"—she's making the point that they've already structured the entire season (before the second episode!) around the "character" Adam has just cut. Quinn is adamant that—above all other "types"—they must have a villain for the program to work. The wall has other things written on it—scheduled catfights and skinny dipping sessions—and when I first saw this scene, all I could think of was how I can't wait to use it when I talk about narrative structure in any of my classes—media studies, film or literature-based. In the past, with first-year students, I've used the basic structure of Cinderella (and the old Classroom Jedi trick of having them try to name a story that isn't basically some version of Cinderella)—I think a few screenshots of Quinn's timeline could do a lot of that same work … while also fulfilling all of the same Cinderella narrative arc-points.
Next time on the finale of AnTENNA UnREAL: Branding and Race!