AnTENNA, UnREAL: Anti-Heroes, Genre and Legitimation
The Lifetime drama series UnREAL, which recently completed its first season, was one of the surprises of the summer. A dark look behind-the-scenes of a reality dating show, the series has particular interest for scholars of contemporary television. After some robust social media conversations, Jason Mittell assembled a group of media scholars to share their thoughts in a three-part forum, to be serialized this week – see part 2 here.
Jason Mittell, Middlebury College: Just to launch the conversation, I'm wondering if people can share what brought them to UnREAL, and what assumptions they brought to the series.
I'll start: I'm certainly not in the target demographic for Lifetime, so I was unaware of the series until I started seeing some of the early strong reviews, specifically pieces by Todd VanDerWerff and Linda Holmes. Then I heard the segment on NPR's Pop Culture Happy Hour and I was intrigued enough to check it out. Part of that was the praise for the program's execution and "quality," part was the involvement of Marti Noxon as a producer with a strong track record, but it was mostly because it was about television. I'm a sucker for the meta, so I'm onboard with anything that provide a window into its own medium. Based on that advanced info, I wasn't surprised that it was great—but I was shocked by how unrelentingly dark and scathing it was, shattering my assumptions of what tone a "Lifetime series" might offer.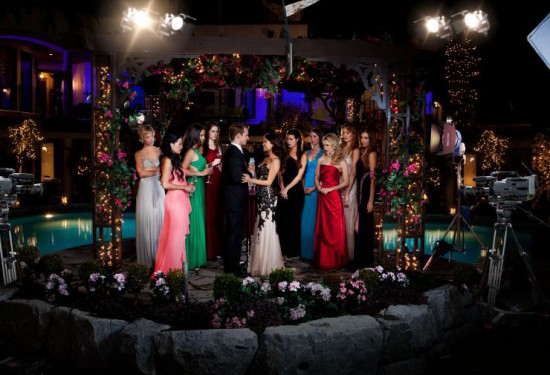 Myles McNutt, Old Dominion University: I came to the series knowing about its development, a byproduct of following the trades too closely: there, it was defined by Noxon's participation and Appleby's casting, which joined my Twitter feed's dissection of the news relative to both the talent involved and—if I recall correctly—the similarly premised (but much lighter thematically-speaking) TV Movie I Want To Marry Ryan Banks, later retitled The Reality of Love, which features a post-Alias, pre-movie stardom Bradley Cooper.
But ahead of viewing it, I had a discussion with a reviewer who was somewhat incredulous to the idea that the show being on Lifetime would be a hindrance to viewers, comparing them to AMC before Mad Men in their lack of significant dramatic programming. And while I admired his optimism, Lifetime has spent the past half-decade developing series that actively played into their "Television For Women" branding, tied unequivocally to its Lifetime movies that so welcome parody Lifetime actually aired one. Despite the fact that Lifetime—albeit with an acquired network castoff, The Days And Nights of Molly Dodd—was the first cable channel to earn a lead acting nomination at the Primetime Emmy Awards, and despite the fact they went through the same experimentation phase of sitcoms, dramas, and reality as original cable programming expanded exponentially in the late 2000s, it was all done under the auspices of that "Television for Women" brand, which perhaps explains the way critical discourse has overenunciated its (deserved) praise of the show in an effort to cut through the years of delegitimation.
Melissa Lenos, Donnelly College: I heard about UnREAL pretty quickly through other media studies people and the positive NPR press (as someone who is primarily a film scholar, I don't tend to follow the TV trades; any scoop I get is from Myles on Twitter). I'd been under the impression that Lifetime was moving in the SyFy direction: sort of embracing the popular association with camp and launching their own Sharknados. Everyone I know talked about watching the Flowers in the Attic adaptation. Very few people I know actually watched it.
I wasn't sure I was the target audience for UnREAL because I have a very hard time watching dating game shows, but I gave it a shot and fell pretty hard on episode one. I then agreed to continue on this journey for another week.
Kristen Warner, University of Alabama: I saw folks on Twitter talking about it after the first episode aired and thought I would give it a try. And the smart marketing move of releasing the first four episodes all at once bound me to the show fairly quickly. I had misgivings about the series as I have a longstanding mistrust of Marti Noxon (I'll never forget) but I enjoyed the series she wrote for Bravo Girlfriends Guide to Divorce so I thought it could be equally as interesting.
My assumptions were wholly incorrect. Initially I thought it was some kind of horror anthology series akin to American Horror Story. I was (pleasantly) mistaken.
Phillip Maciak, Louisiana State University: I'd heard about UnREAL via Emily Nussbaum and Willa Paskin's raves. However, as my television slate was already pretty full with fancy serial dramas and, well, this season of The Bachelorette, I took a pass. But my friend Rachel kept texting me about it, so I tried the first episode. After that intro, I shotgunned the first six episodes pretty quick, loved them, and wrote a fast piece on it for The Los Angeles Review of Books. The social media response I got was unbelievable! So many people wanted to talk about the series. I feel like everyone who watched this show quickly became an evangelist for it, which is what happens, I think, when people are genuinely surprised by something on TV. (If not because it's wholly new, at least because they didn't expect it.) So I'm very happy to help spread the good—or ambivalent, but mostly good—news here.
Christine Becker, University of Notre Dame: As with seemingly everything in my life these days, I was lured to UnREAL by my Twitter feed. In particular, I saw multiple TV critics tweeting praise about the show's high level of insight into reality TV production and representation, and especially as a TV studies teacher always looking for meta fodder to bring into the classroom, I was very intrigued. But that critical buildup turned out to be a detriment for my initial viewing. The show's early points about the sexism endemic to romance competition shows seemed overly familiar to me (an academic who has, for instance, read both editions of Murray and Ouellette's Reality TV cover to cover). Even the much-acclaimed ironic overhead shot of Rachel wearing the "This is what a feminist looks like" t-shirt struck me as pouring it on thick. (And my problems with the production-within-the-production contrivances never fully went away, a point for another section). But then the story and character complexity really started to kick in. I think it was episode four that really grabbed me, where the story threads started to coalesce so that I felt like I was experiencing a cohesive narrative, not just contrived plot points. So I'm not sure if my initial resistance was due more to the show's clunkiness or my own resistant frame of reference, but maybe that's indicative of how hard it usually is to parse out one's initial reactions to any show.
Dana Och, University of Pittsburgh: UnREAL was promoted pretty heavily on ABC Family, so I expected that the show would be a combination of savvy soap opera and pretty people. I was a bit reluctant at first because of the dating show angle: while I adore the early cycle of campy dating shows that aired on VH1 and other networks (Rock of Love, I Love New York, Flavor of Love, Temptation Island), I have little interest in shows that promote ideas of traditional romance (or even the facade of traditional romance). Twitter of course played a role in me deciding to watch, as a few of us decided to watch and I am a sucker for group watching.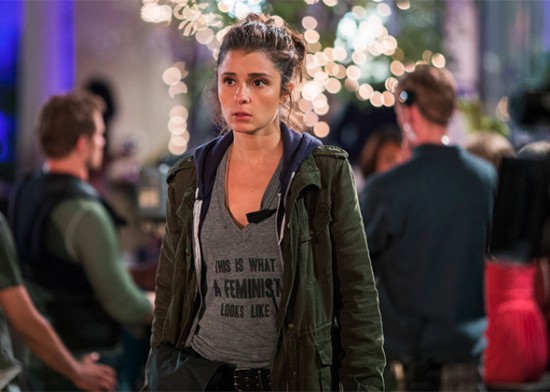 An Anti-Heroine?
Jason: The inspiration for this forum came from the robust conversations that we all were having about UnREAL on social media, and no topic generated more heat than framing Rachel as an anti-heroine—specifically the "first female anti-hero" of the modern drama age—with explicit ties to Breaking Bad as a reference point. This was fueled by a Vanity Fair article arguing that Rachel was "TV's First Pure Female Antihero," and subsequent interviews with producers where they talk about how the writers search for "Walter White moments" in Rachel's character.
I'm not particularly invested in arguing about "firsts" or the parameters of being an anti-hero—I am more interested in the framing of the character and how Breaking Bad is used as an inspiration and comparison, issues that I've explored in a chapter of my book Complex TV. I do find UnREAL's investment in Rachel's moral choices and dissolution to be in keeping with anti-hero model that dominated one vein of prime time television for the past decade, but it is interesting in how her power and persona is quite different than the typical male anti-hero. Rachel's "superpower" is her ability to manipulate via empathy, spinning a contestant or colleague to do her bidding by creating an emotional bond, a stark difference from the modes of bullying and belittling more common to male counterpart characters. The results are similar—she destroys lives out of rationalized self-interest, and even admits to effectively killing someone in the finale—but the methods and emotional palette are distinct.
I know that many of my colleagues were "vexed" by this framing and comparison. So what vexes you most?
Kathleen Battles, Oakland University: The set-up of this particular issue already directs answers towards thinking of Rachel in terms of male anti-heroes. The origins question is an important one to a lot of people, myself included, because the show is in many ways a straight up soap opera. I mean this as a compliment. Like many good soap operas, a lot of the narrative energy is not tied to heterosexual coupling, rather coupling becomes the springboard to represent the relationship between women. I also don't know why it would be striking that a female anti hero would NOT be different than a male one. Men and women (and right now we are speaking primarily of white, heterosexual, men and women) operate under different sets of conditions. To me one of the best parts of of UnREAL is precisely its consideration of the ways that patriarchy shapes the lives of women, from its unrelentingly cynical take on romance to its consideration of workplace politics. But more than that, I find some of the discourse in these reviews troubling as the reviewers themselves seem to want to work hard to like Rachel, like the review that mentioned her "doe eyes" over and over.
The other thing about the anti-hero focus (as the marker of "quality") is that it ignores the other terrific character, Quinn. To my mind, Quinn is one of my favorite television characters in a long while. Her talents, command of her world, intelligence, and cynicism make her a force to be reckoned with. I loved every minute she was on screen, and I suspect I'm not the only one. #quinning
Melissa: Kathleen, by the time the finale rolled around, Quinn was my favorite part of the show. And I agree that the anti-hero argument is beside the point—for me mostly because the writers went out of their way to drive home that Rachel is a complex character who is (among other characteristics) struggling with possible (likely?) mental illness. By the end of episode nine I felt guilty for my level of frustration with her—that she simply seemed to be bouncing back and forth between Jeremy and Adam and unable to do anything on her own—or in her own self-interest. That tension as a viewer—for me—was heavily dependent on the focus on Rachel's mental health, something that the Vanity Fair article, if I remember correctly, doesn't even mention. (Although they do mention the "doe eyes" at least once.) If Rachel's hyper-empathy and ability to manipulate people are—as her terrifying mother claims—actually part of an illness, can we really tag her behavior as "anti-hero"? Even if she seems to be getting pleasure from her destructive influence? Or is she a character who suffers, and then causes suffering and feels incredible guilt for what she's done? She's so very well-written.
Jason: Melissa, I'll jump in here just to say that mental illness doesn't disqualify a character from being an anti-hero—after all, the current wave of prime time anti-hero dramas was launched by The Sopranos, whose concept was defined as "gangster in therapy." Which of the prominent TV anti-heroes couldn't be diagnosed with some sort of mental illness?
Melissa: Sure, Jason, I can see that. But my question is something like, "do we have a responsibility to reconsider a character's agency when writers pointedly foreground serious mental illness?" And I'm sure someone's already written something very brilliant on this idea that I should go look up. Something I am very interested in, though, that the Vanity Fair article mentions, is the move away from the focus on "feminine likeability." But UnREAL feels more like that glorious Amy Poehler "I don't fucking care if you like it" moment than anything to do with Lena Dunham.
Kristen: I'm the one who was vexed by the anti-hero discourse emerging about this show. I get why the comparisons are there and it makes sense. But it vexes me because 1) the whiteness of anti-heroness (the Vanity Fair article suggests that Empire's Cookie Lyons and Scandal's Olivia Pope can't be anti-heroines because they're really heroes fighting men. HAAA. Christ. Deliver us.) and 2) if you're going to make an anti-heroine for WOMEN why on earth would you parallel it to characteristics of the anti-hero placed on a man?! Those comparisons assume the author is only familiar with those examples when, in fact, we have tons of prime time and daytime soap characters who embody the essence (even at a "proto" level) of women we love to hate who do what they do because they get off on causing havoc and yet also have feelings and want love and also to destroy everyone who has hurt them and maybe possesses mommy/daddy/social issues. For example, during a Twitter conversation, some were asking for early analogs of Rachel and the first person who popped in my head was All My Children's Kendall Hart aka Erica Kane's illegitimate daughter (the child she conceived after being raped and subsequently giving up for adoption). While Appleby's character certainly has nuances and tonal shifts that strongly differ from Sarah Michelle Gellar's daytime character, I would argue that she still serves as part of the "proto" anti-heroine genealogy that this newest descendant benefits from. I point that example out because it is absolutely absurd that an entire genre is continually left out of the conversation and reinforces that television criticism always needs to legitimate these kinds of texts as "masculine" and "non-histrionically, soapy."
Which brings me to this point: I feel like the analysis of UnREAL is going to push us all into our separate camps like The Killing did but in reverse. For me The Killing felt like a feminine text–it had the ambience and affect of what soap tries to generate (maybe unconsciously; maybe unintentionally) with something of an antiheroine in its lead (and as its showrunner). While UnREAL placing itself in the genealogy of Breaking Bad is a smart self-fashioning auteuristic tactic in this contemporary era where awards and critical praise demand such lineage, the core of the series is female melodrama AND fantasy. As I said elsewhere in response to this lineage thing: Daytime soap is to many who do TV criticism as the grandchild of a stereotypical downtrodden prostitute. The grandchild is cool; the grandma? Not so much. Popular TV criticism says, "oh that child looks just like his respectable on the up and up granddaddy." But that baby looks (and acts) like his grandma too. It's crude but it is the best metaphor I can draw to describe how legitimation and bastardization work. Lastly, I would submit that female audiences who recognize feminine texts in "wolf's clothing" KNOW how to root for a lead despite everything that suggests they shouldn't. Female audiences know how to deal with Rachel AND Quinn and it's certainly not biologically inherent knowledge. On the contrary, it had to have been a knowledge gleaned from texts they've seen before and I think it most certainly is that.
Phillip: I'm going to go out on a limb and suggest that that Vanity Fair piece is less about anti-heroines and more about anxiety! The anti-heroine discourse as it's presented in Vanity Fair piece strikes me as really condescending for a few of reasons. The first is the one Kristen rightly points to here: the rhetorical gymnastics the writer goes through in order to disqualify legions of previous anti-heroines kind of enacts the absurdity of its own critical project. Why do we need to immediately find this show's precise position in the line of succession from Tony Soprano to Arya Stark? All hail her grace Rachel Goldberg, first of her name—long may she reign!
The second is that it's such a bald attempt to legitimize a show that doesn't especially need legitimizing. I understand the impetus on the part of the showrunners to invoke Breaking Bad as a structural model—though I think the better comparisons are Damages and Mad Men—but, as this brief conversation has already shown, there are many more interesting ways to talk about this show than as a Lady-Ghostbusters version of Breaking Bad. To me, the Vanity Fair essay was very similar to a piece in The Atlantic called, I'm not kidding, "How Lifetime's UnREAL Turned The Bachelor Into Literature." (The TV-Is-The-New-Novel Discourse is Dead; Long Live TV-Is-The-New-Novel!) The author, Megan Garber, writes, "It does, instead, what the best literature does: It leaves itself open to interpretation and argument. It asks its audience to think, and analyze, and come to their own conclusions. It makes a point of its own ambiguity." Okay, yes, that's what the best literature does, but isn't it also what the best TV does, what the best cinema does, what the best art does? These pieces both seem gripped by the same high-culture/low-culture panic. The invocation of the novel or the anti-hero serves less as substantive critical lens than as permission to write in praise of a show about trashy Reality TV broadcast on the trashy Lifetime Network.
Christine: I've seen multiple reactions along the lines of "Who knew I'd ever like something on Lifetime?" or "I'm a guy actually watching a Lifetime show!" Not to unnecessarily muddy the waters here, but it struck me as similar to when someone tweets a link to a smart news piece on BuzzFeed and feels compelled to express surprise that it's on BuzzFeed and is not a listicle, as if those formats can't co-exist on one platform. As if newspapers never had comics and as if comics can't be as profoundly gratifying as something on the front page. But here, of course, it's the assumption that "television for women" can't possibly be insightful and must by definition be a guilty pleasure that is only apologetically enjoyed. Though I fully grant the reservations expressed, I can live with the Walter White comparisons, because the creator herself invited it and at least it's staying within the realm of TV. But the "It's ambiguous so it's like literature!" take makes me want to cordially invite that writer to take my History of TV class.
Kristen: Just jumping in here to tag Chris's point: Lifetime viewers well acquainted with the network and all of its content will be quick to remind you that their "bad women" films are some of the most highly popular programming. How many times have some of us watched Meredith Baxter play Betty Broderick (PLEASE read the comments) and felt like, "I mean … I don't agree what she did was right but…she kinda had a point." All I'm saying: The anti-heroine has a LONG history … on Lifetime.
Dana: And this is key to why the Walter White comparison actually does drive me up the wall. Yes, I get why the creator invokes it as legitimation, but that doesn't mean that we have to also take it up. Walter White is interesting to me for the way that he is introduced in a manner that invites the viewer to assume the best about him: he is a normal guy with a good heart who is forced into unlawful activities due to circumstances beyond his control. Walter White is interesting, that is, for the way that the viewer is manipulated over the seasons to eventually realize that he is much more a villain. Our own assumptions about white male leads (and maybe even patriarchy) are revealed. Now, with Rachel, we are told right off the bat that she is unstable, ruthless, and unethical. And we can roll with that without having to be manipulated (a bit more like Tony Soprano than Walter White considering the habituation of generic structures and types) because whether it is Kendall, Erika, Dorian, Carly, or Alexis—let alone Brenda, Valerie, Amanda, Blair, Alison, Katherine, or Sutter—we fully expect a female character with dimensions, motivations, and the ability to exist as more than just a projection of male desire. The reading frames are already there, so the show can simply signal them and move on.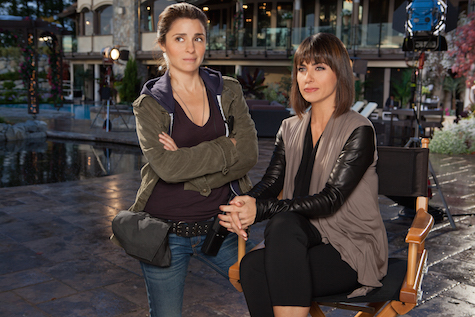 Jason: I agree with most of what everyone says here about legitimation, but to return to my initial prompt on this issue, I'm curious if others find the "hook" of the show to be framed around Rachel's morality. One thing I find so compelling is to watch her do things she knows are wrong politically and ethically, but she convinces herself that she has no choice so she rationalizes her behaviors in an assortment of ways. As the season progresses, she becomes more emotionally invested in the show and her role in it, letting go of the rationalizations and just embracing her power to ruin people for fun and profit. Meanwhile, Quinn is the embodiment of Ayn Randian self-interest (but in a fun way, rather than Rand's own leaden drama), setting up an ethical pole that Rachel wants to distance herself from, but keeps moving toward. This moral dance, which is obviously much more than just the "Breaking Bad but with a lady!" frame, is what kept me rapt throughout the season. And, since I don't know many of the examples of precedents y'all have mentioned, this figuration of the feminist reluctantly working to uphold the worst of patriarchy seems innovative to me. Do those precedents similarly rationalize their knowing misdeeds as being for the greater feminist good?
Christine: I see that too, and I particularly found the Faith hometown visit episode to be a really interesting pivot point in the season in that regard. (Perhaps not coincidentally, that was also right when I started to get consumed by the narrative, not just the show's meta elements.) Rachel seems at her most altruistic there, albeit utilizing her usual manipulative skills, but then she gets trumped by the production's usual larger dark forces. It seemed like a key turning point in her emotional relationship to the show and the other producers.
Kathleen: I see the point about the "dance," but it's a familiar one to some viewers. Since the 80s scholars have noted that soap opera viewers prefer their villainesses to other female characters. As Kristen noted, Lifetime viewers (myself included) will prefer the "bad girl" movies. If anything, industrially speaking, Lifetime is already positioned as "darker" than its current actual competitor, the Hallmark Channel (I get that's not how any of this is being positioned in the trades, as Lifetime wants its reputation stock to rise. But from a viewer perspective, they offer similar kinds of programming with very different tones). The relationship between Quinn and Rachel is a complex one, but I wouldn't put it in such stark moral terms or such polarized terms. I think the season starts that way, but I think as we see Rachel make increasingly bad decisions, we also see Quinn increasingly humanized. In other words, I enjoyed the dance between the characters, but not as something particularly innovative, but as something very well done in the case of this show.
Next time on AnTENNA UnREAL: Romance and Pedagogy!