A Tribute to Barbara Klinger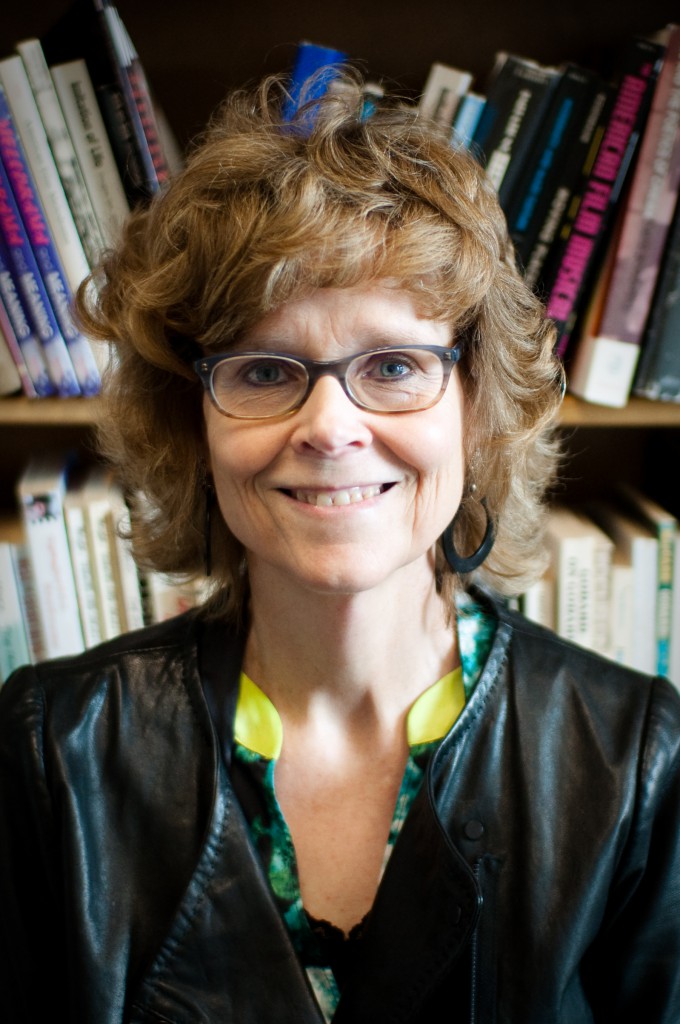 This year, Barbara Klinger retired as Provost Professor of Film and Media Studies at Indiana University. Though we're sure we'll continue to see superb work from her, we wanted to honor her career to date. Thus we asked several who have worked with her, past and present, to offer some words.
*
"Cinema's Contextualist"
from Dan Hassoun (PhD Candidate, Indiana University):
It's interesting how texts can take on biographical meanings beyond their longer place within a discipline. When I was a college sophomore at the University of Minnesota, dipping myself for the first time into the strange and byzantine world of film theory, I had read virtually nothing of the disciplinary canon beyond the few texts explained in a handful of intro-level courses. In other words, I vaguely knew that there was a difference between signifiers and signifieds, that Hollywood was a culture industry of capitalist ideology, and that spectators identified with some sort of cinematic apparatus that regressed them into babies looking into mirrors (my 19-year-old self was a tad fuzzy on this final point).
It was within this context that Barb Klinger's Beyond the Multiplex: Cinema, New Technologies, and the Home would stretch and challenge my ideas about what critical cultural scholarship could be. Here was a text, densely thoughtful and accessibly written, that engaged issues of cinephilia, home theater, sharing and memory, repeat viewing – in short, cinema's receptive contexts – in ways I could immediately relate to. In particular, the book's use of audience surveys to examine practices of repeat movie viewings was eye-opening for a sophomore who had been learning to associate reception research with the boogeyman of "positivism." I'm not overstating anything when I say that Barb's work helped teach me that the empirical, the historical, the theoretical, and the critical need not be exclusive endeavors.
It wasn't until later that I could place Barb's work within a longer history of the field. Barb was certainly not the first to write critically on extra-theatrical cinema or everyday (particularly domestic) uses of screen technologies; after all, she belonged to a trajectory of scholarship on media audiences and space that included the work of Ann Gray, David Morley, Lynn Spigel, Anna McCarthy, and many others, some of whom predated and influenced Barb's work, others of whom were writing alongside her during the 1980s and 1990s. It was also only later that I learned about Barb's own extended influence in this field, from the many scholars who have cited and engaged her ideas across fan studies, reception, new media, authorship, historiography, and more; to her advisees and colleagues at Indiana University; to the Department of Communication and Culture that she helped to found.
As I write this, the future of critical/cultural media studies at Indiana is uncertain, as Communication and Culture has been dissolved and incorporated into a new Media School dominated by production, design, and social scientific approaches. As a PhD student navigating this new institutional terrain, however, I am grateful to have Barb's work in my back pocket as a continuing example of what thoughtful research in this discipline can look like. If her work helped to guide me into this line of study, I look forward to it (and her future output) accompanying me into the next phase of my career.
*
"The Real Deal"
from Chris Holmlund (Professor, University of Tennessee-Knoxville):
Barb Klinger has been a cherished friend of mine for a long time. Her modesty is invigorating, her "can do" attitude exemplary. She makes a point of reaching out to and supporting junior as well as senior scholars: I've witnessed her thoughtfulness, based in genuine interest, time and again. I know she loves teaching – and travel – so I very much hope that she will be snapped up for visiting or guest professorships periodically, because it is too sad to think that she will never imitate Princess Leia in a classroom again. (Actually I'm not sure she ever did do that, but I do remember with relish her quick transformation into Leia to illustrate a point at a Society for Cinema and Media Studies conference some years back.)
I am pleased that Barb is now able to concentrate on her research, and to explore Chicago, her new home town. She has done so much fine service, at Indiana University, through SCMS, and for the field, that she deserves a bit of downtime. As a former SCMS President, then Past President, from 2011-2015, I was lucky to work with her as President-Elect, then President. I would be remiss if I did not signal what a great job she did organizing the 2013 Chicago SCMS conference. As President she moved Board meetings along skillfully. Despite long days we got lots done and we enjoyed ourselves, in good part because Barb is organized and gracious. She knows how to create a friendly atmosphere by according everyone their due and periodically adding subtly funny comments that sneak up on you and get you chuckling. She is unfailingly professional, and she is kind. Such a great combination!
Like many, I greatly admire her scholarship and appreciate the way it has evolved. Think about it: she's gone from melodrama and meaning (her first book on Sirk) to beyond the multiplex. Today she is engaging with 3D and our trans-mediated world. The range of her intellectual engagement is impressive: from cult film to piracy, cable TV to YouTube parodies, transnational TV thrillers, and more. There is good reason why she has twice (in 1997 and 2010) won the prestigious Katharine Singer Kovács Best Essay Award, for articles in Screen and Cinema Journal, respectively. She takes fans and fandom seriously because she has always been intrigued by reception; indeed one of her very first articles, "'Cinema/Ideology/Criticism' Revisited: The Progressive Text" (Screen, 1984) engaged with Jean-Luc Comolli and Jean Paul Narboni's influential 1971 essay.
Over the years Barb has evolved from a film into a media scholar. There is no fear that post retirement she will disappear from view; on the contrary, she will, I am sure, continue to be active. I very much look forward to reading what she writes next and to seeing her as often as possible. Barb Klinger is the real deal, in so many ways.
Kudos to you, Barb, on your retirement, warm thanks for everything, and hugs!
*
from Gregory A. Waller (Professor, Indiana University):
I don't think that there has been anything published by my colleague, Barb Klinger, that hasn't been a model of impeccably researched, theoretically savvy, and carefully wrought, finely tuned scholarship, demonstrating again and again that quantity is never a substitute for quality when it comes to an academic career. And, even without recourse to a citation index, I'd venture to say that Barb's articles and books have become essential reading across a range of scholarly interests: for starters, 3-D and home theater, Hollywood melodrama and Jane Campion, historical reception studies and transnational fandom. If you know her work largely through Beyond the Multiplex, then you owe it to yourself to read her essays on The Piano, Titanic viewed in Afghanistan, Hollywood's "adult films" of the 1950s, and The Big Lebowski. If you are not familiar with her current work on the extended afterlife of Hollywood classics like Casablanca, including the role of radio adaptations, rest assured that this research project more than measures up to Barb's ambitious and exacting standards.
All that you might already know. And you've likely encountered Barb in her presidential alter-ego as the major domo of the Society for Cinema and Media Studies, an organization that somehow manages to get six years of service out of its top elected official. But unless you've been at Indiana University, where Barb spent her entire academic career, you don't know her as an exemplary department member, principled university citizen, and terrific mentor for graduate students. (And you probably don't know her abiding fascination with the Rolling Stones and the darkest international televisual crime serials as well as her ability stay cool and on target when conducting a public interview with Meryl Streep in a 3000+ seat auditorium filled with fans and university officials.) These are the very qualities that go far toward making the academy the kind of place we always hope it can be. After I joined her department at Indiana as a chair hired from outside, Barb's knowledge of the institution, her professionalism, and her smart advice saved me more than once from rashness and folly born of frustration. She's been all that anyone would want from a colleague, and for me the way she conducted her life as a working academic at a large public university made her multi-faceted scholarship and her contributions to the profession at large that much more impressive.
*
from Brenda Weber (Professor, Indiana University):
There are many qualities one might praise about Barb Klinger: her ceaselessly excellent scholarship, her all-around pleasantness and good-natured decency, her calmness in sunshine and in storm, but one of the things that has meant the most to me as a colleague and friend is her spot-on advice as a mentor. I began my tenure-track job at Indiana University in the Department of Gender Studies as a literature and media scholar in a domain dominated by people from the social scientists. Don't get me wrong, these people were (and continue to be) great colleagues and friends, but they weren't really able to help me think through the intricacies of my projects or to chart out the meanings of the finer points that relate to media theory. By and large, they also weren't the people I was working with on doctoral committees. My department also didn't have many senior scholars, and so I found it necessary to outsource my mentoring needs, and Barb was always a steady and reliable voice of thoughtful guidance and support. Indeed, she taught me something quite critical about how to teach graduate students. I remember one occasion in particular when Barb and I served on a doctoral dissertation committee together. I watched in awe as she asked a student to name the five major points of a key book in the field, refusing to give the student any help or encouragement in the answer. Through it all, she never flagged in her insistence that the exam be absolutely rigorous. This was a true watershed moment for me: prior to this point, I had not been willing to push students or to demand that they rise to a level of excellence (mostly being grateful that they wanted to put me on their committee in the first place). I was absolutely gobsmacked at how fearlessly Barb held them to task, and I saw her act as nothing short of courageous since it said to students that female professors needed to be taken as seriously as male professors and that we would hold our students to a level of excellence that allowed those students to know they had been thoroughly and fairly vetted by the protocols of academic benchmarks. Barb taught me through example that I wasn't doing my students any favors by giving them a "free lift" into ABD status, and I have heard many of them (now long post-PhD) say how grateful they are for her standards of excellence, since those former students who are not professors in their own right can walk into any room or march onto any page knowing that their ideas have been fully vetted and proven. That firmness in a moment when one otherwise might be overly conciliatory taught me much about how to do my job conscientiously and ethically.