First Forum Conference, USC School of Cinematic Arts
by guest contributors Eleanor Huntington, Kelsey Moore, and Robert Sevenich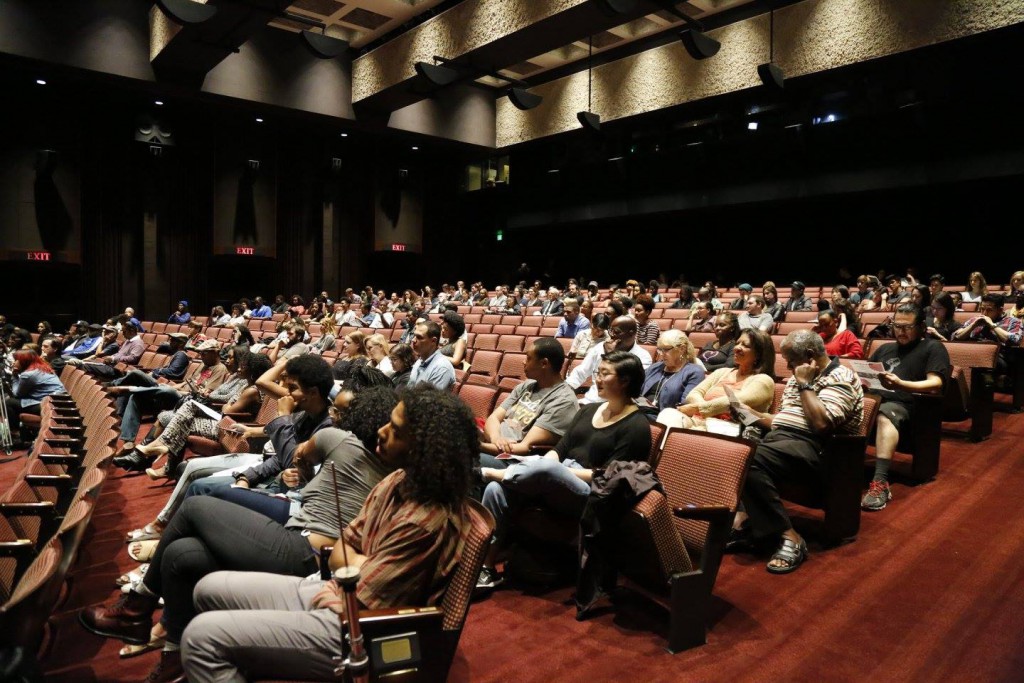 (photos by Sebnem Baran and Jinhee Park)
On Friday, October 16th and Saturday, October 17th, USC School of Cinematic Arts hosted the First Forum academic conference. This two-day event, "On the Fringe: Understanding Alternative and Subversive Media," was executed by the ZdC Graduate Council through the Bryan Singer Division of Cinema and Media Studies, the co-sponsorship of the USC Graduate Student Government and the African American Cinema Society. First Forum assembled an international collective of industry professionals including filmmakers and actors, Academy archivists—as well as scholars—professors and graduates students—across an array of academic disciplines. The weekend events included five academic panels, a USC faculty roundtable discussion, keynote address, the exclusive screening of The Assassin (2015) with the presentation of the prestigious Sergei Eisenstein Award to its director Hou Hsiao-hsien, and "The Legacy of Blaxploitation" event. While coming from multi-generations and diverse backgrounds, research experience, and professional objectives, the conferences participants—comprised of panelists, respondents, guest and keynote speakers—were all committed to exploring filmmakers and media researchers focused on non-traditional works as well as marginalized modes of production, consumption, and reception for underrepresented spectators.
Much of the conference focused on the graduate student panels. Though the majority of presenters attend prominent Californian institutions including USC, University of California, San Diego, California State University, Northridge, and University of California, Santa Barbara, there were also participants from Northern Illinois University, University of Toronto, and University of Wisconsin-Madison. The panelists approached "fringe media" by defining and locating the fringe in particular generic, geographic, or historic contexts. The scholars identified fringe media in such disparate examples as public access television, ultrasounds, and K-pop fan activism and showcased works from widely diverse locations, including India, Kenya, East Timor, and Cuba. The five panels, featuring three to four presenters, established urban spaces, technology, cult cinema, national cinema, and pornography as the foci, which presented a broad knowledge range for conference attendees with little background in fringe media.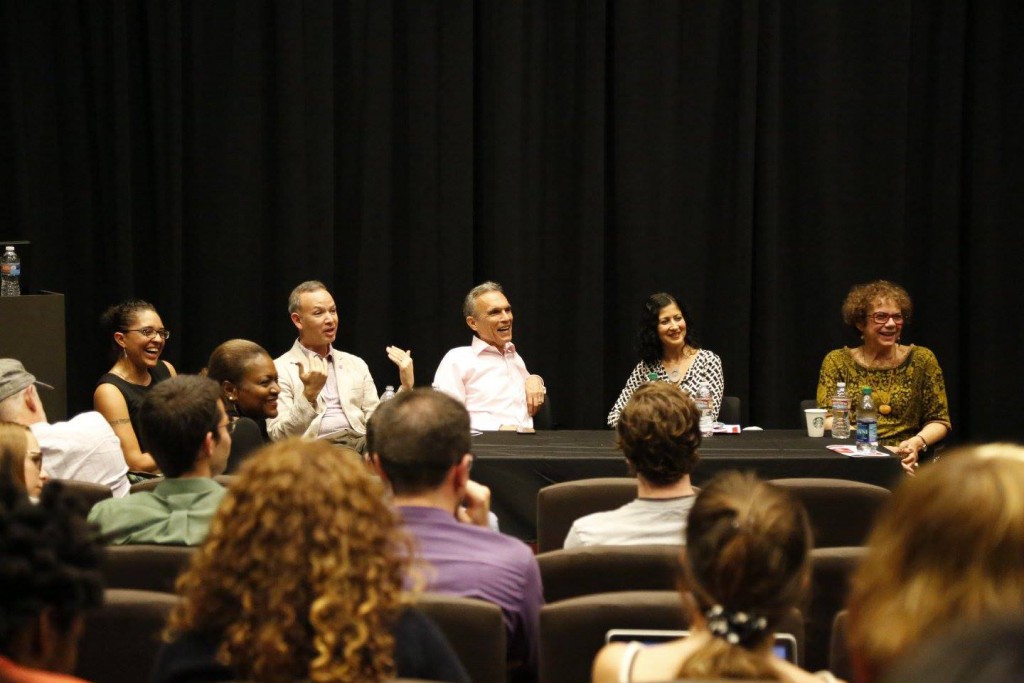 (Faculty roundtable — moderator Lorien Hunter, Akira Lippit, Michael Renov, Priya Jaikumar, and Marsha Kinder)
Following the completion of the student panels, the faculty members of the Bryan Singer Division of Cinema and Media Studies took center stage at an incredibly well-attended and well-received roundtable discussion on the role of academics in addressing marginalized fields of study. Drs. Priya Jaikumar, Akira M. Lippit, and Michael Renov, in addition to Professor Emerita Marsha Kinder, connected their own experiences researching and writing to issues facing the current generation of aspiring academics. This roundtable provided an opportunity to highlight the diversity of research at USC among its most noted scholars while it also allowed graduate students the chance to witness preeminent scholars debating the contentious issues involved in researching marginalized media topics.
In conjunction with these enriching panels, First Forum hosted and co-sponsored special presentation and events. Afternoon events included "Coming Soon! A History of Movie Theater Advertisements in the U.S." presented by Academy film archivists Alejandra Espasande and Kelly Kreft. This visually enhanced presentation successfully tracked the historical trajectory of film advertisement from its beginnings grounded in vaudeville—and other forms of mass entertainment—to the conception and modernization of the film trailer. Espansande and Kreft concluded their work with an in-depth glance at the archival process itself and emphasized the importance of the archival field and its place within film scholarship.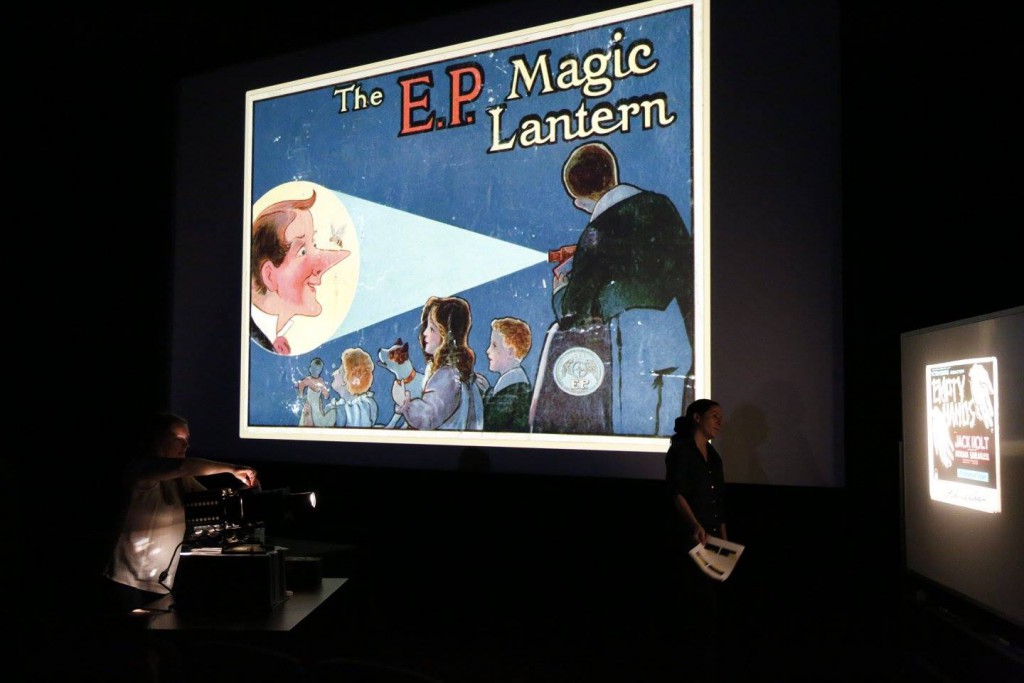 (Academy Film Archive Presentation)
Their presentation was followed by a sneak preview of Hou Hsiao-hsien's The Assasin (2015), which was co-sponsored by USC's School of Cinematic Arts, Outside the Box [Office], East Asians Studies Center (EASC), USC Visions and Voices: The Arts and Humanities Initiative, and First Forum. Following the screening, USC professor Dr. David James presented Hou Hsiao-hsien with the School of Cinematic Arts' Eisenstein Award, which has been presented only three times before. It is awarded to "world filmmakers for distinguished and visionary contributions to the cinematic arts," and its past recipients include Agnès Varda, Costa-Gavras, and Pedro Almodóvar. Dr. Akira Lippit, Vice Dean of the School of Cinematic Arts, moderated a Q&A with the esteemed director, and their conversation primarily focused on Hou Hsiao-hsien's unique style and the significance of the image.
The evening special event, "The Legacy of Blaxploitation," was co-sponsored by USC's African-American Cinema Society and First Forum. This discussion, moderated by Dr. Christine Acham, featured revered panelists Melvin Van Peebles, Antonio Fargas, Scott Sanders, and Michael Jai White. The panelists discussed on various elements of the 1970s Blaxploitation films, including the enduring influence of Peeble's legendary first film, Sweet Sweetback's Badasssss Song (1970), and its effect on contemporary films such as Sander and White's Black Dynamite (2009). Alongside accounts of individual films, they discussed the influence of Blaxploitation as a filmic movement. Panelists reflected on the economic influence of Blaxploitation films within the 1970s mainstream Hollywood market, and recognized their importance in introducing the black male anti-hero to the screen. This event—as well as First Forum's additional special presentations—expanded the conference's overall examination of "fringe media," as it allowed for spaces of discourse concerning marginality that exist outside the traditional scope of academia.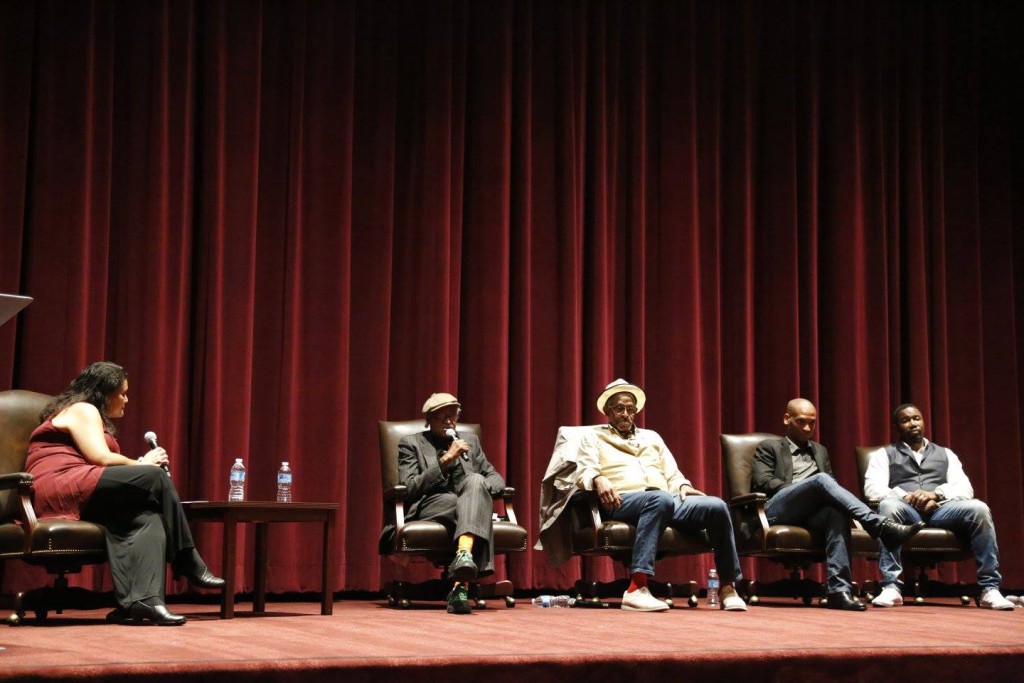 (Christine Acham chats with guests discussing Blaxploitation)
Before the weekend was officially capped off with a celebratory party at Hotel Figureoa in downtown Los Angeles, Dr. Fatimah Tobing Rony provided insight into her current research that builds on her revolutionary publication The Third Eye: Race, Cinema, and Ethnographic Spectacle in her keynote address to the conference. Following two days of student panels and outside events that sought to focus attention on media that is too frequently marginalized, her speech, entitled, "After the Third Eye: Theory and Practice," cemented the importance of all the scholarship presented in moving towards a more inclusive academic and mediated landscape. All the presentations on fringe media during the First Forum conference spoke the evolving industrial practices, accessibility concerns, niche spectatorship and pleasure, and ideologies of the academy. Ultimately, the presented research and impassioned—even polemic—discourse surrounding marginalized media emphasized the increasing need to interrogate underrepresented entertainment production, distribution, and consumption.
Eleanor Huntington, Kelsey Moore, and Robert Sevenich are second year Masters students in the Bryan Singer Division of Cinema and Media Studies at the University of Southern California.

This post is part of an ongoing partnership between the University of Wisconsin-Madison's Antenna: Responses to Media & Culture and the Society for Cinema & Media Studies' Cinema Journal.