The Force Re-Awakens: Star Wars, Repetition, and Nostalgia, Part 2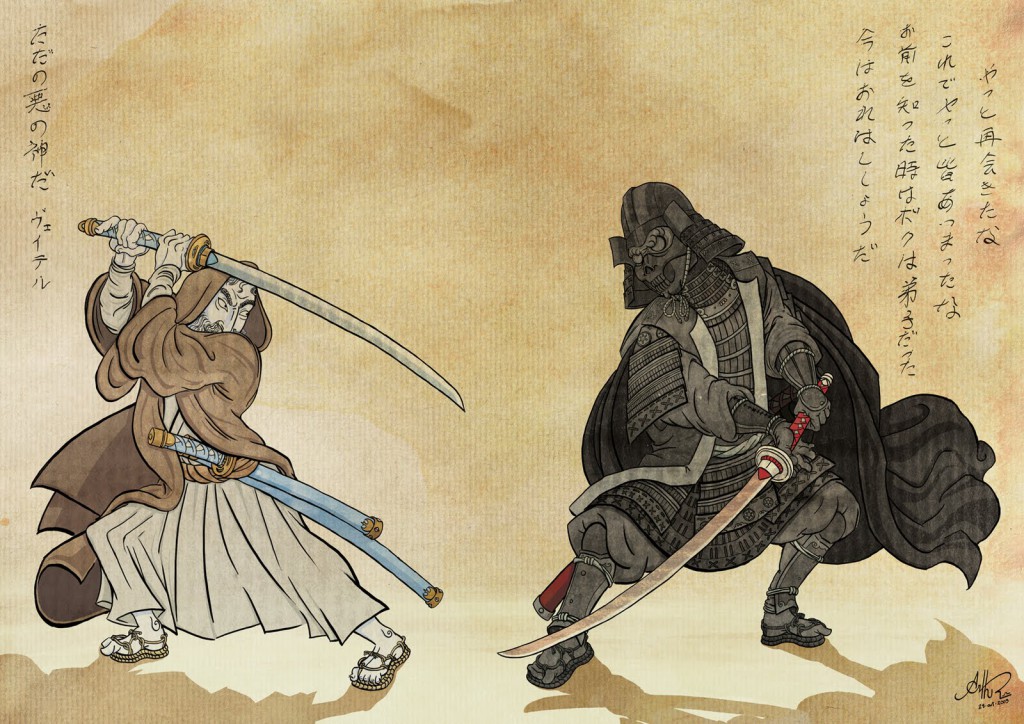 In my previous post, I pointed to numerous "new" things in The Force Awakens that should challenge a slipshod reading of the film as "mere" repetition or nostalgic pastiche and homage. Now, though, let's look at the very terms and assumptions mobilized in the attack — pastiche, repetition, originality, and nostalgia.
First, it might be worth noting the significant irony that some people are only now concerned about a Star Wars film being full of pastiche. A princess must return to her people who are staging a rebellion against an imperial force; she is helped by an odd duo who seem there mostly for comic effect, and by a venerable old knight who must face off against his former second-in-command who went bad and now leads the imperial forces. Sound familiar? That's the plot of Akira Kurosawa's The Hidden Fortress. Kurosawa influences abound in A New Hope and its progeny (those Jedi do seem remarkably samurai-like, as does Vader's helmet, no?). Yet of course Kurosawa was himself deeply beholden to John Ford and other westerns, another genre that is plastered all over A New Hope. Add some Flash Gordon. And some King Arthur and the Knights of the Round Table. And so much more. A New Hope was always a poster child for postmodern pastiche of pastiche of pastiche – and proof that movies could still be enjoyable and amazing while looking deep into a hall of pastiche-y mirrors.
Indeed, and second, we could benefit from unpacking this ludicrous notion that any work of art must be "original" to be good, since absolutely nothing is (or could be) original. Everything learns from, and comes in the wake of, other texts. Sometimes this is direct (even the beloved Shakespeare struggled to create an individual plot of his own), sometimes it's "just" scenes or characters or character types. But nothing is original. Rather, the value in anything comes from how it repeats and/or reworks. When we marvel at how fresh or original something is, we've usually realized a genre to which it belongs (through multiple other similarities and through repetition), and are excited to see a lone element or two of that genre reworked.
Vladimir Propp and some of his formalist colleagues would tell us, in fact, that the kind of exercise I conducted in my previous post – of walking through how a plot repeats another – can be done with all literature, all stories. At a certain level of abstraction, there really are a very limited number of tales to be told. And this idea is especially central to discussions of myth. Read Joseph Campbell's The Hero with a Thousand Faces … and if you do, incidentally, you're reading something that was a key influence on George Lucas, and hence on the very foundations of the original Star Wars trilogy. Repetition is key to myth, and, c'mon, it's clear when A New Hope situates us in a world in which good guys wear white and bad guys wear black that it's aiming to be mythic. So let's not be surprised when we see heroes needing to storm the castle again. Or when we see the young upstart experience a moment of becoming on the battlefield again. When a great hero is struck down publicly again. Give me another 2000 words and I could use them simply to list moments when these events happen across filmic and television genres, Greek epics and tragedies, Shakespeare, Chaucer, Milton, etc.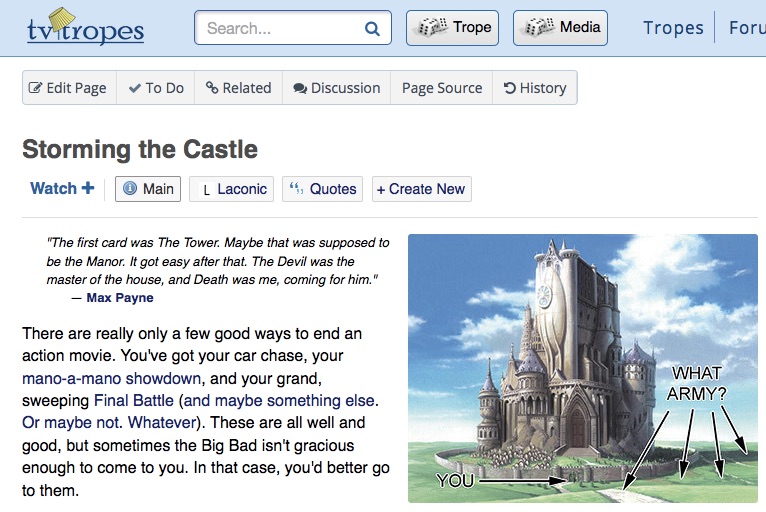 Recently, the wise Nancy Baym told me that when we say two things are opposite, we're actually saying that they're entirely alike in all ways but one (otherwise, for instance, night and pencils might more appropriately count as opposites, not night and day). That's worth thinking about here, since it suggests that fundamental difference is regularly structured upon and within fundamental similarity. In storytelling terms, therefore, that which is most amazingly "different"/"original" may be only a slight reworking of something else. We're often doing things wrong as analysts if we're looking for true, stark difference (the pencils instead of daytime), as instead there may be just as much value to be found in seeing how night and day are related yet still different. So, yes, Obi-Wan and Han both get struck down … but how are the integers of those scenes different in ways that evoke different reactions, from us, from the characters, by the story itself? In my previous post, I suggested that this "similarity" is far from it, since the emotional weight is different, the intent (of the victim, and of the killer) is different, the place it has in the narrative is different. Originality comes when an expectation is violated, but expectations are set up through similarity.
Changing tacks, I'd also want to question what is being demanded of sequels and franchises in general here. It's deeply perplexing to hear people angered and disappointed by a sequel doing things that the original did. Isn't this par for course? When James Bond orders a vodka martini, gets a fast car with buttons that activate weapons on it, has a knock-down, drawn-out chase scene, or beds yet another woman, do we roll our eyes at how the film is just "fan service"? When we return to Godfather II and find out that it's still a gangster film (yawn) obsessed with family members (oh, how original) who sometimes lie to each other and operate behind each other's backs (never heard that before), while jockeying for power with other families or contenders (ripoff!), is this "fan fiction"? When Harry Potter has another Quidditch game that involves an amazing come-from-behind victory, when Katniss Everdeen must work her way through another set of competitors, when Bella Swan is still working out who she loves, is this all just pathetic repetition? Sequels repeat. That is what they promise to do. They are all "fan fiction," if fan fiction is the act of taking many of the same characters or elements and reworking them with some new elements added. And unless a sequel radically violates the terms of the original world, narrative, or characters, it's also always "fan service." Using those terms to criticize a sequel, therefore, is too often indicative of the speaker's derogatory elitist ignorance about fandom (aw, how cute that some people think all fanfic is "My Big Day at Hogwarts," and don't know about all the fucking and cuddling that Harry and Draco get up to in fanfic), but also betrays a very odd lack of awareness of the very point of sequels, like complaining that a eulogy just wouldn't shut up about the dead person and their life.
I wonder, though, whether The Force Awakens was misread by some viewers as a reboot not "just" a sequel. Certainly, sequels more usually follow fast on the heels of their originals, whereas The Force Awakens is many years "late," as is more common with reboots. And whereas increasingly franchises lack a constant auteur figure, Star Wars was associated with George Lucas (and Twentieth Century Fox) for so long in a way that may have led some to see J. J. Abrams and Disney as necessarily "rebooting" the franchise, especially since Abrams recently (sort of) rebooted Star Trek. Reboots are all the rage, and carry with them a different set of expectations, namely that a fresh start of forms will occur. The narrative world should feel different, the key characters should be given new backstories or wrinkles. But The Force Awakens isn't a reboot, and the prominent use of Harrison Ford, Carrie Fisher, and (to a lesser extent, at least in trailers) Mark Hamill in promotional materials should've made that clear: the gang was getting back together. In the absence of announcements that, say, The Rock was going to play Han, or that Kristin Schaal would play a reinvented Leia, there was no fakeout here: The Force Awakens was sold as a sequel. The most prominent line across many of its trailers was Kylo Ren's "I will finish what you started," and one of them ended with Han pronouncing, "Chewie, we're home." Those lines subtly (or not-so-subtly?) alluded, too, to the franchise's need to overcome the prequel trilogy, to reset, and to get back to basics.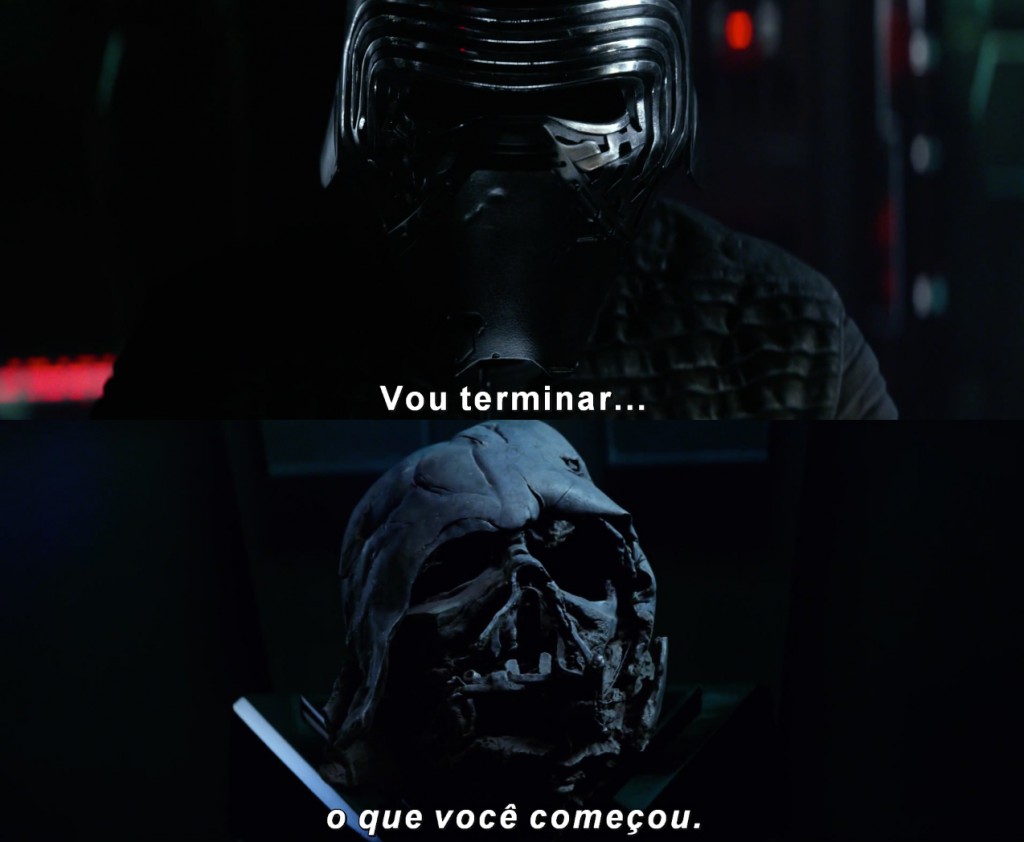 As my previous post suggested, The Force Awakens does have a lot that's new, the world is slightly different, the stakes are revised, and the key narrative and character dynamics are not carbon copies. But even if we acknowledge the significant repetition, mythic resonance, homage, pastiche, and loop-backs, none of those should be the grounds for castigating a text. So by all means say you didn't like the characters, the feel, the pacing, or any specifics. Snoke sucks in totality, for instance (the name alone is stupider than even "Jar-Jar"). The fact that one sanitation stormtrooper knows how to destroy Starkiller Base is a ludicrous plot-hole (maybe all those Bothan spies wouldn't have died finding plans for Death Star 2.0 if only one of them had thought to ask the dude cleaning the toilets how to destroy it). There's more. Or by all means criticize how any plot element was redone and didn't work as well (or at all) in the reworking. Part of my problem with Starkiller Base is that as new as it is in some ways (a supergun rooted in a planet, that siphons energy from the Sun is somewhat fresh), it violates what we'd expect from the third in a sequence, being bigger and better, yes, yet having far inferior defenses (2.0 was harder to destroy than 1.0, but 3.0 is way too easily destroyed). Or, as strong as the team of Rey, Finn, and Poe are in other ways, I worry that they're not particularly fun, and that we just killed off Han the Fun Bringer. But the attack on the film as a repetitive, unoriginal clone is replete with erroneous, idealistic notions of originality that simply don't hold up, and that critical scholars should be able to cut through.
Finally, and changing tacks again, there's the critique of this being nostalgia. As I noted in the last post, this alone is an interesting admission that The Force Awakens is different, since A New Hope was more definitively future-focused. Nostalgia is too often used clumsily in regular speech, though, used to mean "a desire for repetition" or "a desire to go back," yet without realizing that nostalgia always carries an element of pain, emanating from the realization that we can't go back. There can be great warmth in nostalgia, and some versions of it aim only to revel in that warmth (cf. Happy Days). But handled well, nostalgia should encourage reflection, not only on the fact that we can't go back because of time's onward march, but on the idea that the time, place, or feeling that we want to go back to was never really there.
Consider Kylo Ren, who holds onto the melted mask of his grandfather, and who looks to it for guidance and support. We all know this to be a pathetic act, partly because, well, speaking to a melted mask isn't entirely healthy, but mostly because we know his grandfather well. Anakin went to the Dark Side, destroying many good people in the process, killing kids in the process, and allowing fascism to rise. He lives up to his destiny to "bring balance to the Force" in his last moments, but overall his life was unequivocally tragic. He wore his mask, no less, not strictly speaking to be bad-ass and masked, but to hide a scarred face, to support his crumbled body, and to hide his last vestiges of humanity. For Ren to want to be Vader, to walk in his foot-steps, to "finish what he started," is thus deeply misguided to say the least, and shows as much misunderstanding of history as does an average Tea Party rally. Ren is a figure suffering from nostalgia, mired and trapped in the past that he has created, not a real past. And yet when his father Han calls for him to snap out of it, Ren acknowledges that moving back in time isn't possible. That whole scene, no less, is marked with futility – precisely because we've seen the original trilogy, we know when Han steps out onto that platform that he's dead, and as he appeals to Ren, we know the appeal will fail. There is no going back.
To be fair to The Force Awakens' critics who allege woeful nostalgia, though, they're not talking about nostalgia within the diegesis per se; they're talking about nostalgia for the original films. Abrams certainly gives us Han and Chewie in the Falcon again, X-Wings destroying enemy bases, lightsaber battles in the dark, and even iris and wipe edits, but he also denies us some pleasures in thoughtful ways that conform to this interesting, reflective type of nostalgia. Take Han and Leia. We don't get much of them bickering playfully and in a somewhat sexually charged way in The Force Awakens, and we don't see them living happily ever after. We see them hug, but with Leia's eyes full of loss and sadness. They reflect upon the fact that their relationship wasn't strong enough to survive the loss of their son, and in their reflections that they each responded by "going back to the only thing I was ever any good at," there's an admission that they weren't good at being with each other. There's an acceptance of this, moreover, and Abrams never poses the state of their relationship as something to be resolved or overcome. I find a painful beauty in that. Nostalgic? Yes. But not at all repetition, nor a return to the way things were; instead, a message that the only (open, obvious) couple that the original trilogy gave us wasn't a princess and her knight destined to live happily every after, and that maybe we don't need a princess and knight to live happily ever after (since neither is "broken" per se).
The film isn't just an exercise in the gleeful nostalgia of going back to where we were, and it has a more complex relationship to time and to the pasts in and of the film. The Force Awakens engages with nostalgia, but it is a thoughtful engagement, not at all the "aw, geez, isn't it nice to be back where we started?" nostalgia that the disdainful criticisms of it suggest.
*
Let me conclude by reiterating that I don't intend anything here to demand that The Force Awakens is an amazing film that must be revered. But to attack it front-on as an exercise in mere repetition, loving and uncritical nostalgia, and pastiche is, as Admiral Ackbar would tell us, a trap, since those pesky shield generators are still up. If you want to dislike it, go for it, but avoid an attack that idolizes a whacky notion of originality, and/or that rests upon on a misguided understanding of what repetition and nostalgia are.