Lost Wednesday: Substitute Fanboy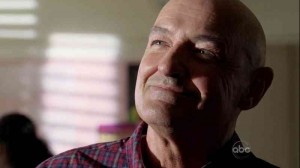 After Lost last night, Sean Duncan, Jonathan Gray & I had an exchange on Facebook about the list of numbered candidates scrawled in Jacob's cave, noting that Kate was touched by Jacob but was not enumerated as a candidate. My reaction was that it's further evidence of the patriarchal lineage surrounding the island, while Jonathan and Sean suggested that maybe Kate was touched just to engineer a love triangle for Jacob's amusement. While I won't go as far as to suggest that Jacob is a 'shipper, I did find the cave scene particularly resonant with fannish practice.
As a long-time Lostpedian, I've spent time making lists of characters on Lost, charting their relationships to larger forces and each other, and occasionally crossing them out when they cease to serve a purpose. This type of fan "writing" is reactive, responding to the canonical story as issued by the producers, or The Powers That Be in fan parlance. Within the show's storyworld, we've been led to assume that Jacob and the Man in Black are TPTB, authoring the experiences of our characters to fulfill a larger plan or destiny. But Jacob's cave-wiki suggests that he is just as reactive as anyone – yes, he has larger strings to pull than Ben or Widmore, but he's seems just as confused and powerless to control the ultimate destiny of the island as the mere mortals. And MiB positions himself as a victim to a larger trap or game, imprisoning a simple man and forcing him to play the role of smokey avenger that he seems to have tired of long ago.
Of course, the key word here is "seems," for all we get in Lost is the proclamations of the various puppetmasters that they are simply pawns in a larger game, not kings in the here-and-now, and that they are all ultimately the "good guys." Eventually (we hope) the chain of command will hit the top, and we'll be able to sort out the white and black pieces for real – or maybe the game is Othello, with characters flipping sides between white and black? But for now, we're left like Jacob, with his "thing for numbers," to scrawl out possibilities and play the game of Lost until we finally figure out the rules.
Lost has booted up two new games this season. I discussed the first in the last two weeks' posts, with the playful possibilities of what the parallel timelines might mean (and how they might matter). No great revelations on that front this week, but the tale of alt-Locke was a sheer joy – not only do we see John and Helen in relative happiness, but we recognize that John's "destiny" would have been much more fulfilling without Jacob's intervention, averting not only his death by Ben's hands but also his misguided search for meaning and redemption.
Lost's other game this season is at the meta-level of form and structure. TPTB alluded to parallels between seasons 1 and 6 over the hiatus, teasing the 2004 storyline. But this parallel also exists in terms of episodic structure – the sequence of season 6 episodes mirrors the structure of season 1. Each debuted with a 2-hour premiere featuring flashes to various characters on Oceanic 815. The next two episodes were focused on Kate and Locke respectively. We presume that next week's will be Jack-centric, with a Sun/Jin episode to follow.
But what of episode 7, which flashed on Charlie in season 1? Assuming there's no more resurrection on the island, will there be a substitute? Perhaps his namesake Charles Widmore, or his companion in death Desmond? And will episodes 11 and 12 give us repeated flashes to Jack and Kate as in season 1, or will we substitute other characters we'd like to follow like Ben and Miles? Such ludic speculation over narrative structure awakens my inner narratological fanboy enough to inspire me to take up cave painting.
Random favorite fanboy moment: too many to list whenever John Locke is onscreen, but it has to be Locke and Ben bonding in the teachers' lounge. And Ben's eulogy. And MiB ranting at the boy (Jacob?) "don't tell me what I can't do!" And…