Lost Wednesdays: Smokey and the Torturer
"Only thing that wd have made 2nites #Lost ep better–if Sayid had turned to camera & said "I'm on a horse." Sayid Jarrah, Badass at Large." – Maureen Ryan's TVitter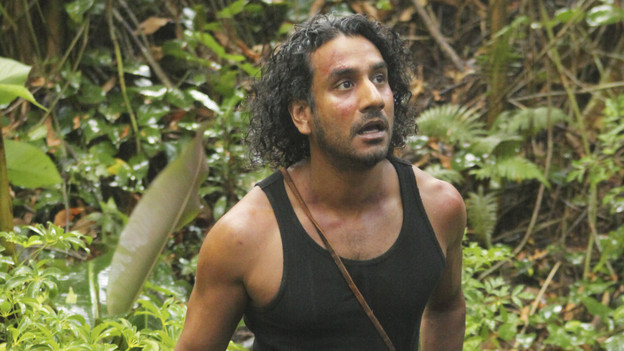 Lost's final season seemed to take a sharp turn this week, putting an end to the temple waiting game in a conclusively badass fashion. Sayid kicking ass is one of the most visceral pleasures of the show – one of my all-time favorite moments was him snapping an Other's neck with his legs in "Through the Looking Glass." So when the episode gets going early with an all-out martial arts rumble with Dogen, and ends with Sayid killing five people in cold-blood – across two timelines! – you know it's going to be a fun ride.
In retrospect, there wasn't really too much temple dawdling in total – some in the 2-hour premiere and "What Kate Does," with a little more in "Lighthouse." But with a weekly airing, we think a lot about the waiting around while we're waiting around for the next episode. Dogen and Lennon were underdeveloped characters, but in retrospect they were red herrings, designed to make us feel there was something more there to be discovered that would reveal deeper mysteries. When Sayid leaves them dead in the pool, I'm left satisfied that they served their purpose as casualties of faith.
Of course we still don't know much more than we did before the Smokey/Sayid bloodbath. Supposedly Locke is leading the side of evil, and the creepy glares of Claire and Sayid seem to confirm the dark side. But at this point, I'm pulling for Smokey – he's direct, follows through with his actions, and doesn't play games. Jacob is the most passive aggressive demi-god I've ever seen, making vague promises to force people to carry his water with no explanations or rationale. I'm hoping it proves to be more complicated than good vs. evil, but as of now, I'm all about the evil.
The sideways story was less compelling in terms of character than the previous two weeks, but it did have some nice cameo moments. The notion that Sayid ultimately cannot change his killer ways is a frequent refrain for his character, and this iteration didn't add much. It was disappointing that unlike the other characters we've focused on thus far, Sayid seems further from his goals in this reality – Nadia's married to his un-badass brother, and Sayid is just as guilt-ridden as ever. But it was worth it to see Keamy and his eggs (as channeled by a Christopher Walken impression), and the tease of tied-up Jin.
I'm a bit disappointed that the meta-pattern of episode flashbacks that I discussed before has been broken without any playful acknowledgment. Based on the season 1 mirror pattern, this should have been a Sun/Jin episode – and the title "Sundown" would have worked well for that! But they didn't even tease or allude to the pattern, derailing the game that they seem to have set in motion without any clear rationale. Lost encourages us to look for patterns where there might be none, so it's a shame when they ignore a pattern that is clearly there. But of course it does clear the decks for a Ben episode next week, so all is forgiven.
And speaking of patterns, I believe this was the first flash sideways where the protagonist doesn't have a protracted moment looking in the mirror. I think that Smokey's promise to Sayid that he could be granted his wish might point to the function of the flash-sideways: the "reward" for setting free the Smoky genie from his island bottle. And as with all tales of granted wishes, there's a catch. But I'm not sure how the mirrors and timelines would work… yet.
Random favorite fanboy moment: a close call between Sayid drowning Dogen in the pool and Keamy's eggs. But I'll go with the final shot of Locke smirking as he leads his recruits into… what?