Lost Wednesdays: Ben the Follower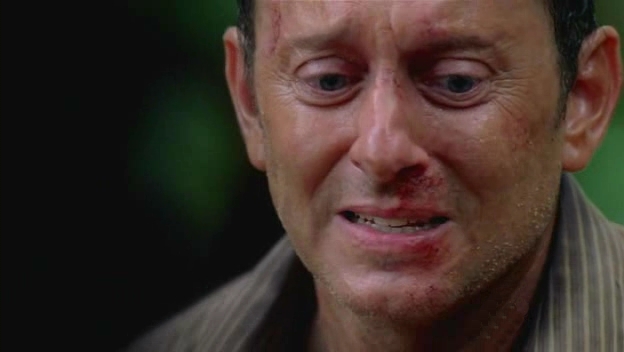 For all the talk that season 6 functions as a parallel to Lost's first season, "Dr. Linus" was the first new episode that really felt like it tapped into the best of season 1. The story was not focused on grand revelations or epic battles between light and dark. Instead, it was a fairly intimate character piece in which the dual timelines both explored a crisis of conscience, with a welcome return to the often-played "joyful slow-motion reunion on the beach" scene. The fact that it ended up being my favorite episode of the season thus far speaks to the power of that formula.
In season 1, the flashback would have provided a backdrop for the character's actions and choices on the island. Typically, as with Michael and Charlie, the island functioned as a chance for redemption, to try another path to heal a relationship or oneself. But in "Dr. Linus," the sideways story allows Ben to replay a past island choice: save Alex or seek higher personal power. The fact that he chose the former – and expresses regret on-island that he previously failed to make the right choice – shows that at his core, Ben is a decent man who was corrupted by forces that he never truly understood.
Of course, we were led to believe that he was literally transformed back in 1977, when Richard took him into the temple to heal him with the warning that he would "lose his innocence." As we've seen with Sayid and Claire, character transformations via external forces are a recurring event on the island, and something that we're still unsure about – are these characters possessed by other forces? Are they simply driven mad by circumstances? Or are they actually able to see things as they really are more than the other characters? And while the on-island Ben ultimately does make a choice to seemingly side with the forces of light over dark, we're reminded that in this reality, Ben is just a follower looking for a leader to make him feel valuable and wanted.
Juxtaposing "Dr. Linus" and "Sundown" makes me appreciate Sayid's off-island story more in retrospect – Ben is given another chance at a worthy life (assuming, as I do, that the sideways stories actually take place in some semblance of a literal "after-life" following the island events we're witnessing this season, as I posted in the comments last week), and makes honorable choices to care for his father and adoptive daughter rather than sentencing them to death. Sayid tries to live on the straight-and-narrow, but ultimately must replay the role of killer regardless of timeline. Many critics complained that the sideways story in "Sundown" is a thematic retread of previous Sayid episodes, but in contrast to the new lives that Ben, Locke, and Jack are leading, the inevitability of the "Sayid as killer" narrative takes on new weight. Some fates are determined, while other choices matter.
As in great season 1 episodes, "Dr. Linus" highlighted the thematic and character unity between the dual timelines, often sacrificing subtlety for dramatic effect. Ben's history lessons of Napoleonic power grabs, life-altering islands, and 19th century shipping (in the capitalist rather than fandom sense) all resonate with what we know of his own past life as an island dweller, informed by a depth of history inaccessible to first season viewers. This is ultimately what I want from a final season – more than answers, I want to see these characters pay off their own life stories in satisfying ways, and pay off my own investment of years of viewing and fandom. Last night finally delivered that payoff for one of my favorite characters.
It wasn't all character revelations, of course. We got some theories confirmed: that Richard was "gifted" with immortality by Jacob's touch, that he arrived on the Black Rock, that Widmore was the one on the way to the island, that Ilana is charged with protecting candidates (about whom she seems to know more about than Richard). And there were some big possibilities raised about why Jack cannot kill himself – we already saw him fail at this, along with Michael and Locke. So perhaps Jacob's touch (which we never saw conveyed to Michael… yet) is what previously kept them alive? But according to Richard (and seeing other candidates die), they can be killed by other forces & people. And we also got some new wrinkles off-island, with Roger Linus confirming that DHARMA still existed in this timeline, and they were on the island before it sunk. The utter implausibility of Alex Rousseau ending up in the same LA high school as Ben, Locke & Arzt seems to raise the suspicion that this world is more of a construct than a reality. But ultimately, this episode's pleasures are not mythological as much as emotional, so I'll leave the pondering about the broader implications of these developments for another day.
Random favorite fanboy moment: Miles name-dropping Nikki & Paolo and then digging up the diamond. How awesome would it be if they came to ultimately matter?!