'New New' Doctor Who: Brand Regeneration?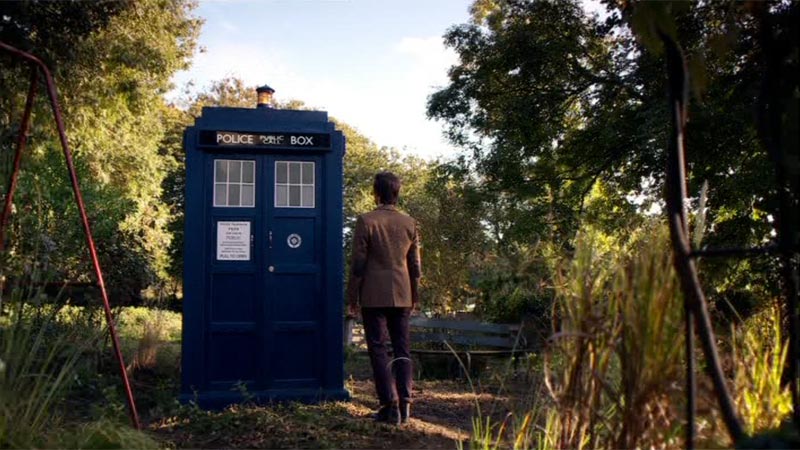 Writing in his BFI TV Classics book on Doctor Who, critic Kim Newman observes that the triumphant success of the show's 2005 reinvention might yet cast a long shadow, with the series coming under pressure to stay the same for a long time to come. Doctor Who's continuation under a new showrunner, Steven Moffat, along with eleventh Doctor (Matt Smith) and fresh companion Amy Pond (Karen Gillan) very much reminds me of what I'll call Newman's Dictum.
Doctor Who starts over every now and then, re-casting its leads and unfolding anew. But since 2005 there's always been a thread of continuity: Billie Piper bridging the 2005-6 series, and David Tennant remaining in post until recently. As such, 2010 poses a key threat to the brand, and to its 'flagship drama' status in the UK – what if a new Doctor, companion, and exec-producer team represents too much change for audiences to take? What if, this time round, British Doctor Who fans – i.e. the UK's mass audience – don't recognise post-Tennant, post-Davies Who as the show they've come to love?
Moffat's reign therefore begins, as Kim Newman foresaw, by channelling Russell T. Davies. The new production team have poached furiously from the old, taking bits of visual continuity – beginning with a view from space before plunging down to Earth – as well as Moffat generating pastiche Davies-style dialogue, e.g. the alien Atraxi being addressed as "you lot", one of Davies' writerly tics. And narratively, this is still very much the Whoniverse of the Shadow Proclamation (first name-checked in Christopher Eccleston's debut story) and of planet Earth as "defended" (set out in David Tennant's opening story). We might be shown all previous Doctors, but this episode is strongly weighted towards recent textual memory.
'The Eleventh Hour' feels the need to reassure child viewers who have grown up with the Tennant era that it's still OK to love Doctor Who; they don't have to let go of the habit. Where Rose Tyler represented the show's desired new fans within its diegesis, Amy Pond represents what are by now older fans of the BBC Wales' version, cautioning them to keep on believing for the next twenty minutes, or longer, and never to out-grow the Doctor's appeal. But it addresses this anxiety – that the already won-over UK audience may become deserters – by embracing a regenerative difference/similarity that's weighted towards sameness. The title sequence is re-created, but reworks the 2005-onwards version; the theme tune is remixed, but in a way that again most strongly cites the 2005-onwards version. Fans may already be picking over the 'dark fairytale Who' promised in advance publicity, but reading-for-change as an interpretative community misses the branding mark of this regeneration somewhat. This incarnation feels like a Greatest Hits package from the off. It's a smacking great irony: a re-brand and a re-launch that daren't actually regenerate.
Don't get me wrong – I loved Matt Smith, and Karen Gillan, and Moffat's rabid one-liners, and Murray Gold's soundtrack, and the giant-eye aliens, and Amy as a creative fangirl par excellence making her Doctor dolls and drawing her TARDIS pictures…
But at the same time, the show feels like Doctor Who perfectly impersonating an image of its own established brand identity under Russell T. Davies  – and I'm not sure it's ever felt quite that way before. Not for me, anyway. Something not widely remarked upon is how the "bad alien" in 'The Eleventh Hour' is defeated. It becomes a perfect impersonation of itself. Perhaps that narrative resolution is the most 'meta' moment in a screenplay jostling with potential candidates, because I can't help wondering whether Doctor Who just became its own dream-made-reality Prisoner Zero. Not hyperreal, but hyperfictional: dreamt in its own established brand image.
And if so, that may tell us something interesting about the possibility of wide-ranging textual change under contemporary systems of TV branding and franchising. Conceptualised as a blockbuster TV brand – as it is now in the UK – Doctor Who seemingly can't do regeneration anymore, or can't be allowed to. Its surfaces are altered, upgraded, upscaled; there's a shiny new HD-friendly TARDIS inside and out, but the real game is all about reassuring viewers that things remain substantially the same. Set up a story arc ("Silence will fall"); plan episodes to coincide with major cultural events ('The Beast Below' falling on the first Saturday of the UK's general election campaign) so as to boost publicity; carry on from where you left off in the move from ep one to ep two; follow a present-day opener with futuristic and then historical tales. In all this, the Moffat era shows clear signs of studiously imitating the Davies' masterplan – and of self-consciously borrowing what worked in 2005.
This leads me to a perplexing thought: if Doctor Who, back in 1963, had been industrially conceptualised as a 'brand' and a 'franchise', then it never would have lasted until today, because it would never have been free to chaotically and brilliantly tumble through wholescale reinventions. The 'brand' problem is that it guarantees consistency, but has to simultaneously promise periodic re-invention so as not to 'become tired'. The product of this commodified self-contradiction is superficial change and substantial sameness. Or spin-off shows/new franchise entries as a different mode of TV drama continuation.
But regeneration as a 'brand re-launch' proves not to be too much, or even very much, regeneration at all. Perhaps time (and wibbly wobbly, timey wimey stuff) may yet prove Newman's Dictum wrong; perhaps Doctor Who will be permitted to change radically once again. Who knows… but the fan in me will wait and see, of course. Here I am already, bags packed, sitting in my back garden. Waiting. And dreaming.