Summer Music Festivals: Just 20,000 People Standing in a Field, or a Life Raft for the Music Industry?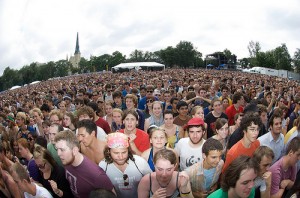 This past weekend some 18,000 fans, not including hundreds more staff and performers, gathered in Chicago's Union Park for each of three days and nights of the fifth annual Pitchfork Music Festival. Despite temperatures in the 90°s and the fact that most of the indie rock, hip-hop, and electronic music performers on the bill were hardly household names, the sold-out crowd crammed into the small 11-acre urban park to enjoy live performances by 45 musical acts across three stages. The sight of many thousands of fans coming together in a city park or open field has become an increasingly common experience in the U.S. at a time when the music industry is widely proclaimed to be suffering. How is that exactly?
It is well established at this point that the recording industry is hurting big time. But the concert industry has been much more resilient. Granted, live music this summer has had its share of troubles as well: numerous shows on headlining tours by the likes of the Eagles have been canceled or postponed due to poor advance ticket sales, the resurrected Lilith Fair tour cut 10 dates for similar reasons, and Live Nation, the largest concert promoter in the U.S., recently announced a projected 10% income drop below last year's earnings. According to the concert industry trade publication Pollstar, ticket sales are down about 15% so far this year, and that hit is being felt strongest amongst the "Top 100 Tours." In other words, it is the big, expensive stadium tours from chart-topping mainstream acts – for which even the lowest-priced tickets often run into the hundreds of dollars – that seem to be going the way of the CD. Smaller acts, though, are weathering the economic slump much better.
Contrary to industry trends, events like Pitchfork – annual multi-day outdoor rock/pop music festivals – have steadily grown in number and popularity over the past decade, and 2010 is shaping up to be a banner year for many music festivals. In the past decade, Pitchfork along with Coachella, Bonnaroo, Austin City Limits, Stagecoach, Ultra, Electric Daisy Carnival, and Sasquatch!, to name but a few, were all founded and quickly achieved considerable success. Earlier this year, Coachella recorded its highest attendance in the event's 11-year history, while Bonnaroo's attendance was up over the past few years'. Austin City Limits, to be held in October, sold out its three-day passes in a mere 14-hours back in April – before even announcing any performers. Pitchfork – which is a sell out every year – sold out its three-day passes in under a week, breaking last year's record of two months. With few exceptions, the demand for outdoor music festivals is through the roof.
Moreover, many of these festivals are finding success by targeting niche audiences. The something-for-everyone approach that has been the modus operandi of most large festivals is proving to be less effective (see: Lilith tour), as is the practice of spending huge sums on a few marquee headliners. For instance, Coachella's bookers purposefully focused on filling out the lineup with "relevant younger bands" this year. Meanwhile, Sasquatch!, the Washington state based festival held in May, sold out in record time without any recognizable mainstream headliners; its headlining acts were the indie rock draws My Morning Jacket and Ween. The electronic music festival the Electric Daisy Carnival drew a record 135,000 people to its two-day installment in LA this year, despite little advance media attention or big names outside the dance music community. Numerous other below-the-radar festivals, such as FYF Fest in Los Angeles and Fun Fun Fun Fest in Austin, Texas, fill their stages entirely with indie, punk, hip-hop, and experimental acts largely unknown beyond underground circles. Even if the music is eclectic, the audiences come from easily identifiable subcultures. Indeed, the scale of a Pitchfork or All Tomorrow's Parties is relatively small and the atmosphere is so casual, most everyone in the audience sharing similar tastes (for better or worse), that it almost feels like an indie rock summer camp.
This strategy of curating festivals that appeal to specific musical genres or subcultures is cost effective for organizers and provides attendees with more bang-for-the-buck, which benefits all parties during these hard economic times. Furthermore, it insures a built-in audience of dedicated music fans, rather than trying to appeal to a broad mass of casual fans who may like one or two headlining acts but not care for any of the undercard. In this way, it reflects various trends in the music industry, such as social networking, vinyl, and fan-funded recordings, that favor narrow over mass appeal, community-building, and more direct interaction between fans and artists.