Converse Rubber Tracks: What's a Shoe Company Doing With a Recording Studio?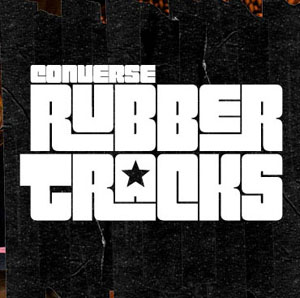 Two weeks ago, the shoe company Converse announced plans to open a "community-based recording studio" called Rubber Tracks in Williamsburg, Brooklyn, later this year, where select up-and-coming artists will be allowed to record their music for free. That's right: free. Musicians can fill out an application, and those accepted by Converse will receive not only studio time in a brand new, state-of-the-art facility but also rehearsal and post-production accommodations. This is a rather unprecedented move in the music industry, and one that perhaps signals another nail in the coffin of the major record labels. That is, musicians today can manufacture, distribute, and market their recordings for next to nothing via the Internet, leaving funding for professional studio recording as one of the few unmatched services that record companies have to offer – until now.
Marketing and promotion through so-called lifestyle brands – products or services that seek to identify with and embody the values and image of a particular cultural group – has already become de rigueur in the indie rock and hip-hop music scenes in recent years. Cross-promotional deals between musicians and brands and retailers, such as Kia, Starbucks, Urban Outfitters, and Converse parent company Nike, are already usurping the traditional record label marketing strategies of radio promotion, music videos, press advertising and publicity, and retail sales campaigns. These partnerships go far beyond just licensing music to commercials. A number of consumer brands, including Levi's, Scion, and Mountain Dew, have sponsored tours or concert series and even started up limited edition record labels, mostly offering digital-only singles and seven-inch record style EPs. Indeed, Converse has been actively building up a presence within the hip, indie/alternative music youth culture for the better part of the past decade, in particular emphasizing its retro-tinged Chuck Taylor All Star brand. Previously, the company has tapped musicians like Tokyo Police Club and Matt & Kim to design shoes and sponsored collaborative singles from blog-hyped acts, including a recent release from Best Coast, Kid Cudi, and Vampire Weekend's Rostam Batmanglij.
Still, these ventures are little more than cross-promotion, as even the record labels offer artists only "limited edition," one-off partnerships for a single/EP release, specialty clothing or shoe design, et al. In other words, they are focused almost exclusively on marketing and promotion and producing short-term results (i.e. immediate sales of cars, sneakers, soft drinks, and so on), and thus do not offer a sustainable model that may support artists and the creation of their music over the long-term. Moreover, these partnerships ultimately provide only a limited number of opportunities to only the hippest acts of the moment.
Converse's foray into recording, on the other hand, is unique in its emphasis on the production end of the process. In the music industry, production, manufacture, and distribution have primarily been the domain of record labels, and the development of Rubber Tracks hints at yet another way in which labels are becoming obsolete. As mentioned earlier, it has become increasingly easy for musicians to operate independently of the major record labels, and yet many artists still require some form of institutional support. Studio production, alongside touring, remains one of the more expensive and unavoidable costs that even the most independent of musicians must incur, and so perhaps Converse is onto something with Rubber Tracks, filling one of the few niches in the recording industry business model that the digital era hasn't put squarely in the hands of the artists. (Sure, software such as GarageBand has made home recording remarkably easy, inexpensive, and professional sounding, but it has its limitations and most artists still desire to record in a fully appointed studio, especially if recording analog.)
There are a lot of questions that the Rubber Tracks initiative currently leaves unanswered with regards to ownership and use of the recordings. In the abbreviated Terms & Conditions that Converse has made public, it is clear that the company plans to use the recordings for promotional purposes, mostly online via free downloads and social networking sites. In a recent New York Times article, a company spokesperson claimed that the music isn't intended to be used in commercials, however the Terms & Conditions vaguely reference Converse's right to use the recordings for "'industrial' purposes" (their quotes around the word industrial). Converse also retains the right to shoot photos and video in the studio, meaning the musicians are lending not only their music but their image to the company for advertising purposes. Manufacturing and distribution are seemingly left in the hands of the artists, and so if the musicians wish to release the recordings in any kind of physical format (rather than just distribute them exclusively online), they will have to do so on their own or partner with a record label. But even though the Terms & Conditions indicate that "you will own the music you create," it's not clear whether the artists or labels will have to pay any kind of licensing fees to reproduce the recordings or if they will be restricted from releasing the music for any period of time.
It seems today that concerns over "selling out," which so plagued the indie and punk communities for decades (and folk rock and rock'n'roll before them), are all but abandoned. Young musicians and audiences raise little suspicion over a corporation licensing songs or harnessing an artist's image and credibility for commercial purposes. As record companies lose their marketing and distribution stronghold and, at the same time, struggle to gain greater control over their artists' non-recording efforts through the likes of 360° deals, lifestyle brands are perhaps emerging as a sort of "lesser evil." It's notable, though, that relatively few artists are willing or able to support themselves completely on their own. That is, the roles of the record labels may now be chopped up and delivered by a variety of specialized companies, but artists are still looking to formal institutions to fulfill most of these traditional functions of production, manufacturing, distribution, marketing, and financing on their behalf.
In a final point, lest we forget, Converse's Rubber Tracks initiative, novel as it may be within the music industry, is hardly lacking in precedent. Critics like Douglas Rushkoff and The New York Times are deeming it "patronage," drawing comparisons to the Medici and the Italian Renaissance. But in modern times, art patronage implies a fairly neutral involvement from the donor, and Converse's interests here are hardly philanthropic. Instead, Rubber Tracks is best viewed as a form of single sponsorship, a production model that has a long history in radio and television. Converse is, in effect, paying these artists for the opportunity to harness their cred and firmly embed their brand as an integral part of the indie music culture. This is hardly a simple interrelationship, however, since a shoe company like Converse and a rock band or hip-hop act clearly have differing and potentially conflicting motives. Despite claims by Converse that the company will not attempt to influence the content of the music, the single sponsorship experience from radio and TV provides a cautionary tale.