Replying with the Enemy: Showrunners on Twitter II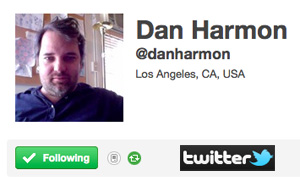 In my last piece on television showrunners active on Twitter I was focusing on their overall use of the social media tool, but this piece will focus on the direct interaction between showrunners and viewers – through "@ replies" – which Twitter makes possible. While most Twitter users (myself included) would tout this conversational potential as the service's greatest value, creating a dialogue which can help form stronger relationships with your followers, it is also inherently risky: attempts at humor or sarcasm can be lost without context, leading to misunderstandings and conflicts which sour that relationship.
For showrunners, these risks and rewards are both magnified: replying could create a sense of a personal relationship with their followers, encouraging them to become even more connected to the text itself, but getting into long conversations with fans (especially antagonistic fans) could exacerbate the problem of viewers feeling turned off by showrunners' Twitter behavior.
While the majority of showrunners will respond to an occasional comment, the one who seems most willing to engage in debate is Community's Dan Harmon. Admittedly, some might characterize this debate as fairly sophomoric: bodily humor is a favorite of Harmon's, and some of his replies are personal attacks played largely for comic effect.
Here is an example from early November: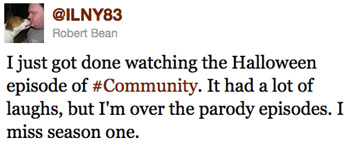 There are two interesting things to note about this conversation. The first is that Harmon initiated it himself: since the initial tweet was not directed to him, it appears that Harmon found the tweet by searching the show's hashtag, #Community (which is quite common). The other interesting insight is that only people who were following Harmon and the other user would read this tweet: the vast majority of Harmon's followers, who are unlikely following this particular individual, would only find this tweet on Harmon's home page, which users do not tend to visit on a regular basis. Thus, while this may be intended a sort of comic release of showrunner frustration, it is a very narrow form of comedy: Harmon could, if he desired, adjust the tweet so that all of his followers could see it, but this particular confrontation is only visible if you're willing to dig for it.
However, while Harmon mounts several conversations of this nature in a given week, one of these dialogues is actually a long-running feud. @gwynnifer began tweeting to – or, more accurately, at – Harmon in 2009, before Community had even debuted and before the show gained a considerable online presence; however, most of Harmon's followers became aware that these conversations were taking place just this year (mostly through his own efforts to publicize the feud, which also include making many of her tweets a "favorite").
For the most part, Gwynnifer displays the traditional signs of what is referred to on the internet as a troll, someone whose posts are intentionally provocative to the point of obscuring their content: she swears, she makes unfounded claims, etc. Of course, one could argue that some of Harmon's twitter replies meet the same criteria, but they have a clear comic sensibility (and are coming from a comedy showrunner). Gwynnifer, by comparison, is arguing that Harmon is a bigot, and that Community (like, according to Gwynnifer, his previous work) is inherently racist, topics of conversation which are not typically comic in nature.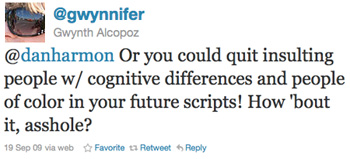 While I would argue that racial representation on television is an important subject of conversation (for the reason Gwynnifer herself points out), Gwynnifer's argument suffers from both a shallow reading of the series and a lack of context: not only does she seem to hold Community – with a regular cast featuring four minority characters – to a problematic standard relative to television as a whole (which is considerably less diverse), but her focus on personal attacks leaves little room for evidence or even any real argumentation.
There is a discussion to be had about the series' depiction of race, and how its racial elements merge with its focus on satire, parody, and meta humor; this is certainly not that discussion. However, what happens when something we generally consider to be a "serious" subject becomes part of this type of discourse? Even if her arguments do not necessarily have merit, the conversation does have some value, so to see it trapped in a series of insults seems like an injustice.
However, while this particular conversation may result in a lesser discourse, Harmon's Twitter account seems to have been influenced by it in what I would argue are positive ways. Recently, he linked to a post at Diversity Awareness as an extension of this debate, and its author argues that Community "needs a Mexican character" since people of Latin descent make up a large percentage of community college students. It's a purposefully flawed piece, throwing out unfounded conspiracy theories – including that Harmon is "ignorant" – not dissimilar from Gwynnifer's for comic value, but it led Harmon to offer the following comments: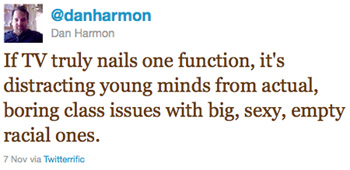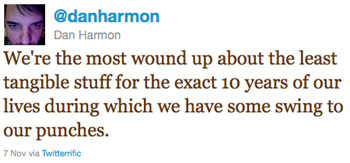 While Gwynnifer's argument may lack sufficient evidence, and the Diversity Awareness piece may fail to make any real contribution to this discussion, the conversation they sparked led to some insight into how Harmon views issues relating to class and race (and thus how those issues might fit into Community as a whole); regardless of whether you agree with him, that insight is a valuable discourse. Of course, this has since turned into a topic of comedy for Harmon, but this moment of "seriousness" speaks to the ways in which this sort of showrunner/viewer engagement can reveal something more than a showrunner's love of humor related to fecal matter.
Not that there isn't a place for that, of course.
Addendum
When I posted this piece yesterday, a number of critics alerted me that my timing was particularly good: in last night's episode of Community, "Cooperative Calligraphy," Gwynnifer became part of the series' primary narrative.
While it may be a nod towards this Twitter conflict, it is not an extension: Gwynnifer is simply a name, in this case the name of Jeff's date, which means that the majority of the audience is not likely to understand the context (which is why you might be here). It also resists the temptation to use the name for some sort of an attack: instead of naming the ringleader of the college "mean girls" after her in last week's "Aerodynamics of Gender," she is simply a girl that Jeff is going on a date with.
One could argue that the reputation of a girl who would date Jeff (and which Jeff would call a catch) is not precisely a positive reputation, but the relatively passive nature of the reference is an intriguing twist. And, speaking of intriguing twists, do check Jason Mittell's comment below for another example of the above phenomenon from last evening.