Great Barbeque, Gigabits, and Google
Almost exactly a ye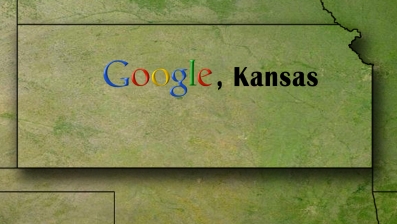 ar ago, Mayor Bill Bunten of Topeka, Kansas proclaimed: "Don't be fooled. Even Google recognizes that all roads lead to Kansas, not just yellow brick ones." He was right in some respect, as Google recently announced that they would implement a 1 Gbps fiber optic network in Kansas. Unfortunately for Bunten, who took part in legally changing the name of the city from Topeka, to "Google, Kansas" for a month, the company chose Kansas City as a network test site. The fiber optic network will provide Internet connection at about 100x the speed of current networks implemented in the United States by 2012.
As can be expected, Topeka is getting some flack from news outlets. But just to be clear, Topeka wasn't the only city using eye-catching, "creative" tactics to gain Google's attention. During 2010, a local Madison restaurant began offering a pizza called "the Fibertron" (high fiber and the colors of the Google logo), and a certain university-affiliated creamery started producing Google Fiber "flavored" ice cream with Google colored candy and granola to represent the fibers in the fiber optic cable . . . (ok, insert jokes about Wisconsin and our crazy love of dairy products here). Overall, Google received over 1,000 applications from cities across the US before selecting Kansas City, Kansas as the first (of more?) cities to house Google as a network provider. Though Google has yet to reveal details about the selection process, some people have theories about what may have influenced the company's decision.
Topeka as well as other out of state contenders like Gainsville, Baltimore, San Luis Obispo, Raleigh, and Chicago are looking on the bright side, sharing a "maybe we could be next" mentality about their loss of the Google bid. Although, while Kansas City receives faster data speeds, millions of dollars in infrastructure investment that's not pulled solely from public coffers, job creation, and media attention, Topeka, Lawrence, Kansas City, Missouri and other neighboring Great Plains cities should be sharing the spotlight as well. While the developments within Kansas City as a result of the network implementation should be observed, studied, and analyzed (i.e. technological choices for the network; what networked practices, products, and cultures increase or emerge due to service improvements; the role of infrastructure in industry clustering, place promotion, urban experience; the functioning of public/private tech partnerships; the network's role in ameliorating or augmenting participation gaps and/or digital divides, etc), so should the relationships between Kansas City as a "networked place" and its surroundings. These intra-urban as well as inter-urban and extra-urban developments will be of interest particularly since Kansas City, Kansas (KCK) already takes a back seat to it's other half, Kansas City, MO in terms of population, education and income levels, institutionalized cultural offerings, and high-tech industry presence.
It's tempting to read this situation as creating new geographies of inclusion and exclusion, but I think this reading eschews a lot of the complexities that may emerge in coming years. We can already begin to speculate as to whether the innovations in tech production, consumption, and exhibition that emerge in KCK can be shared beyond the privileged boundaries of Google's robust network due to the lacking network capacity elsewhere. As Antenna's initial analysis of the 1Gbps network noted, Google's attention to infrastructure (whether their approaches are deemed successful or not) may have complicated effects on national infrastructure policy and development. I wouldn't be surprised if the presence of the Google network instilled a reliance on Google products and services, even if solely through brand loyalty and gratitude, if not technologically.
However, the physical inauguration of Google's "Fiber for Communities Program" is a rich opportunity to study how the designation of experimental places and the politics of media infrastructure, discourse, industry, and use interact locally as well as regionally. It will be interesting to observe how the cascading effects of the Google network (positive, negative, and in between) beyond Kansas City borders actually manifest. It seems that Topeka is already audibly hoping for some "residual effects", namely in the form of industry overflow and job creation.
In August, I'll be moving to Lawrence, Kansas (~40 miles west of KCK) and the  practical trickle-down benefits or costs of the Google network will definitely be on my radar, as well as part of my everyday life. However, I'll be curious to see how, and if, the networking of a city changes the media economies, ecologies, technological development, population and performance of place in surrounding areas as well as within KCK. In some cases, neighboring a more technologically privileged urban center has led to grassroots media developments and experimentation in adjacent "second class cities", like the comprehensive development of relatively cheap and efficient community wireless networks for example.
In addition to questions about development, other inquiries regarding the particularities of place, geographic and urban network relations can be made, especially since particularities of place influenced Google's decision to pick KCK. Do we see population shifts, or changes in education levels and income in Kansas City or other cities post-Google network? Can we note the clustering of certain media industries and the exodus of others to neighboring towns? What will the relationship between Google and locally headquartered Sprint look like? Are new urban corridors and hierarchies created? Does Kansas City actually become a prominent node in some sort of global, national, or regional urban network? What happens to the city's pre-existing relations with other cities? Or, does high speed, privately-initiated infrastructure maintain more than it actually transforms?
This is definitely a rich opportunity to analyze public/private partnerships in innovation, the city as a sandbox for technological experimentation, the effects of high-speed data infrastructures on media practices, industries, education, and urban development among other things. I'd be interested to hear your concerns and questions about Google's decision, as I'm sure that I'm leaving out many important points of inquiry. But this is also a moment to question through a variety of lenses, what it means to be the neighbor of a networked city.