Steven Moffat's Doctor Who: Challenging the Format Theorem?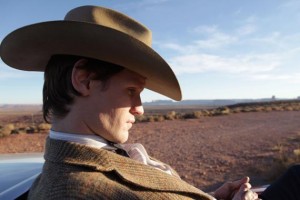 Just so you know, and to avoid any ambiguity, today's blog entry ends with this concluding sentence: "Yes, Steven Moffat's work on Doctor Who is becoming ever more repetitive." Jump ahead and check, if you like. There, see.
Because the opening two-parter of series six, 'The Impossible Astronaut' and 'Day of the Moon', has been accused in certain sectors of online fandom and in some newspaper reviews of rehashing past successes. The Doctor is killed, but time travel shenanigans mean that the show can go on (or has gone on); monsters have a sight-related gimmick; the Doctor is placed in something of a rom-com context; and River Song cautions against spoilers and appears with her customary introductory line, as well as (literally, this time) diving into the TARDIS. Non-linear storytelling, plot mechanics, and brisk dialogue all tussle for dominance. Now with added 'perfect prison' motif.
And as Moffat's vision for Who moves further out of the long shadow cast by the Russell T. Davies era, contrasts between the two showrunners come into sharper focus. Davies's authorship twisted industry common-sense into art; he turned down the sci-fi, upped emotional realism, and avoided scaring off the mass audience. He also coded his own voice into a range of tightly restricted formats; the light season-opening romp; the quirky, experimental story; the big, brash finale; the mid-series filler. But whereas Davies's masterstroke was to write with the restrictions of industry common-sense, Moffat often writes against industrial norms for 'mainstream' TV. His authorship is more combative, more assertive, restlessly looking to think the unthinkable and so write what Doctor Who's format theorem tells him cannot be written.
To wit – kill the Doctor in the first ten minutes or so of the series, but structure narrative gaps into the event that can be revisited later (what do the astronaut and the Doctor discuss before his death?). Casually throw ontological puzzles into the mix: was it really pre-1967 at Graystark Hall Orphanage? What was the hatch all about? (There might almost have been a Lost reference or gag lurking there). Oh, and end episode one of a family show with the Doctor's companion shooting a child asking for help. As Paul Kirkley has pointed out, this hardly presses the right demographic buttons or readily hails a target audience. Unlike Davies, who was the consummate integrationist, pulling together storytelling needs and industry contexts and pressures, Moffat pits his wordy cleverness and narrative complexity against forms of 'mainstream' industry wisdom. Not wholly, of course; the gambit of a series opener working like a finale does have a certain industrial logic to it, as well as creatively playing with established ways of doing Who. But Moffat challenges the TV industry establishment far more notably than did series one through four. He's the Tom Baker to Russell T. Davies's Jon Pertwee.
Just so you know, this blogged argument doesn't really begin with the sentence "Just so you know" above. Its discussion has a prequel; a response to last year's season finale for Antenna, where I argued that Moffat's skill as a writer is to misdirect, and to separate moments of seeing and understanding such that the audience typically experiences a feeling of 'ah! How could I not have spotted that!' But the difficulty for fan audiences is that favoured tricks used by a writer can become familiar, anticipated, and rapidly recognised. Ironically, when the Silence are revealed here, after a season-long wait recapped in flashback, they represent the monster as ultimate anti-spoiler; nobody can remember them a moment after they've been seen. Though this feels vaguely reminiscent of the Weeping Angels, it is a repetition of authorial vision and distinction; authorship itself as a brand of the uncanny – indeed, as the ultimate anti-spoiler – where the longed-for "reveal" proves to be startling… yet in a somehow familiar, already-known guise.
For, NuWho has been distinguished from its classic predecessor, above all else, by virtue of becoming 'authored' television. And authored TV implies – in fact, requires – markers of its vision; iterations of its distinctiveness; variations on its authorial themes. Time travel is the perfect metaphor for auteurism; each involves going back over old ground and making it surprising, showing the work of the world in a new light. Equally, auteurism is the perfect metaphor for time travel, always starting with a new chance, a blank page, and yet finding that history can't be entirely rewritten nor its patterns of meaning wholly resisted. Moffat, of course, exploits and mines the metaphor until it collapses altogether: this version of Doctor Who gives us time travel as auteurism. And a story arc that seems to be shaping up into a 'story ellipse', as Moffat's nuWho explores new ground by doubling back over Freud's "family romance", as per pop time travel staples like Terminator, or Back to the Future. Author of The Time Traveler's Wife, Audrey Niffenegger, even includes an intertextual shout out to Moffat's 'Girl in the Fireplace' in Her Fearful Symmetry, acknowledging their twinned authorial territories.
Rather than indicating creative exhaustion, or narrative fixation, repetition has always been essential to NuWho, not just to convey its nature as genre TV, but more than that, as a sign of its 'quality', and its status as TV art, even. Impure repetition, like a subtly shifting time loop or a family resemblance, is the sine qua non of any identifiable authorial vision. Becoming repetitive means just this: articulating auteurism and creating 'quality TV' within and against the confines of a tightly-formatted, popular series.
Yes, Steven Moffat's work on Doctor Who is becoming ever more repetitive.