What Are You Missing? May 1-14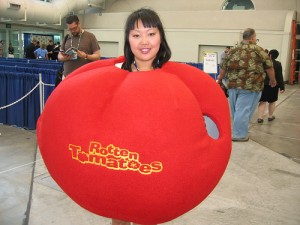 Ten (or more) media industry news items you might have missed recently, plus a programming note:
1. Warner Bros. now owns Flixster and Rotten Tomatoes, which might raise questions of bias for RT, but MPAA head Chris Dodd is more focused on Hollywood positively promoting itself, rather than individual films. This piece about Hollywood's white people-heavy summer releases won't help out with that, but maybe this one about Hollywood actually caring about the olds will. Other moves for Hollywood include searching Europe for remake possibilities and fighting to release more films in China. (Bonus item: Remember a few months ago when I joked about how the MPAA ratings board would explode if they had to rate A Serbian Film? From A.O. Scott's review of the film: "A Serbian Film" is rated NC-17. The best part of this movie may be that members of the M.P.A.A. ratings board had to sit through it.")
2. The Cannes Film Festival began Wednesday. Indiewire has a preview of what we'll be missing, and Peter Bradshaw highlights ten notable Cannes films, including Mel Gibson's The Beaver, which opened with a deadly thud here. Scott Roxborough says this year's festival is about big stars and edgy auteurs, while Sharon Waxman notes that women directors are making their mark. Cannes will also feature a film by jailed Iranian director Jafar Panahi, who will be further honored in absentia with an award for courage and independence of thought.
3. The entry on ancillary film distribution always seems to start with bad news about DVDs; so why fix what isn't broken? DVD revenue dropped 44% last year, so far in 2011 DVD and Blu-Ray sales are off 19% from last year, and Brent Lang doubts that 28-day rental delays will boost sales. On the bright side, um…aaanyway. YouTube is moving forth with its movie rental plan, which poses a marketing challenge, while Netflix is looking to expand into Latin America.
4. Microsoft bought Skype. Some analysts believe Microsoft dramatically overpaid for this acquisition and that the company's main goal was just to keep Skype away from Facebook. Others say Microsoft has real plans for Skype, expecting that it will boost Microsoft's standing in the communications market, especially the mobile arena, it could tie in with Kinect, and it might be Microsoft's gateway into the smart TV business. Or this could just end up as good news for Apple.
5. Three major music industry developments this fortnight: First, Access Industries bought Warner Music for $3.3 billion, which could also open the way for a merger with EMI, though that will be a highly competitive bidding process with regulatory issues. Second, Google has launched its cloud-based music service locker, without the support of record labels, which means it's basically a remote hard drive for your own music, not a purchasing service, making it positive news for the future of cloud computing but keeping Google and Amazon well behind Apple. And third, dead piracy outlet LimeWire has settled with 13 music labels for $105 million in copyright damages (note: artists don't get a cent of that), but during the trial, LimeWire's lawyers tried to stress that label mismanagement and poor executive stewardship was ultimately at fault for the music industry's troubles, not piracy.
6. A "Do not track" bill that allows consumers to opt out of online info tracking has been introduced in the Senate; media scholar Jeff Jarvis doesn't think such a bill is necessary, while Google and Facebook argue that such bills can be economically threatening. Amazon is using the economic threat of sales tax imposition to cut ties with more states, and another online business regulation story to keep an eye on is the internet censorship bill. (Random extra that might make you feel old: "All your base has belonged to us" is ten years old.)
7. If you follow any British people on Twitter, you likely saw a #superinjunction tweet or two over the past few weeks. It's part of a right juicy scandal, as only the Brits can do best, involving sex, celebrities, footballers, gossip, privacy, and gag orders, all writ even larger thanks to social media, especially Twitter, which saw its best UK day ever last week thanks to the circulation of rumors and jokes. Twitter itself is trying to stay out of it and UK gag laws might not even apply to the US company. (Hmm, I wonder if they'd apply to WAYM.)
8. Busy days for Facebook, from internal arguments over prospects in China, to more Congressional questioning over Facebook's security and privacy issues, to consumer advocate concerns over photo-tagging of brands, to a little matter of Facebook losing face after getting caught conducting a surreptitious smear campaign against Google and trying to evade accountability for it, though some say that the point Facebook was trying to get across about Google's privacy issues is at least a valid one (you can find an extensive discussion of those issues here).
9. A few items this fortnight showcase major challenges faced by news media outlets: Google lost a precedent-setting appeal in Brussels over links to Belgian newspapers, Facebook is closing in on Google's news traffic driver dominance, debates about unpaid online contributors and how we judge journalistic value continue to rage, the New York Times website is at a break-even point post-paywall, and a new New Yorker iPad app may represent the beginning of the end of print. Finally, the 2011 National Magazine Award Winners have been announced, and I plan to read the winning articles online, with Instapaper allowing me to save them to read later. Sorry, paper.
10. Some good News for TV Majors links from the past two weeks: BBC Airs Death, Kutcher New Man, Illegal Streaming, NBC Cancellation & Pickup News, Social Media Power, Commissioner to Comcast, Daytime Emmy Noms, Fox Cancellations, Boston Cable, Vast Wasteland Revisited, Showtime Viewer Research, OWN Shake-Up, Bounce Secures Markets, Netflix & Cable, Emmys Deal, TV Households Drop, USA's Off-Net Impact, Osama bin Laden Coverage.
*Programming note: The bad news is that this is the last WAYM post perhaps until summer's over. The good news is that WAYM is going on hiatus so I can focus on something else: I'll be heading across the ocean this week to teach a six-week study abroad course in London focusing on contemporary British TV. I plan to file "Report From…" Antenna posts on Sundays (as long as climate change doesn't kill the UK's wifi first) that cover my new experiences with watching and teaching British television. I'm also working on a new research project comparing and contrasting British and US industry practices and programming, so I hope to kick around a few preliminary ideas in these posts, and I especially hope that numerous British and Anglophile Antenna readers offer their thoughts and answers to the (occasionally dumb) questions I'll raise. So until next Sunday, cheerio! (The British probably don't really say that, do they, it's probably just something I've seen on TV, right?)