A Song of Ice and Trading Cards: Licensing HBO's Game of Thrones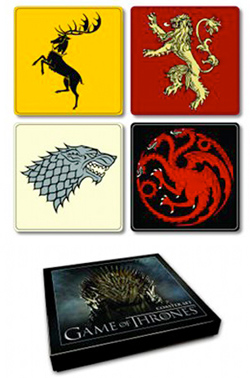 Although HBO's Game of Thrones was always considered a potentially lucrative property for the channel, its success was never a guarantee. This goes for all television programs, of course, but in the case of Game of Thrones it created some particular challenges when it came to licensing the series. While logic would suggest that a built-in fanbase of George R.R. Martin devotees could help fuel sales within ancillary markets (such as merchandise or video games), HBO was particularly cautious with their initial strategy. However, as the series moves towards its second season, the network is taking a more bullish approach, suggesting they at least would like to believe that they have the potential for television's Lord of the Rings moment.
Acknowledging, of course, that matters of scale would keep this franchise a far less lucrative merchandising opportunity, the fantasy genre (and Sean Bean's intertextual appeal across the two franchises) does elicit certain comparisons. A recent deal with Dark Horse Comics might sound fairly familiar to those who have read Kristin Thompson's detailed study of the franchising process surrounding The Lord of the Rings, given that it includes both high-end merchandise (like character statues, character busts or prop weaponry) as well as more commercial forms of licensed materials (like the pictured coasters or trading cards, which fans took up as a [spoiler-filled] hashtag in the wake of the announcement). While the latter may appear on a comic book store's counter, the former appeal to more "hardcore" fans that desire "official" merchandise of a high quality and value authenticity.
Authenticity is a key term here, given that HBO is clearly invested in questions of quality as it relates to their programming. In fact, the licensing process for the series seems to me to be a question of balancing a level of control over the quality of products related to the series and an effort to both monetize and expand their audience (and thus their subscription base). Before the first season began, they maintained tight control over licensed products, releasing a small collection of t-shirts and other merchandise to their online HBO Store (and its New York City retail location).
However, as the season unfolded, they continually added more merchandise, including a number of t-shirts that immortalized particular quotes from the series. These were often off-handed references rather than key moments (like this "I Made The Eight!" t-shirt that many casual viewers might not even recognize as a line from the series), but they offered an immediate and, more interestingly, serialized form of licensing that would keep fans visiting the site on a weekly basis. The store has grown to nearly 150 items since the first items – two t-shirts bearing logos for the series – appeared in December of last year, and it is the first series-specific store listed on the sidebar of the HBO Store website (above the similarly lucrative, and more highly rated, True Blood).
Now that they are expanding their licensing agreements, however, they are handing over more control to independent companies in the buildup to the second season. In the case of the upcoming video game release developed by Cyanide Studios and published by Atlus for XBox 360, PS3 and PC, however, they are handing over more control than they would like. The video game rights to Martin's Song of Ice and Fire series were sold separately from the TV rights, which meant that HBO found themselves with a lucrative licensing opportunity that someone else controlled. A compromise has led to a branded game that will bear the likenesses and voices of actors from the series but remain in the hands of Cyanide, although HBO made efforts to acquire the gaming rights outright before settling on this arrangement.
However, while HBO intends on promoting the game (which will be released around the time of the second season premiere, alongside the Dark Horse merchandise and the Season One DVD/Blu-Ray release), this foray into licensed games moves them further away from the discourses of quality that drive their brand identity. Generally considered to be rushed titles designed as promotional tools as opposed to satisfying gaming experiences, licensed titles are fairly maligned within the gaming community, and the relatively little information available about this title before its release does little to suggest this will break that particular trend (although that George R.R. Martin was involved in the game's story could engender some goodwill among fans).
This is not the first licensed game based on a fictional HBO series, as The Sopranos: Road to Respect debuted in 2006, but that (poorly reviewed) game was an effort to monetize a long-running property towards the end of its run. By comparison, the Game of Thrones game comes at a crucial juncture for the series, and will be part of a major marketing push designed to transform the franchise from a cult hit into a mainstream phenomenon. However, if corners are cut in terms of quality in the midst of aiming for this transformation, it is possible that licensing could complicate the quality TV discourses that HBO stakes its brand on (and which earned the series two Primetime Emmy awards and a nomination in Outstanding Drama Series), and could also frustrate the same fans who have responded so positively to HBO's merchandising efforts to this point (including, as I've written about elsewhere, the pre-air transmedia experience campaign organized by Campfire).
The former point raises larger questions about HBO's relationship with genre franchising that this post doesn't have time to address. However, regarding the latter point, the economic realities of the series' production have been highly visible within fan discussion, as the substantial cost of production raises serious questions of the series' longevity (especially given the length of subsequent volumes, which would push an adaptation of even just the existing books to 6+ seasons). Fans know that licensing opportunities like this are an important space where additional seasons could be rendered financially viable, and thus might embrace a mediocre licensed title or a cheesy fridge magnet if it means HBO has the potential to continue adapting the series for years to come.