Mediating the Past: Mad Men's Sophisticated Weekly Get Together
**This is the first in our new series: Mediating the Past, which focuses on how the past is produced, constructed, distributed, branded and received through various media.
About six months before Mad Men's very first episode takes place, Hugh Hefner debuted a syndicated television program entitled Playboy's Penthouse.  It was an early example of intra-corporate cross-media promotion, in which—to invoke the era's term of art and Hefner's actual words—the "foremost exponent of sick humor." Lenny Bruce, explained "I would never satirize the obvious," before wondering aloud, on the program, who would advertise on such a program.  Bruce concluded his ad-libbed ruminations by gibing Hefner directly: "I'm glad you've got some guts…you're not interested in the people that don't have any money."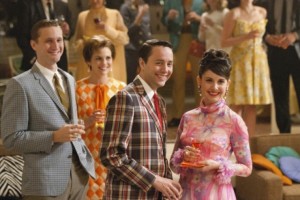 Maybe it was the mise-en-scène, but I recalled this line again during the extended swinging penthouse party sequence in Mad Men's fifth season premiere episode (of an apparently contractually finalized seven).  Back with new episodes after 17 months, the media saturation leading up to its return has had me thinking that Mad Men and the cable channel AMC on which it is shown have "got some guts" in rather the way Bruce meant.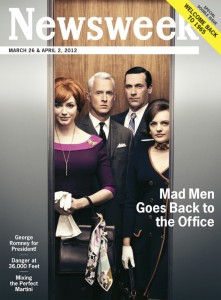 For a couple months now, middlebrow America has been utterly awash in Mad Men.  The New York Times ran so many profiles, interviews, style pieces, analyses, reflections, recaps, think-pieces, reviews, political tie-ins, beverage tie-ins, and other pieces, that another media reporter, Joe Flint (@JBflint), tweeted after the season premiere ratings were revealed: "Mad Men draws 3.5 million viewers.  I didn't know NYT's staff was that big."  The Washington Post meanwhile actually ran a piece on the number of Mad Men pieces it ran leading up to the season premiere:  22 including that piece itself!  Newsweek contrived a special retro issue timed to correspond with the new season's premiere. The New Yorker offers online readers weekly episode synopses, as does Slate, Salon and Esquire (which also lists "all things Mad Men" on its site, and sprinkles its hard copy pages with regular think pieces about the show it has suggested "is the greatest piece of sustained television ever made").  Even nominally non-commercial public service network National Public Radio ran stories about Mad Men on "Fresh Air," "Morning Edition," "Weekend Edition," "All Things Considered," it's online food blog, and "Fresh Air" again!  For certain media consumers, Mad Men has been impossible to ignore.  Have you been hailed by Mad Men? (hint: you're halfway through another piece about it).
While this media surge contributed to this season's premiere becoming Mad Men's highest rated episode ever, ratings are not really the point (it still had 5.5 million fewer viewers than AMC's The Walking Dead finale had the week before).  Mad Men brings other kinds of value to AMC:  the wealthiest viewers on cable, industry prestige (AMC Networks promotes itself with Mad Men's four consecutive Emmys and three Golden Globes), and overwhelming (and overwhelmingly positive) media coverage.  Mad Men, in other words, sustains AMC's brand, providing a specific and prestigious visibility that extends beyond those who actually watch.  Visibility like this matters for attracting more viewers, for setting ad rates, for attracting "quality" program producers, but also, crucially for a cable channel, for negotiating with MSOs and setting carriage fees. (It also helps Lionsgate continue to "monetize" Mad Men beyond AMC).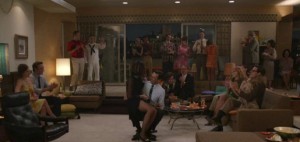 Branding for AMC is all the more important as it transitions within a changing television industry.  Begun in 1984 to monetize vaults of otherwise unseen old movies, this is no longer seen as the most profitable way to use a library of films much less a branded cable channel.  As AMC sought to expand its revenue (beyond cable carriage fees) by introducing commercials, it began to alter its programming to attract audiences of the type (younger, richer) and size (bigger) advertisers would pay for.  In an era when old movie libraries are now more profitably being licensed to Netflix, Amazon, and iTunes, however, AMC has had to accelerate its rebranding efforts around a significant transformation (which is why "AMC" no longer stands for "American Movie Classics") without the loss of its most valuable asset, a predominately male audience achieved through non-sports programming.  This audience came to AMC for the Three Stooges marathons and old Westerns.  They've been asked to stay for Mad Men.
Actually, not even so much for Mad Men, but for what Mad Men says about AMC, what its presence reflects about the channel.  Set in the milieu of mid-century advertising, it is itself functioning as an advertisement for a channel once associated with mid-century movies and now deriving increasing revenue from advertisements.  Offering viewers the opportunity to feel simultaneously nostalgic for and superior to a version of an earlier era, Mad Men actually achieves something close to what Hugh Hefner only aspired to for his 1959 program, a "sophisticated weekly get together of the people we dig and who dig us."  If "sophisticated" once again means straight white sex, smoking, booze, and terse conversation, Mad Men at least presents it in ways that feel comparatively and flatteringly grown up for television today.  Rather than zombie walkers and fidelity to a comic book, Mad Men offers well-dressed Manhattanite drinkers and fidelity to the style of an era.  Middlebrow media has not been voluntarily filled with stories on the characters' inner lives, much less the fashion, style, and recipes of the higher-rated The Walking Dead.  HBO's hits Game of Thrones and Boardwalk Empire (never mind Mad Men's other timeslot competition The Good Wife) have not had their own tabs on The New Yorker website.  But Mad Men has.  It was born to help rebrand AMC.  It lives on to embody and advertise that new brand's meaning.  In this capacity it is meant for viewers, sure, but it is almost perfectly suited to attract and flatter the imaginations of advertisers, reporters, and the mediasphere more generally.  The show's value is not entirely dependent upon its immediate ratings.  This is a point lost on would-be imitators like ABC's Pan Am and NBC's Hefner-endorsed The Playboy Club, but it is critical to making a show set in the past point to the future of television.  It has got some guts.