Young Faces, Fast Cars, and the Other NBCs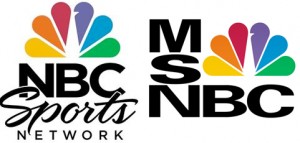 NBC has had a bad year. Several of them, in fact. Perhaps this current crisis will open the network up to innovation and experimentation, and perhaps not. While we look to NBC for signs of life, let's adjust our gaze a bit and consider two of NBC Universal's holdings that receive far too little attention: MSNBC and NBC Sports.
First, MSNBC. Its tagline, "Lean Forward," may have invited ridicule, but the cable news network's branding efforts have succeeded as CNN's have outright imploded. Keith Olbermann's contempt for the McCain/Palin campaign in 2008 solidified MSNBC as the alternative to FOX News. And even though MSNBC starts its programming day with conservative host Joe Scarborough of Morning Joe, it ends its primetime lineup with a self-proclaimed socialist, Lawrence O'Donnell of The Last Word. Although the prison reality program Lockup still has a home on weekends, its dominance is waning. In 2011 MSNBC began to carve out a space for more political discussion on Saturdays and Sundays with a four-hour programming block of roundtable shows, Up with Chris Hayes and Melissa Harris-Perry, followed by two more hours of a standard talking-head program, Weekends with Alex Witt.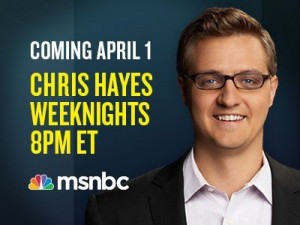 In mid-March MSNBC announced a shuffling of personnel and, in the process, revealed that their fetish for younger viewers did not end with The Cycle or The Rachel Maddow Show. MSNBC pulled 34-year-old Chris Hayes out of his weekend show and moved him to 8pm on weeknights as the lead-in for its progressive primetime lineup and to counter The O'Reilly Factor on FOX News. Hayes displaced Ed Schultz, a 59 year-old, labor-focused host who was moved to a completely new show on weekends at 5pm following a newly announced hour-long show helmed by former DNC spokesperson Karen Finney. Replacing Hayes on Up is another 34 year-old, Steve Kornacki, who was plucked from the youthful foursome at The Cycle. The gap left by Kornacki has been filled by the 33-year-old Ari Melber, a commentator from MSNBC's best print-journalism friend, The Nation. Chris Matthews, Al Sharpton, and Lawrence O'Donnell remain firmly in place but surrounded by a crop of faces launched into relevancy by the value of young consumers and young voters actively courted by the two Obama presidential campaigns. Is this a schedule or a mobilization?
Next, NBC Sports. In late 2012 NBC Sports announced it would begin airing Formula One races at the start of the 2013 season, outbidding Fox Sports Media Group (owner of Speed Channel) for the U.S. television rights. Formula One is a primarily European open-wheel motorsport, known for its outlandish spending and international racing locales. Team budgets can reach the hundreds of millions, and high-end brands like Ferrari, Mercedes, and Lotus—as well as high-profile international drivers—inspire loyal fandom across the globe. A new F1 circuit debuted in Austin, Texas last November, so the pairing of a new U.S. track with a new U.S. TV home for F1 makes sense.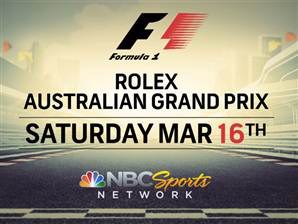 F1 has always struggled to find a friendly audience in the U.S. market; NASCAR dominates here for obvious reasons. Plus, F1 races happen all over the world, which means that viewers who want to watch live must keep very odd sleep schedules throughout a race weekend. Despite the obstacles to acquiring a sizeable audience, Speed Channel aired the races for 17 years but never did much with them. The upside of F1 migrating to the NBC Universal family is in the parent company's infrastructure and its motivation to court its audience. The new set for F1 commentators is the first clue that NBC Sports has thrown quite a bit of money at this new venture. The network has also partnered with sponsors to offer "Formula 1 Non-Stop," a split-screen experience that allows viewers to watch a silent frame of the live race as a larger frame (with sound) offers the break's advertisements. This isn't available in every break, but it certainly is a convenient way of getting the DVR crowd to at least listen to the ads while they watch the on-track action.
The increased commercialism is apparent in the shift from Speed to NBC Sports, but it just seems redundant in the face of the rampant sponsorship of any motorsport. F1 drivers only win a seat once they secure adequate sponsorship: lose your sponsor, lose your drive. The television audience should be accustomed to that arrangement.
While we hear about new lows at NBC and await an upswing, let's remember the changes happening within the family. MSNBC revamps its lineup, giving cable news a facelift and shaving a couple of decades off of the authoritative figure staring back at us. NBC Sports takes a chance on a domestically unpopular but globally thriving sport. Both cable networks are actively stalking a quality audience—a young, urban group of consumers that can be as vital to news and sports as it is to comedy and drama. Grandpa Peacock may be floundering, but the kids are holding their own.