Phones Coming to a Theater Near You?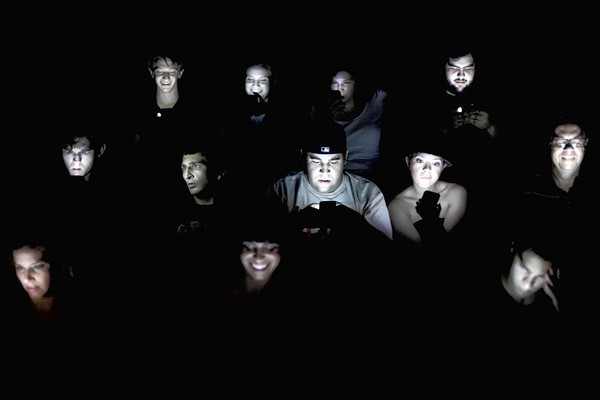 Last week, Kevin Williamson, a columnist for National Review, had a new experience: He was thrown out of a theater – probably with more delicacy and ceremony than when he threw another patron's phone across the room. According to Williamson, a young woman had already ignored requests from Williamson's date and the management to refrain from using her phone during the performance. Having had enough after his own request was curtly refused, he "deftly snatch[ed] the phone out of her hand and toss[ed] it across the room, where it would do no more damage." On goes the war against cell phone use in theaters…
Though unfamiliar with the battles being fought for the spectatorial soul of live theatre, I am acquainted with analogous debates and calls to arms over movie theater etiquette. One of the most visible defenders of cinemagoing decorum has been Tim League, co-founder and CEO of Alamo Drafthouse Cinema. During a panel at the 2012 CinemaCon, for example, influential figures like Regal Entertainment Group CEO Amy Miles and IMAX President Greg Foster expressed tentative interest in the possibility of loosening bans on cell phone use during select screenings as a concession to youth viewers. League responded that ceding ground was the wrong approach. "It's our job to understand that this is a sacred space and we have to teach manners." Such rhetoric, which elevates theatrical exhibition beyond its commodity status and into the realm of the sublime or spiritual, is quite common. Like churches, cathedrals, temples, and so forth, movie theaters function as spaces of congregation for collective activity. Prohibitions against cell phone use concern the maintenance of that collectivity – i.e., the teaching of manners – a hard-won prize if the variety of "No Texting / No Talking" PSAs is any indication.
One must ask, though, if common assumptions about audience collectivity are synonymous with the most basic intentions behind these trailers. Consider this commentary from the movie news and review website Screen Rant:
"Theatergoing is a communal experience that, in its purest form, is made better by the other people who share in the experience. We laugh more during a comedy film, surrounded by other people who are similarly entertained, than we would alone in our apartment. We knowingly enter into this social contract when attending public screenings – expecting that sharing in the experience with other people is worth any inconvenience we might face as a result of ignoring our phones for two hours."
Judging by the expectations of cinemagoing evident in this excerpt and elsewhere, it would be easy to assume that the crimes of inconsiderate audience members amount to an unwillingness to participate in the affective community created by common attentiveness to a movie. Such jeremiads regularly decry the apparent inability of mobile users to disconnect from the outside world and embrace immersion, in which case these reprimands double as laments: "If you'd only put away your phone, you'd experience what I/we experience." In fact, though, what these arguments denounce is interference. The glow of miniature screens and the beeps of incoming text messages are not, in and of themselves, problematic; rather, it is their ability to render others' affective and intellectual experiences discontinuous that causes concern. The social contract supposedly implicit in attending a theatrical screening does not require that we contribute to others' viewing experiences; it asks that we not detract from them.
The photo leading this post, then, strikes me as an inaccurate representation of the problem at hand for exhibitors and patrons, though I have seen it accompany several blogs and articles about the place of phones in theaters. What it depicts are not viewers frustrated with other patrons' thoughtless behavior; rather, we see twelve audience members blissfully immersed in their own business, ignorant of both the movie screen and those around them. With one or two adjustments, it sketches the basic goal of "No Texting / No Talking" PSAs: a situation in which viewers do not interfere with the attentiveness of others (ideally, to the film).
Tim League's CinemaCon comments – especially the line, "Over my dead body will I introduce texting into the movie theater" – thus seem short-sighted. To reiterate, the problem with personal devices is not their presence, as League and others suggest, but their lack of integration into the viewing experience. When these technologies contribute to spectatorial practices – as is the case with HeckleVision – perhaps calls for the eviction of phones from theaters will quiet, at least under some circumstances. Already, the mainstream exhibition industry is looking for ways to incorporate personal devices into the practices of cinemagoing. Apps like MoviePal, Movie Night Out, and RunPee help smartphone users plan their trips to the theater. Cinemark's branded app, featuring CineMode, and Sprint's "Dream" campaign use coupons and personalized videos, respectively, to reward smartphone owners for not using their devices during shows. In each of these cases, though, viewing itself remains a personal, analog activity. In 2010, Best Buy's Movie Mode app took tentative steps toward assimilating mobile devices into spectatorial practice with its Minionator function, which translated the gibberish spoken by Gru's Minions during the end credits. The most ambitious experiment to date, however, seems to be App (2013), a Dutch thriller designed to utilize smartphones as second screens. At select moments during the film, an associated app notifies theatergoers of additional, narratively salient content accessible through their phones.
Whether cinema storytellers will pursue experiments like these in the future remains to be seen, and it is still less clear that such integration can become standard of the theater experience. However, both App and Despicable Me point to a basic, easily overlooked facet of theatrical exhibition: rather than pre-existing as an abstract set of rules – a social contract signed with the purchase of a ticket – the practices of cinema spectatorship are enacted anew by each congregated audience. As new conditions arise and standardize, both audiences and the industry adapt in kind. Moreover, these adaptations not only represent new possibilities of practice, they reflect new and legitimate, if contentious, expectations of practice.