Redefining the Performance of Masculinity at LeakyCon Portland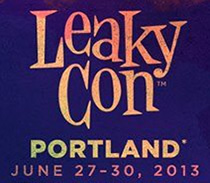 This is the sixth of a seven-part seven about the 4th LeakyCon Fan Convention held in Portland, Oregon, June 27-30, 2013
Men were the minority at LeakyCon among fan attendees but they represented about half of the invited performers. I was especially intrigued by the way masculine norms were altered to suit the desires of LeakyCon's primarily young, female audience. As I discussed in my last post, attendees value the con so much in part because it provides a public space for them in which they are not primarily defined by their sexuality or treated as sexual objects. Normative,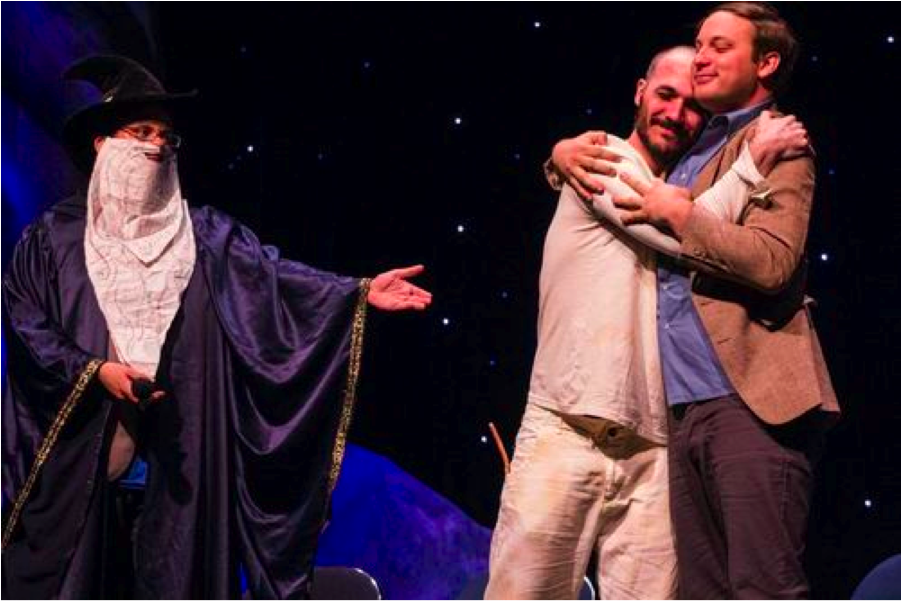 phallic masculinity is the one identity category that is not welcome at LeakyCon. Male-identified performers modeled more open, inclusive, and genderqueer versions of both straight and gay masculinity. They embraced "feminine"-coded genre practices, featured feminist and gay/queer narrative content in their shows, celebrated fans' active participation, and enthusiastically addressed the romantic/erotic interests and concerns of this particular audience. While male performers popular with adoring young female audiences are often characterized (condescendingly) as sexually non-threatening, this dismissal disguises the larger threat they represent: while such masculine performances are indeed unthreatening to young women, they are deeply threatening to gender/sexual social norms and hierarchies. Many of LeakyCon's performers have substantial followings; they have largely developed distinct personas outside the con in a variety of arenas: social media, fiction, theatre, and television. Their commonalities were put into relief when they were gathered together at LeakyCon, and these shared characteristics suggested an alternative, genderqueer masculine brand that – although largely subcultural – is clearly making a significant impact on millennial culture.
I first noted this type of masculine performance two years ago when I described Glee's straight-identified star Darren Criss as modeling a kind of genderqueerness in his own star persona, one that reinforced Glee's "radically fluid adolescent masculinites." Part of my reason for attending LeakyCon, initially, was to see whether the theatrical troupe The Starkids, which Criss co-founded, shared his gender-blurring, playful performance style. Indeed they did, but so did the other male performers at LeakyCon. In addition to the Starkids, these included, most prominently, Rent star Anthony Rapp; some of the actors who play Glee's Dalton Academy Warblers, who hosted wildly popular sing-a-longs; Tom Lenk,  (Buffy's "Andrew"), who performed his show, "Nerdgasm;" and LeakyCon regular and favorite Hank Green, who this year combined "wizardrock" performing, Nerdfighter gatherings, web-advice panels, and Lizzie Bennett Diaries discussions (Green co-created LBD).
Of these, social media personality and web-series producer Green represents the public intellectual division of LeakyCon's masculine brand.  His video blogs ("vlogs") with his brother, Young Adult author and frequent LeakyCon participant John Green, inspired their Nerdfighter fans  to proudly assert their own identity as a nerd community ("DFTBA"!). In this popular vlog, "Human Sexuality is Complicated," Green subverts masculine norms by presenting a non-binary, queer-theory-friendly explanation of human sexuality in a remarkably compact and accessible manner, notably situating himself along a gender/sexuality continuum in which he acknowledges the "womanly parts of me":
The physical experience of being in a LeaykCon audience feels like a reimagining of populist theatre without the sexism, insularity, and surveillance that has often limited the value of such public spaces for women and queer people. Feminism and gender/sex non-normativity are explicitly a part of LeakyCon's definition of egalitarian community, and hence become part of the performance aesthetics as well. Audience participation in total or in part is expected and encouraged. Performers emphasize the shared emotional experience of the players and the audience rather than the celebration of an individual performer. These fangirl popular aesthetics are genderqueer, but they are not camp; they require a sincere performance style. This distinction was evident in the Closing Ceremonies of the Con, which featured the "slash" (non-canon) wedding of two Harry Potter characters (performed by Dumbledore), Sirius and Remus, the couple who fans had voted that they most wanted to see wed. Even in this light-hearted sketch, the actors knew to perform their vows earnestly; their performance tied romantic and erotic behavior together, very like much of the fanfic this audience both reads and writes (vows begin at 6:17):
At LeakyCon, the primary generic frame is the musical. The ubiquitous sing-a-longs — both scheduled and spontaneous – are the most intensely emotionally involving entertainments, and the Starkids musical parodies provide the songbook that everyone knows. Of all LeakyCon's players, the Starkids' large troupe and devoted following have done the most to establish and sustain the con's neo-masculine brand and community feel. As a popular genre, the musical has a democratic appeal, but Starkid shows further that potential by combining accessible songs, non-gendered (primarily group) dancing, and sincere emotional affect ("heart"), with feminist narrative content and the decentering of the heterosexual couple in favor of an inclusive group of friends. Although their shows feature every kind of drag as well as explicitly gay characters, these are never used as simply comic devices; rather, Starkid shows are character-driven and focus on emotional growth through loving companionship. Traits associated with dominant masculinity (grandstanding, bullying, desiring power and control, rigidity, exploitation of others, narcissism) are critiqued while desirable manhood is defined, by contrast, as the attainment of maturity through love. Falling in love is thus presented as more difficult and dangerous for male characters than battling their enemies because it forces them to break with masculine norms and open themselves up to emotional vulnerability. In the fan-favorite, canon-queering song "Granger Danger" from AVPM (2009) both Ron (Joey Richter) and Draco (brilliantly played, in drag, by Lauren Lopez) realize, fearfully, that they are falling love with Hermione: (skip to 1:38):
"Granger Danger" sets Ron on the road to mature manhood, but he doesn't attain it until the third musical, VPSY (2012), in 'I'm Just a Sidekick":
While it is impossible to know how much of LeakyCon's revised masculine brand will persevere or how it may be changed in the process of mainstreaming (Darren Criss's career remains intriguing in this regard), it has been an undeniably affecting and inspiring model for thousands – if not millions — of fangirls (and fanboys), who are able to celebrate it through their own performances of masculinity at LeakyCon, such as this Starkid flashmob:
For more on LeakyCon 2013, read:
– Part one ("Where the Fangirls Are")
– Part two ("On Wearing Two Badges")
– Part three ("Fans and Stars and Starkids")
– Part four ("From LGBT to GSM: Gender and Sexual Identity among LeakyCon's Queer Youth")
– Part five ("Inspiring Fans at LeakyCon Portland")
– Part seven ("Embracing Fan Creativity in Transmedia Storytelling")