Embracing Fan Creativity in Transmedia Storytelling (LeakyCon Portland)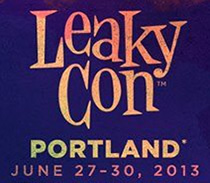 This is the final part of a seven-part series about the 4th LeakyCon convention held in Portland Oregon June 27-30, 2013.
In my previous post, I talked about the way in which stars/special guests at LeakyCon aligned themselves with fans and expressed their appreciation of fan creativity. We can see this shared position informing the various forms of storytelling and creative performance highlighted at LeakyCon, from the many group sing alongs and the collective singing of thousands of Starkids attendees, to the Lizzie Bennett Diaries (hereafter LBD) spin off Welcome to Sanditon (herafter Sanditon). Continuing an approach that LBD experimented with, Welcome to Sanditon (a web series adaptation of Jane Austen's unfinished novel) invites viewers to become not just players but actors and writers, creating their own characters, subplots, and videos. In Sanditon, Gigi Darcy (Allison Paige, reprising/continuing her role from LBD) brings the Domino vlogging application (first introduced in LBD as an enterprise of Darcy's company, Pemberley Digital) to the fictional town of Sanditon, where she encourages its residents to vlog about their experiences and perspectives as town members.
[Web Series Welcome to Sanditon's first episode includes an invitation for viewers to become part of the storyworld.]
Viewers can use the Domino "application" (a portal accessible through the series' central web site) to upload their own vlog entries, in which they create backstories and plotlines for themselves within the larger Sanditon universe. By uploading to the site or tagging posts with the hashtag #sanditon, viewers' vlogs become available for others to see. In turn, official episodes of Sanditon have regularly included a selection of viewer-created content. At the LBD press interview, Paige described the dynamic of audience contribution to Sanditon as follows:
Not everybody gets to be on a television set, or movie, or web series, but these people will send me thank you's saying "I get to be part of something, I get to be an actor, I get to tell my story and you guys gave me a place to do that." … And they're so creative in the things that they come up with — the places and the businesses… It's just amazing to see these people's thoughts and now they have a place to do that and they get to be an actor, and they get to be an artist, whether they're writing or creating, they get to be artists right along with us, and that's just like, awesome to watch.
I especially appreciate Paige's comments here, because she recognizes the privileges of access and attention afforded professional productions. Of course, fans create and coordinate and publish on their own already, and I don't think that Paige meant to suggest otherwise. But the thing about both LBD and Sanditon is that they acknowledge the vibrancy and richness of fan production. Rather than attempting to rein in all that unpredictability, these web series become hybrid productions, to different degrees, integrating fan creativity in substantive ways while still progressing a particular, defined story and set of performances.
In our discussions of transmedia storytelling over the past few years, we've seen a tension between transmedia creators wanting to both invite fan interactivity and to protect their official artistic control. Both LBD and Sanditon strive instead to develop artistic visions within innovative ecosystems that allow fan creativity, in all of its diversity, to flourish. Bernie Su, co-producer of the LBD and executive producer of Sanditon, described his current reaction to the project this way:
As an artist, you see that, you create this thing and you inspire [fans] to do this art and play in the world, and it's pretty intoxicating. At the same time, also as a storyteller, it's hard, I know it scatters the audience a bit, so I'm not going to say it's all great. It's just really neat to see them play in the space. So going into Welcome to Sanditon when Jay (Bushman) and Margaret (Dunlap) were plotting everything, they wanted to really experiment with what we started already [in LBD] , and they were like "we're going to bring them all into the text and have them become–as Allison said– actors in this world, players in this world, and see if we can enhance the story that way." And you know, to be honest, I think it's a little polarizing, we're getting pros and cons, I think a lot of the fans just really want to see what happens, and some of the others are just really embracing this whole fictional world that they can be part of, kind of like an MMORPG (massive multiplayer online role playing game), and for me personally I'd say I'm still a little… I don't know if this is really effective, but it's really fun.
Bernie Su's ambivalence here captures well the challenges faced by media creators seeking to integrate the energy and creativity of fan communities into their storytelling. And while part of me (the part that is always ready to proselytize the amazing creative value of fan production) wishes that he were less ambivalent, I find real resonance in his description of tensions of creating work in a digital sphere that is simultaneously multi-niche and mainstream, balancing fans who come in ready and eager to produce with those who want to immerse themselves in a beautifully told story. I do hope that Su will continue to chase the fun and intoxication of encouraging fan creativity, and that others will follow in his footsteps with similar projects, because I believe that the rewards in such hybrid creative works are worth the risks.
Indeed, LeakyCon's value to me lies in its participants' willingness to forgo boundaries and to explore what new connections happen as a result of creative mergers and blendings. As a scholar and a fan interested in bridging the perceived divides between professionalized academic and popular media literacy as well as between production and theory/history/studies, it was invaluable to see this ethos of creative synthesis in action. To me, LeakyCon offers a model for a certain braveness, a willingness to create and to experiment with new ways of making meaning (and making change!) in our contemporary popular and vernacular culture. That's something I hope to take away from LeakyCon and to carry into my own work moving forward.
For more on LeakyCon 2013, read:
– Part one ("Where the Fangirls Are")
– Part two ("On Wearing Two Badges")
– Part three ("Fans and Stars and Starkids")
– Part four ("From LGBT to GSM: Gender and Sexual Identity among LeakyCon's Queer Youth")
– Part five ("Inspiring Fans at LeakyCon Portland")
– Part six ("Redefining the Performance of Masculinity")