On Radio: Live Music Festivals as Satellite Radio's Premium Content?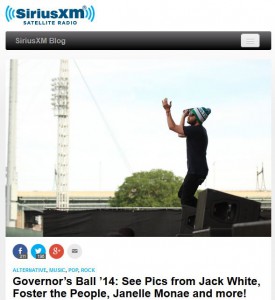 Subscription satellite radio is certainly not the most local form of radio. The majority of programming is produced in digital radio broadcasting facilities in New York City and Washington, D.C. and satellites are not entities that we encounter in our communities (let alone in our atmosphere). But as a subscriber and listener of Sirius XM, I am hearing the ways in which satellite radio has increasingly been offering musical programming and listening experiences that amplify aspects of radio's past.
For one, I'm intrigued by the persistence of place, of musical "hotspots," within the satellite radio universe. This carries on a long tradition of radio connecting listeners to musical and cultural centers. One notable and recent example of this was Sirius XM's multichannel coverage of the fourth annual Governors Ball, which took place over three days in on Randall's Island in New York City this past weekend.
"We're excited that people across the U.S. will be able to experience the diversity and depth of the lineup on multiple channels across Sirius XM," explained Yoni Reisman from Founders Entertainment, the company that produces the festival. A number of "marquee performances" were played over the weekend on channels including The Heat (Janelle Monae, Outkast), Outlaw Country (Neko Case), The Joint (Damian Marley), Hip-Hop Nation (Childish Gambino), BPM (Skrillex, Disclosure) and Sirius XM U (Damon Albarn). Performances were broadcast live and replays were scheduled throughout the weekend.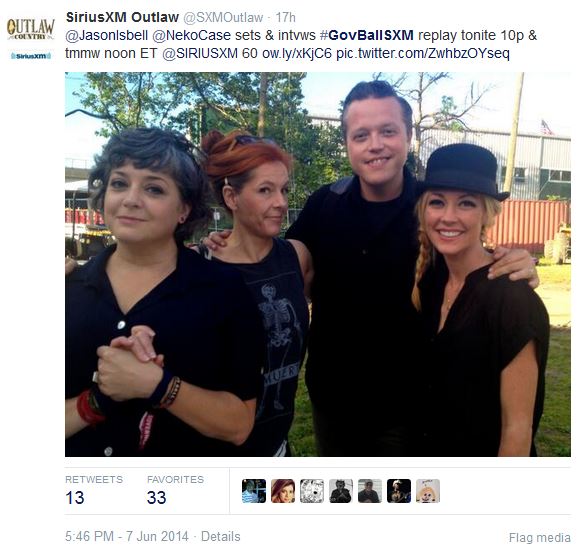 Listening from a kitchen in Toronto, Ontario, I could hear the noise of the crowd building as Janelle Monae's set began with Strauss' Also sprach Zarathustra, known commonly as the theme from 2001: A Space Odyssey. When festival-goers heard Monae introduce "Cold War" with a speech about discrimination, so too did Sirius XM subscribers.
Satellite radio is delivered to a private, personal space. Often within an automobile but also to laptops or smartphones for those who pay the added monthly fee of $4 for online access. Many listeners are connected to the internet and, thus, satellite radio fits nicely with Michele Hilmes's characteristic of radio today as "soundwork," in which, radio must now be understood as "the entire complex of sound-based digital media that enters our experience through a variety of technologies and forms." As satellite radio becomes more mobile through the ability to listen via smart phones and laptops, programming extends into online spaces and listeners are presented with new visual platforms for interacting with DJs and content. Satellite radio moves with the listener and local boundaries are practically nonexistent. But even as Sirius XM operates on a transnational scale, beyond radio's former borders, an essence of radio's pre-digital identity is increasingly prominent in the satellite radio universe, that of providing a shared cultural experience.

Between satellite channels and mobile, individual listening practices, is the persistence of place and the transmission of musical performance sites. The Governors Ball broadcast constructs a radio experience that enables listeners to engage from a distance through new media, continuing the tradition of radio bringing music from centers to private spaces – from the home, the car, and now a mobile space within which one is bound to a smartphone or laptop.
However, we also hear how privatized spaces and experiences are transmitted, especially as music festivals are critiqued as focusing too heavily on branded experiences. Another important critique to raise in this instance is one of exclusivity. Festivals sell out, they cost a lot of money, and often require travel time and expenses. In a preview of the weekend's musical offerings, Sirius XM explained that "the exclusive broadcast, showcasing a diverse line-up, will include Jack White's performance, which comes days before the release of his anticipated second solo album, Lazaretto." While satellite radio overcomes these obstacles to some extent, it also requires a subscription fee. Accessibility is limited, but as subscription television becomes increasingly watched and revered, premium content delivered by subscription radio is not a surprising development.
Given that music festivals are becoming a larger component of the music industries and a greater source of income and promotion, I am certainly interested to hear how satellite radio continues to transmit the sounds of live musical performances.