Kollecting Kim K. Skills: Kardashianized Celebrity in Kim Kardashian: Hollywood
"In order to win at life, you need some Kim K skills, period." – Kanye West
In a recent GQ interview, Kanye West attributes new wife Kim Kardashian with teaching him to better manage his celebrity. However, analogous with popular discourses defining the couple as shallow and fame-obsessed, West's verbiage ultimately doesn't say anything. West never defines "Kim K. skills" as more than some kind of intangible communication skills, but expects that the interviewer, and subsequently the general public, will know exactly what he means. Though only mentioned peripherally by West, Kim K. skills are, however, delineated in the new mobile game Kim Kardashian: Hollywood. Through the game, Kardashian legitimizes her celebrity while also propagating her brand by redefining fame in her image – as the accumulation of "Kim K. skills."
Kim's avatar demonstrates the first Kim K. skill in the game's initial sequence: charm is the key to everything. She charms you into reopening a boutique so she may outfit herself for an upcoming event. Your only option is to help Kim, which is rewarded when she invites you to the event. As you progress through the game, charm becomes a form of currency. You cannot connect with new people outside your current celebrity rank unless you use your hard-to-come-by K Stars to charm them. Whenever you choose "charm" as an action, your relationship grows stronger, which increases your celebrity.
Charming people to like you underscores another Kim K. skill: perceived relationships are paramount in achieving fame. Charm gets you into Kim's event, but it's your association with Kim that makes the paparazzi care. As a result, Kim sets you up with a manager and a publicist to help you work towards A-List stardom. Your relationships with these intermediaries are static, but they give you opportunities to improve your public personae. Other in-game relationships, however, are necessary to level up. Bars and clubs are populated with people of varying celebrity rank who can increase your celebrity. Whether you choose to network with or date new contacts, relationships are only cultivated in professional capacities.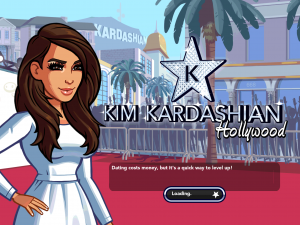 Your network can join you at personal appearances, and dates happen in public to be seen and subsequently tweeted about. The game allows players to integrate their real-life networks, as you can interact with your friends' avatars.  Even negative relationships gain fame. When a celebutant expresses jealousy over your relationship with Kim, she sparks a feud that establishes your Twitter following.
In addition to social currencies, the way to celebrity is through accumulating stuff. Kardashian herself comes from wealth, and the association between money and fame is integral to game play. Though the game itself is free to download and play, it becomes quickly apparent that advancing is easier by investing real money. Various reviews have reported how easy it is to spend real money on the game. The types of currency are in-game dollars, energy points, and K Stars. You earn money from constant modeling gigs and paid appearances. Energy is needed to do anything, and is easily expended causing you to wait until it's replenished or trade precious K Stars for more. K Stars only come from leveling up or from in-app purchases.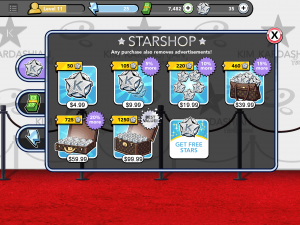 The dollars one earns are inadequate to keep up with Kim. Players increase their celebrity status with new outfits, homes, cars, and buying gifts to improve relationships, but most lifestyle enhancers can only be purchased with K Stars.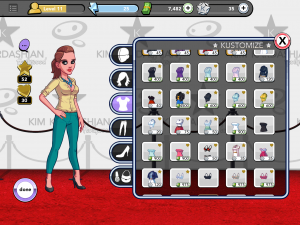 Although many items have high price tags, acquiring them creates momentary relief before anxiety sets in again about what else you need to augment your celebrity lifestyle. And, as mentioned, K Stars also act as social currency.
The most ubiquitous Kim K. skill throughout the game is the power of personal branding. Kardashian's brand is everywhere: the revamped Hollywood sign; each Kardash boutique interior mimics its DASH counterpart; the K Stars.
Kim herself is the most important brand and celebrity signifier. She is your entry point into the celebrity game/game-play and her approval makes you worthy of attention. The game reinforces the celebrity system and Kim's position in it, both of which depend on hierarchies to establish their value. Likewise, Kim Kardashian: Hollywood addresses the specific dichotomy informing reality TV celebrity personae: that stars need to be approachable and authentic to attract viewers, but ultimately need to remain separate to be special. Celebrity reinforces capitalism because celebrities constantly remind regular people of what they don't have and should want. In the game, you need virtual and real money for the Tribeca loft and new Louboutins to project a celebrity lifestyle despite whether or not you can afford it.
Even when you get to the A-list, you still need to accumulate fans to increase your ranking. Curiously enough, Kim Kardashian is not a rankable celebrity. Players don't compete with her, as she is above the celebrity system because her celebrity is established. Kardashian is the definitive arbiter of Kim K. skills, and ultimately unreachable in her version of celebrity.