Downloading Serial (part 2)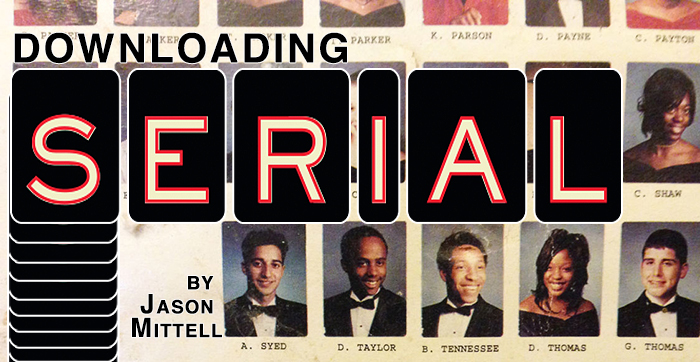 Previously on "Downloading Serial"…
I raised the concern that information was being withheld from us listeners to make for a more engaging narrative, and suggested that such withholding makes for great storytelling, but problematic journalism. After two more episodes, I've found that the question of withholding information has receded in my thoughts about Serial, replaced by another more complex (and I think interesting) question: when are we?
Before diving into the "when" of this question and tackling the topic of temporality, let me first ruminate on the "we"—who is being situated in Serial's complex timeframes? Recent episodes have cemented my sense that Sarah Koenig is our protagonist and first-person narrator, and she is hailing us to join her in this story. Early in episode 4, Koenig makes this address clear: "If you want to figure out this case with me, now is the time to start paying close attention because we have arrived, along with the detectives, at the heart of the thing." This moment stood out for me, evoking the kind of direct address common to 19th century literature, the first golden age of seriality—it is Koenig saying "Dear Reader" to us, a phrase that Garrett Stewart frames as "the conscripted audience," taking us into her confidence and accessing her subjectivity.
So Koenig is a surrogate for "we," and like with most first-person narrators, we have access to her perspectives and experience, and lack access to anything beyond her knowledge. But she is also the text's author, possessing a broader knowledge of the case than she is sharing with us—Koenig asks for our trust, assuring us that the details she leaves out (like the late night cell phone timeline) are irrelevant, and that loose threads (like the call to Nisha) will be addressed in due time. And still I cannot stop from wondering what she knows and isn't sharing with us (yet). This tension is productive in fiction, as we wonder about the knowledge and perspective between narrator and author; in documentary, we are to assume there is none, or at least it is irrelevant.
But Serial relies on the tropes and styles of serialized fiction enough that I did start to think actively about that gap at one moment in episode 5: Koenig is driving and monologuing, deep in the weeds about reconstructing the post-murder timeline, and her fellow producer Dana Chivvis says, "There's a shrimp sale at the Crab Crib"; Koenig deadpans in reply, "Sometimes I think that Dana isn't listening to me." If this were fiction, I would seize this moment to explore the possibility of an unreliable narrator, where the investigator's obsessions start overtaking her rationality and sense of perspective on the case, coloring our own attitudes and perceptions, with Chivvis signaling that we maybe shouldn't listen to her so intently. Maybe that is what is happening, and the narration is clueing us in to Koenig's growing immersion and personal involvement, but as of yet, her presentation seems to clearly earn our trust and confidence more than our doubts and reservations.
So if "we" are Koenig's conscripted audience, riding alongside her as she works the case, when are we as the podcast unfurls? Temporality is central to any medium with a fixed presentational timeframe, as filmmakers, radio and television producers, and game designers all work to manage the temporal experience of audiences more than writers can do with the more variable process of reading. But serial structure is wholly defined by its timeframe, constituted by the gaps between installments that generate anticipation and insist on patience, where that time is used to think about, discuss, and participate in the web of textuality that seriality encourages—see for instance the robust Reddit thread about Serial, complete with fan-generated transcripts and timelines evocative of the "forensic fandom" I have studied concerning television serial fiction. So the consumption of a serial always foregrounds its "when" to some degree.
Serial explicitly foregrounded its "when" this last episode, as Koenig works to walk us through the presumed timeline of Hae's death and the alleged actions of Jay and Adnan. As she does this, the podcast constantly toggles between multiple timeframes: the possible events of January 13, 1999, the testimonies and interviews recorded throughout 1999 and 2000 as part of the investigation and trial, Koenig's interviews with Adnan and others over the course of the last year, and the current weekly production of the podcast. This question of temporality is clearly on the mind of many listeners—Chivvis responds to listeners wanting to binge listen to the whole season by noting that they are still producing each week's episode, thus "when you listen each week, the truth is that you're actually not all that far behind us." So we are situated at a similar "when" to the producers in terms of final product, but they are clearly far ahead of us in terms of the process of reporting, researching, and knowledge. (Chivvis's post also highlights a dangling thread that I may pick up in a future installment, as I believe the rise of binge-watching in television via Netflix-style full-season releases actually removes the seriality from serial television, whereas Serial aggressively foregrounds its seriality. But that's for another when…)
While I raised the question in my last post about the lack of clear structure, I feel like that structure is now becoming clearer. Each episode, aside from the first which has a more sprawling focus, takes a step forward in the basic timetable of the case: the relationship between Hae and Adnan before the murder, the discovery of Hae's body, the police arresting Adnan, and now the reconstruction of the alleged events per the police's case—next week is called "The Case Against Adnan Syed," suggesting that the prosecution will soon rest. But the storytelling is not limited to this 1999 progression, as Koenig interweaves her own contemporary reporting, interviews, and reconstructions into the recordings and documents from the past. So we are always in multiple timelines, even as the core case unwinds with some structuring chronology. But given that we are left to live in the contemporary serial gaps each week, our anticipation becomes restless, knowing that the producers have more of the past spooled up to reveal, even if we are "actually not all that far behind" them in the present. I, for one, grow impatient to know what is already known about the past, even if we are not too far behind the process of audio reconstruction.**
So as I wait out another week to try in vain to catch up to the producers, one thing I will be ruminating on is the role of characters beyond Koenig. We are invested in learning the events of the murder and trial, but perhaps even more so, in trying to get a sense of who these people are and why they did what they did. Obviously we've learned a lot about Adnan, even without a definitive sense of what we know is true or not, but what about Jay? We still don't know much about who he was before the events (not even his last name), and unlike nearly everyone else we've encountered, we know absolutely nothing about what has happened to him after the trial. Why haven't they revealed that part of the story? Are they trying to protect potential twists in the story still to come, or to protect an innocent person who might be wrongly attacked by an angry listenership? Has Koenig talked to him, or has he not consented to this story? And what do we have the right to know as listeners riding alongside Koenig's journey?
Next time, on "Downloading Serial"…
** And in a clear case of dueling authorial "whens," after I finished the first draft of this post, I read Hanna Rosin's excellent post about the latest episode, which raises many points similar to mine concerning Koenig's role as narrator and journalist, as well as her timeframe in relation to the reporting process. But I assure you, Dear Reader, I wrote the above before reading Rosin, even as I write this addendum after.