In Memoriam: Peg Lynch and Her Records of Broadcast History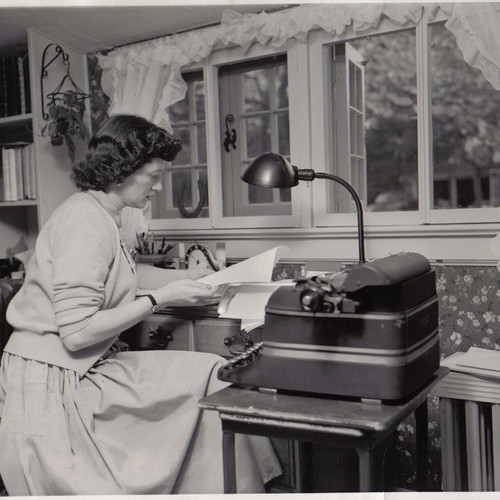 Post by Lauren Bratslavsky, Illinois State University
"You're early. There's an episode… houseguest arrives early and I'm unprepared." Peg Lynch's voice trailed off as she opened the door to let me in. At the time, she was 94 and still mentally composing episode plots for the long-ago radio and television program she created, Ethel and Albert. It was a show about nothing really: a miswritten phone message, a broken light bulb, a failed dinner party, and so on. I stumbled across her show when I was poking around my university's special collections. I read some Ethel and Albert scripts and was amused. I researched what I could about the show, but was disappointed at the overall lack of information. I learned from the archivist that Lynch was still alive. I nervously called her up and asked her some questions about what it was like to work in radio and television, especially as a woman. Lynch didn't think it was that special, or why anyone would care about her experience in the business, but she invited me to her home to meet her. I later learned this was one of her endearing attributes – that is, inviting people to her home and treating them lovingly as long lost relatives.
I was a bit stunned to see Peg Lynch's obituary more than a week ago in The New York Times. I knew that her health had taken a turn for the worse and that this may have been the 98-year-old woman's last leg. What surprised me was the fact of the obituary itself, which led to obituaries in Variety, LA Times, and elsewhere. It was not that Lynch didn't deserve the lengthy write-ups and accolades of her work in radio and television; she was long over due for such recognition. I was amazed that her little-known career was finally gaining notice. For a few years now, I've queried radio fans and television historians whether they've heard of Ethel and Albert, which gained a nation-wide audience in 1944 to 1950, then a television audience from 1950 to 1956, and back to radio until the 1970s. For some, the characters rang a bell, but very few clearly recognized the show or Peg Lynch.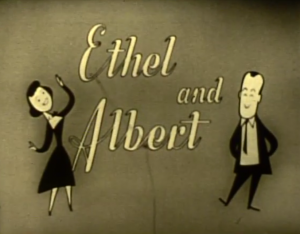 To be fair, there are many radio and early television programs that are obscure, and indeed unmemorable. What makes Ethel and Albert, and the later radio incarnation, The Couple Next Door, remarkable is that Peg Lynch created the show and wrote every single episode by herself and starred in both the radio and television versions. The only analog to Lynch's creator-writer-actor career was Gertrude Berg. Berg's career is well documented in the history books and broadcasting lore, most likely in part due to the notoriety associated with the blacklist as well as awards, as noted in her obituary. Lynch's work, never touched by controversy or industry awards, became just one of the thousands of entries in program encyclopedias. Without mechanisms such as television syndication or lasting celebrity status, like that of Lucille Ball or Betty White, Lynch fell further into obscurity. Had it not been for an email sent by Astrid King, Lynch's daughter, the New York Times most likely would not have picked up on the news of her passing. And then, write-ups of Peg Lynch, "a pioneering woman in broadcast entertainment," would not have circulated as it did.
Why is Peg Lynch's career significant for radio and television history? While obituaries frame her as a pioneer, I think a more apt description is that she persevered in an industry that was constantly changing and predominately male. As outlined in her obituary and in far greater detail on her website, Peg started in radio as a copywriter in the early 1930s at a local, small-town radio station in Minnesota. When she asked for a raise that reflected her many responsibilities, which included such tasks as writing ad copy and a daily women's program, she was denied. She quit and continued to work in different radio stations, making her way out of the Midwest and to New York City. All the while, she held on to her creation, Ethel and Albert, a middle-aged married couple who were known for their gentle and realistic bickering. She first pitched Ethel and Albert to NBC in 1944, who made her an offer but wanted 50/50 ownership over the rights of the show. Lynch walked way. Instead, Lynch secured a network deal around the time NBC-Blue turned into the ABC network. Someone at WJZ (NBC-Blue/ABC's flagship station) got a hold of Lynch, offered her an evening slot and allowed her to retain full ownership. Ethel and Albert was not sponsored by one company, but rather was part of the co-op model of radio sponsorship. In 1946, Ethel and Albert was a short-lived test case for television at WRGB, GE's experimental studio. Ethel and Albert remained on the radio until 1950, when Lynch was offered a real television opportunity: a ten-minute recurring segment on NBC's The Kate Smith Hour. First, in 1953, NBC had Lynch turn her popular ten-minute segment into a half-hour network sitcom, sponsored by Sunbeam. Sunbeam dropped the live sitcom in favor of a different genre, the spectacular (as chronicled in Variety). CBS then picked up Ethel and Albert, sponsored by Maxwell House, as a summer replacement for December Bride in 1955 (an awkward promo for the switch over is on YouTube).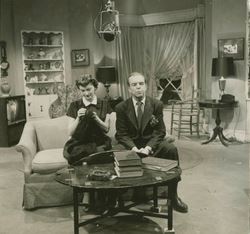 Despite decent ratings, CBS did not continue working with Lynch. I suspect this decision had something to do with I Love Lucy and CBS not wanting to have two programs featuring bickering couples, even if Ethel and Albert were far more subdued and realistic than Lucy and Desi. ABC aired Ethel and Albert's final television run, which was sponsored by Ralston Purina (Chex cereal and dog food). The show ended in 1956, at another transition moment when sitcom production moved from New York to Hollywood and from live to film. As Lynch recounted in her oral history (available through the University of Oregon's Special Collections), there was talk of moving the show to Hollywood, but she preferred to stay on the East Coast. And really, she was tired of the weekly pressures to write new episodes while rehearsing and performing live. After television, she did some commercial work. Oddly enough, Lynch went back to radio, penning a near-copy of her original creation but under the title, The Couple Next Door for CBS Radio. Lynch had a couple more runs on the radio in the 1960s and 1970s, specifically on NBC's Monitor and then NPR's Earplay. With the last radio show in 1976, titled The Little Things in Life, Lynch's long broadcast career ended.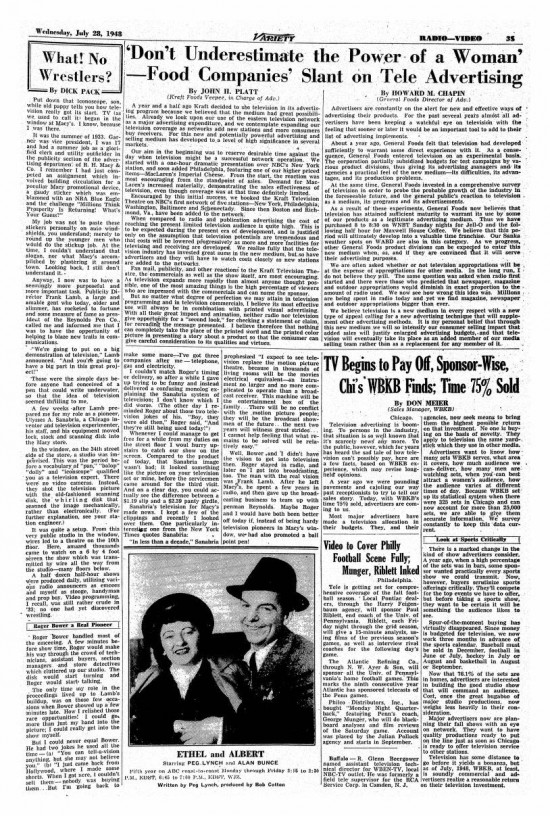 The story of Peg Lynch can serve as a sort of public service announcement to those of us who toil in archives and seek out broadcast history's margins. Two points in particular come to mind: the materiality of broadcast's forgotten histories and the active role we play in shaping the use and availability of the material record. First, echoing Laura LaPlaca's recent Antenna post, if we focus on all that is gone (and resign to the fact of this lack), then we overlook "the broadcast archive's extraordinarily expansive physicality." Lynch's creative output is indeed physically available, even if mentions and critiques of her work are largely absent from our histories. The initial radio and television broadcasts were ephemeral in the sense that they were live broadcasts, moments of popular culture that began and ended in their programmed time slots. But there is a whole swath of materiality that exists in various forms and locations. There are the paper materials that Lynch saved throughout her career: scripts, letters, and a few other paper materials. Lynch's mother compiled news clippings, photos, and various correspondence into scrapbooks. Decades after the height of her career, Lynch received an invitation to establish an archival collection at the University of Oregon in 1969 (how and why that happened is a whole other story), so all those scripts, scrapbooks, and paperwork are open for research (and soon, there will be more).
Throughout the 1970s and well into the 2000s, the physical meetings and tape-swapping of old time radio fans sustained the memory and the audio record of Ethel and Albert and The Couple Next Door. The fan conventions seem especially crucial in the age before the internet, as in, a time before old time radio websites posted shows and interviews. The conventions, and later on, the fan websites, fostered networks of old and new fans (Lynch loved her fans and her fans loved her). Even more material records exist now that we can search databases of digitized trade publications (like this article in Radio and TV Monitor, written by Lynch about the benefits of marital bickering, that is available on Lantern). References to the production side of Ethel and Albert certainly exist in the vast NBC corporate archives. The audio tapes exist in physical form and circulate digitally on the web. And the live television program? Those exists, too. Nearly every episode was filmed on a kinescope, which Lynch owned and now safely reside at the University of Oregon.
Which brings me to my second point: As radio and television scholars, we participate in recirculating the canon as well as seeking out new examples that corroborate or challenge existing histories. Just the very act of taking an interest in a little-known program or writer can help broaden the scope of broadcast histories or refine particular stories, such as the case of a little-known woman who was among the very few people to create, write, and star in her own show. The Peg Lynch Papers at the University of Oregon had been mostly dormant since they arrived decades ago. The archivists had various priorities in their immediate purview – the limited resources in such an institution necessarily limits which donors to follow up with in their twilight years. Thus, active interest from a faculty member or a researcher can help call greater attention to little-used or little-known collections, especially those collections whose creators are still alive. Those kinescopes of every episode? Up until two years ago, those were under Lynch's couch and in cabinets in her home. After my first visit to Lynch's home, I told the archivists about my visit, including the films and the fact that Lynch was still relatively lucid and had stories to tell. I'm sure that those kinescopes, as well as more papers, audio tapes, and ephemera would have made it to Oregon, thus joining the rest of Lynch's collection. But the oral history? The personal relationships? The chance to participate in a collective nudge to ensure the preservation of a so-called ephemeral broadcast history? That probably would not have happened without some active participation and good old phone calls.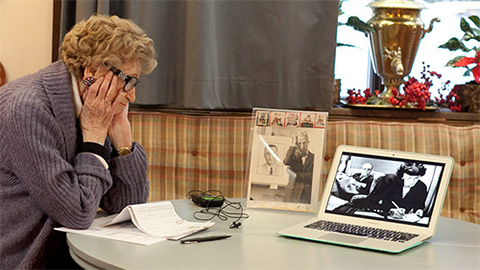 We can celebrate all that has survived, while prodding to discover what else exists. And we can continue to draw from the canon, while interrogating the wealth of materials that exists in the hopes of broadening and refining our histories. So long, Peg.