Ads as Content: Ford's "Escape My Life" Series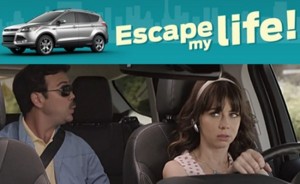 TV viewership is down across the board, from broadcast to cable, and even including sports (commonly considered immune to ratings shifts).  This is not news, of course – we've all been hearing (and talking) about new viewing patterns developed in the wake of DVRs, the internet, and mobile platforms for over a decade now.  But as live TV viewership continues to decline, advertisers are ever more interested in developing marketing strategies that are not tied to the television set.  Rather than create advertising that looks like the same 30-second spots that have been running on TV since the 1960s, ad agencies and their clients have sought out new formats and new platforms for their brands.  Sometimes these "new" strategies are based on "old" strategies such as sponsorship and product placement.  Sometimes the strategy is to develop a "destination" ad – one that consumers will actually seek out on their own accord.  And, increasingly, the strategy is to develop branded entertainment  more similar to content than advertisement.
One example of this "ad-as-content" strategy is Ford's "Escape My Life" web series.  Debuting in September 2012, "Escape My Life" is an 8-episode series (available on YouTube, Hulu, and other online venues) featuring comedians Natasha Leggero and Jo Lo Truglio.  In the series, Leggero plays Skylar, a Hollywood costume designer who desperately needs a new car.  On the advice of a friend, she decides to take part in a marketing program (ostensibly sanctioned by Ford) in which Hollywood types can get a new Ford Escape for free.  (The friend calls it "Product placement in real life.")  In the suspicious-looking office of the program head, she signs a sheaf of papers without reading them, and happily drives her new Escape home – only to be confronted with socially maladjusted Barry (Truglio) upon arrival.  You see, it appears that by signing that stack of papers she didn't read, she agreed to let Barry go with her everywhere to show her how to use the Escape's features, and to (eventually) document and blog about his experiences with Skylar and the SUV.  Hijinks ensue as the two try to live with one another throughout the series.
What's interesting about "Escape My Life" is that the series ultimately spends only a small portion of its time on the Escape itself.  Each episode features one or two brief mentions of the SUV's features – from the Sync system to the roomy interior to the hands-free foot-activated gate lift – and each concludes with a 15-second ad highlighting those features.  Aside from that, however, the SUV operates as a backdrop for the action more than the star of the series.  According to Ford, this was, in fact, the primary motivation behind the series.  In a press release, Ford's Digital Marketing manager Brock Winger claims, "We are not talking at them, we are showing them the Escape and how it is used in daily life."
But I argue that it's more complicated than that.  There is absolutely no denying that the series functions as an advertisement for the Escape, and I certainly don't think that any audience member would be fooled into thinking otherwise.  But perhaps that's simply part of its charm.  As Fast Company's Joe Berkowitz notes, the series is particularly notable for the fact that it functions as a meta-commentary on marketing itself, as the drama centers around Ford's deployment of a new "real-life product placement" marketing campaign.  In his analysis, Berkowitz contends, "In acknowledging how annoying it is when you're forced to watch an ad that's trying not to be an ad, the ad-based show becomes instantly more accessible."
Compared to a traditional ad campaign, the series might not seem a major success – the first episode has been viewed around 240,000 times on YouTube, with the rest averaging 30,000-40,000 views.  Even a weak cable channel has far more viewers.  But the difference, of course, is that those who came to watch "Escape My Life" online sought it out, were thus more likely to watch it closely, and probably left with a higher degree of brand message recall than the average viewer of a 30-second spot.  (Certainly I now know much more about the features of the Ford Escape than I did before watching the series, and I rather enjoyed myself while consuming the ads, too!)  As Ford's Winger notes, "The series reaches out to consumers where they are at in their media consumption behaviors – we are not interrupting them and forcing them to go somewhere else or stop what they are doing in order to watch and enjoy the content."  And this, I contend, is key to the "ad-as-content" strategy: as audiences migrate away from live TV viewing and advertisers become increasingly concerned about how to get their messages out, series like "Escape My Life," which invite viewers to engage more directly and deeply with a brand (while being entertained!), might just be the wave of the future.