Summer Media: Wet and Wild Amusements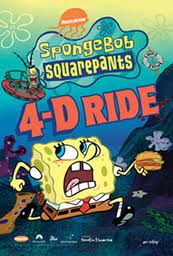 Summer can be a great time for media; movie theaters feature big budget summer blockbusters, longer days lend themselves to DVD binging and catching up on television series we may have missed during the year, and hot summer afternoons can be spent in air conditioned arcades. But perhaps the best part of the summer media experience is being able to partake in our favorite media and franchises outdoors. Summer is the time for drive in theaters, rooftop movies under the stars, outdoor concerts,  and amusement parks.
The festivals and amusement parks that dominate the summer months can contribute to what sets summers apart because of the carnivalesque pleasures they provide, set apart from daily life. A Labor Day weekend trip to Noah's Ark Water Park  in the Wisconsin Dells reminded me of just how important a role amusement parks play in both the commercial value of summer (to both media franchises and tourist economies) and its often important role as a carnivalesque release valve in a labor intense society. While the franchise is an obvious part of a lot of summer entertainment, most evident in the sequels and franchise video games that are released, it is becoming an increasingly big part of other parts of summer that I nostalgically fantasized were more bucolic or carnivalesque.
It is possible to look at the carnival as detailed by Bakthin less as an instance of real subversion and more as a release valve for the tensions built up in every day life. When I walked into Noah's Ark to be greeted by the sound of high pitched screams, it seemed that I was seeing this part of carnival in action. Release seemed to be the order of the day, as even the tamest rides and attractions evoked screams along with laughter.
As I too began to brave these behemoths, screaming at steep drops, practically drowning as water shot at my face as I rode the Black Anaconda, I wanted to chalk up my enjoyment of this park up to the carnivalesque. The rides invited me to relinquish control, to experience the catharsis of fear and relief, to scream in public without the injunction to remain calm. The park allows its patrons to relinquish many of their every day constraints. They are invited to: lose control of their bodies, make spectacles of their emotions through screams and laughter, and be allowed to look ridiculous in these public spaces, all in the service of pleasure.  I wanted to think of this park experience as an example of a more classical kind of popular culture modeled on the carnival … then I came face to face with Sponge Bob.
He was several stories tall, adorning a building to announce the park's 4D Sponge Bob Square Pants Movie. Suddenly, I noticed that Sponge Bob was everywhere. His face appeared in the gift shop, on lunch boxes at the snack stands, and on t-shirts on the patrons. The idea of an amusement park getting in bed with a media franchise is certainly not novel, indeed this country's most famous parks were founded on just such a partnership. However, franchise figures have rarely been a huge part of more local theme parks that may be associated with more nostalgic ideas about community entertainment.
Sponge Bob's presence at Noah's Ark was neither an anomaly nor an inevitability, but rather an important part of the experience of carnivalesque pleasure that summer amusement parks and festivals can provide. Sponge Bob became the most obvious embodiment of the complex matrices of commerce, labor, leisure, and pleasure that underlie much of the summer entertainment industry. The Sponge Bob Square Pants 4D Movie functioned as a marketing tool for the water park in an attempt to capitalize on the franchise success, the film (which is shown at many theme parks simultaneously) gives Nickelodeon an opportunity to reinforce and extend the Sponge Bob Square Pants brand, and the licensed products at the gift shop and snack stand are beneficial to both parties.
I was initially tempted to see Sponge Bob as an interloper into the more "authentic" community-centered cultural experience I believed I was having, but it became clear quickly that his function was more complicated than that. The involvement of the Sponge Bob franchise at the water park threw into more distinct relief the importance that commercial interests have in this location of summer culture; it made the reality of the presence of commerce amongst the pleasures of the carnivalesque inescapable. It also did not negate, and in fact may have extended, the more carnivalesque pleasures. Theme park patrons could use Sponge Bob as a bridge between the pleasures that they experienced there and something that is part of their everyday life.  The insides of those Sponge Bob lunch boxes may go on to carry in them the foods featured during Sponge Bob's commercial breaks but they may also bring with them the memory of what it felt like to let go and scream. For someone who is about to return in earnest to the business of teaching about, writing about, and thinking about media, this reminder that pleasure, commerce, and community experience is wrapped up together in many texts — this living example of the complexity of media literacy — was just the thing that I needed as I left the carnival of summer behind.