Report From SCMS: Thursday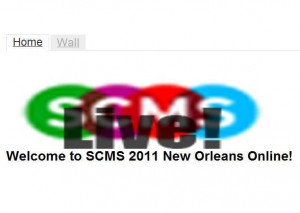 The Society for Cinema and Media Studies conference, which began its fifty-first incarnation yesterday in New Orleans, has presumably never been bigger yet virtually felt smaller. With over twenty panels and workshops running simultaneously across as many as five time slots – and covering film, television, digital media, journalism, video games, and music, American and international media, past and present topics, myriad theoretical approaches, and media studies as a profession itself – the conference can feel overwhelming in its scope. However, the internet has enabled a more personal conference experience (as has social media specifically, but I don't have space to discuss that here.)
SCMS quite literally never felt smaller than at the first workshop of the day, SCMS Online: Past, Present, and Future, which drew only three members to hear its five panelists speak primarily about the new SCMS website. And the attendance was in fact a good illustration of a problem the website and it curators have: too few know about what it potentially offers to SCMS as an organization and to members as individual teachers and researchers. Further, if more members don't come forward to help guide its future use, it will lie fallow.
The IT committee is striving to make the site infinitely more useful than it has ever been before to encourage more involvement. As an example, the SCMS Live conference section features a Twitter stream, a handful of blogs from conference participants (including a post today from Jason Mittell on how wifi has improved the conference experience), and an area for posting pictures and messages. Miller noted that this grew from ideas generated by the IT committee, but they hope this feature and the site as a whole builds more in a bottom-up manner with input from members and usage tracking.
In that regard, Judd Ruggill highlighted what we can do with our cloud-based profile pages, such as upload syllabi and course descriptions, potentially offering a rich searchable database of teaching materials covering a vast array of topics. And Bill Kirkpatrick proposed tantalizing possibilities for the site, including integrating it with other media studies information outlets (such as Antenna) a la Flipboard and using the interest group sections to initiate conversations and share research within specific areas. But Liz Ellcessor pointed out some of the site's current flaws, such as user-unfriendliness and lack of mobile device accessibility. Miller responded that this is exactly the feedback the committee needs to hear to help improve the site. As another example of the value of input, Candace Haddad drew our attention to resources the website offers that are especially helpful for grad students, such as information on awards, forums for networking, and a searchable job call resource, and audience member Jason Mittell proposed the excellent suggestion of putting portals on the main page that guide particular users to resources most useful to them, a feature Miller said he could easily implement.
Above all, Miller stressed that the IT committee needs input and ideas like this from members, and he dreams of having a dedicated web resources development manager and a webmaster for each conference (you can read more of his goals here). Actually getting such labor is an obstacle that can derail the best of intentions quite easily, though. Only if people participate will the site ever be useful. If you're an SCMS member and want to volunteer to help, even just to share your opinions on the site, you can go here.
Following this workshop, I attended another on media literacy pedagogy, chaired by James Castonguay, with presentations topics including guiding conversations about race in the classroom, accessing information about Fair Use provisions, and teaching students about online archives. This is exactly the kind of material sections of the SCMS website could feature, with participants posting presentation materials for later consultation and discussion, and Castonguay in fact said this workshop would be a test case for just such a purpose. Such components can make the conference both an archived and ongoing experience, and they can truly help to make the vastness of the conference feel within reach of everyone.