The Guilty Pleasure of the Red Carpet Fashion Smackdown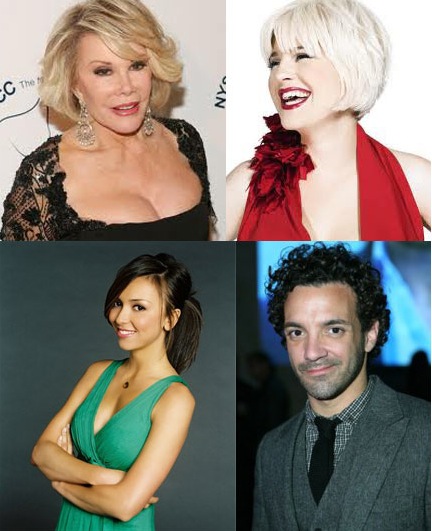 Fashion Police, which runs every Friday on E!, has become my guilty DVR pleasure.  E!, dedicated to the vagaries of celebrity culture, is the right home for Fashion Police, which consists almost entirely of critiques of celebrity fashion (overwhelmingly worn by women) that appears on various red carpets. Joan Rivers is the host and matriarch of Fashion Police, and she rules the show with an iron hand tempered by self-deprecation for herself and affection for her panel of fashion judges, whom she treats a bit like beloved children.  I have long been a Rivers fan, and was made even more so by her recent documentary, Joan Rivers: A Piece of Work, that established her as perhaps the hardest working woman in show business, and, more importantly, as someone with a powerful sense of self-awareness about her own persona.
Fashion Police is a bundle of contradictions—it is both celebratory and critical, sophisticated and vulgar, insightful and adolescent.  The panel of regulars, Giuliana Rancic (an E! News host) , Kelley Osborne (of The Osbournes reality show fame), and George Kotsiopoulos (a celebrity stylist),  serve as straight men for Rivers,  laughing guiltily behind their hands at her off-color jokes.  Rivers's fame and her risqué observations are no doubt the primary draw for the audience; she offers well-prepared schtick and does not pretend much fashion knowledge. Commenting on Jennifer Lopez's sequined mini at this year's Grammy Awards, a dress that received high praise from all, Rivers said: ""she also looks like a disco ball with t–ts". Critiquing Nicole Kidman at the 2011 Oscars, she said "What the hell is she wearing? This is proof that Keith Urban is not gay because no gay man would let their wife leave the house looking like this."  Only Rivers, a generous supporter of gay causes, could get away with this.
For me, the commentary from the other three is ultimately what makes Fashion Police worth watching.   Rancic, Osborne, and Kotsiopoulos offer useful comments about bad fit, shoes that don't complement a dress, and who looks good in what colors. They can be extraordinarily complimentary when a formerly fashion-challenged celebrity shows up in a flattering outfit (e.g., Mila Kunis in lavender at the 2011 Oscars, although Rivers, in one of her best lines this year, said it was so sheer that you could almost see Mila's "kunis"); similarly, they are truly disappointed when an icon, like Nicole Kidman at this year's CMT Awards, goes terribly wrong.
Kelley Osborne, who has famously struggled with her weight and body image, is especially soft-hearted, displaying real empathy for women who make bad choices and championing  those who take risks, even when other judges excoriate them. Rancic is tougher but not cruel, especially for someone who spends a lot of time on red carpets herself and has the body for it. Katsiopoulos works against the stereotype of the bitchy gay fashion maven (a role that Rivers tends to play). As a stylist, he is the most informed about fashion generally and he makes trenchant comments about what needed to be altered before it was worn, what's on trend and what's not, and what kinds of clothes are flattering on what kinds of bodies. His style is geared more toward explaining what would improve the look than simply noting what's wrong. This man knows clothes and loves to see them worn well.
Moreover, they are fashion police but not body police. They celebrate larger women, such as Amber Riley of Glee fame, who was chosen as "Best Look of the Week" for her extravagantly ruffled black dress at the 2011 SAG Awards.  They are also not age-ist.  For example, Jane Fonda, age 73, was chosen as the "Best Look of the Week" on a recent episode for her slinky white gown worn at Cannes.  Even more noteworthy is the fact that Ciara, a singer one-third Fonda's age, wore the same dress at a recent event and the judges dubbed her less hot than Fonda in it.
The show proceeds along a predictable arc beginning with an array of best and worst looks of the week and culminating with a winner in each category (always ultimately adjudicated by Rivers). It also includes recurring features such as "Bitch Stole My Look," comparing the success of different celebrities in the same outfit, or "Starlet or Streetwalker," in which the identity of the subject is disguised as the judges vote on whether a woman in a particularly unfortunate getup is, in fact, one or the other.
My personal favorite is a recent innovation in which Rivers challenges each judge to defend his/her pick for "Worst Look of the Week" with ten seconds of reasoning and then chooses the winner.  Indeed, the reasoning is the unexpected delight of the show. Fashion Police navigates a line between the fawning of celebrity interviewers on the red carpet and the meanness of some fashion blogs.  More common on Fashion Police is something along the lines of "I'd like it better without the belt, because it destroys the line of the dress" or "The dress is great, the necklace is too much." Moreover, the frequency of "the emperor has no clothes" moments on the show is refreshing. When a celebrity wears something by a renowned designer that makes her look extra-terrestrial (Cate Blanchett in Givenchy at the Oscars), at least one of the judges will say that. When another celebrity disrespects an event by showing up frumpy and underdressed—as Frances McDormand did at this year's Tony Awards where she wore a Levi's denim jacket—they are properly outraged.  Celebrity fashion culture may be a site of ridiculous excess and shallow values in these economic times, but its popularity is attested to by the coverage it receives.  At least the panel on Fashion Police exercises some real judgment and does it with some actual reasoning. Or that's what I tell myself each time I turn it on.